First Saturday - Habitat Restoration Day for Sabercat Creek in Fremont, CA
Description
Join the City of Fremont's Environmental Services for a day of habitat restoration work.
We'll be providing DRiWATER to many of our native trees and shrubs, and removing aggressive exotic plants from the plant basins of the natives (to give them some freedom from competition). We may also refresh plant basins (to encourage water to infiltrate near the roots of the native plants) and possibly create, repair, or expand cages to protect young plants from being browsed by deer before they are large enough to survive much damage. We could remove some cages to let larger plants roam free.

If there is more time available, we'll remove some aggressive exotic plants growing elsewhere on the site, too, such as Himalayan blackberry (Rubus armeniacus), some Poison hemlock (Conium maculatum), Italian lords-and-ladies (Arum italicum), various ivy species (Hedera spp.), stinkwort (Dittrichia graveolens), and several different exotic thistles and grasses like ripgut brome (Bromus diandrus) and Harding grass (Phalaris aquatica), among others.

When: Saturday, December 5, 2015 from 9:00am to noon.
Who: Volunteers of all ages are welcome. A signed waiver form is required for each participant. No Waiver, No Participation. Children under the age of 12 require an accompanying adult unless prior approval is obtained from the workday supervisor - Sabrina Siebert. This volunteer opportunity will fulfill community service hours. Please bring any forms you will need to have signed.
Groups: Can contact Barbara Silva by email or via phone (510-494-4575) to schedule their own special program dates/hours.

Where: Sites 2 and 3

Sites 2 and 3 are most easily accessed from the trailhead at Via Orinda, off of Luzon Drive. The nearest bus stops are the northeast corner of Washington Blvd. and Weigand Ct. (from the Fremont BART, take AC Transit 217, then 210), and at the southeast corner of Washington Blvd. and Luzon Dr. (from the Fremont Bart, take 212, then 210). Please check tripplanner.transit.511.org for further details.
Site 2 is at the bottom of that first trail, where it forms a T with the trail along the length of the creek. Go over the rip rap (rocks) to the left (east) of the bridge and cattle gate, and you'll be in Site 2. This is where we will be meeting at the start of the work party.


Once we have refilled all of the tubes of DRiWATER at Site 2, we'll move on to Site 3:


To get to Site 3, turn east at the T and follow the trail until you see an area to your right (south) with metal chicken wire cages around many of the shrubs on the south side of the creek. There may also be a mulch pile along the trail on the near (north) side of the creek.
*
Please note that the closest restrooms are not within easy walking distance; they are located at Old Mission Park, on Ibero Way off of Pine Street.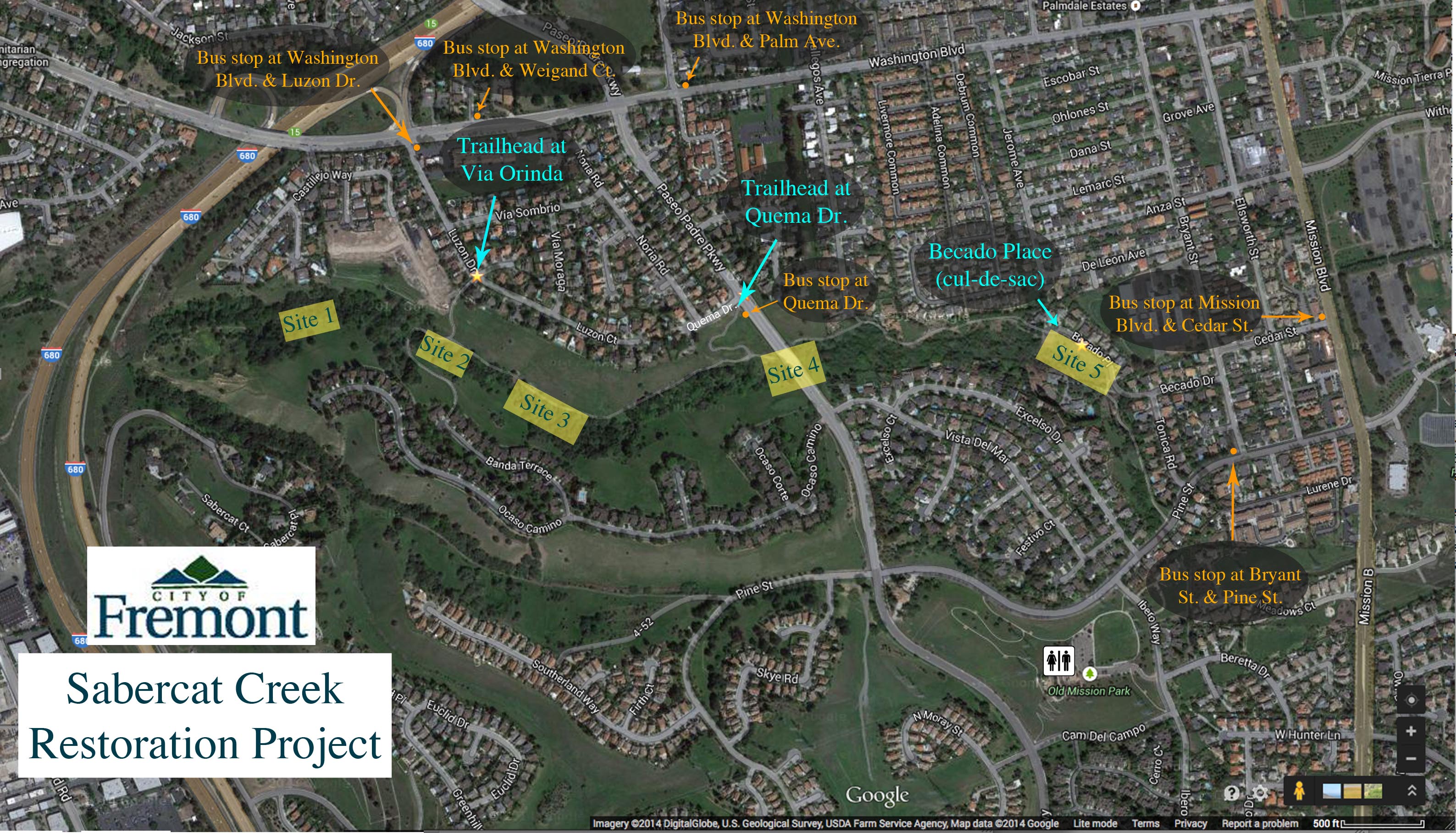 Please bring: A reusable water bottle and clothing for outdoor work (hats, sunscreen, sturdy shoes and long pants are recommended; a long-sleeved shirt can also be desirable if you're handling plants with prickles, like blackberries or roses). We will provide some gloves and tools, although you are welcome to bring your own (if so, please label your tools). If you think you'll want to wade into the creek, it might be a good idea to wear footwear that can be partially submerged. Please bring any forms you will need to have signed for community service hours.
Required: All participants must sign a waiver form (please click on the underlined phrase to the left, which is a hotlink to the form); minors under 18 years of age must bring a waiver form signed by a parent or legal guardian. Even if you previously handed one in for multiple dates or a span of dates, we will now need a new waiver form for each new date. Sorry for the inconvenience! Children 12 or under require an accompanying adult.
Caution: Our sites may include some poison hemlock, which is poisonous to eat, and contact with the skin can cause some skin irritation in individuals sensitive to it. If you think you'll come into contact with poison hemlock, please ensure that your hands and arms are covered, and wash your hands well after touching poison hemlock, before handling food. There is also a lot of poison oak around the edges of sites 3 and 4. It should be possible for those who are sensitive to poison oak to avoid it. We will have rubbing alcohol and Tecnu along in case anyone comes into contact with poison hemlock, poison oak, or blackberry prickles (which can also cause irritation, for some).

PLEASE NOTE: When you complete your registration for this event, you DO NOT need to print a receipt or ticket. You DO need to BRING A SIGNED WAIVER! No Waiver, No Participation.
Please note that we have 5 different locations where we are working on restoration, and sometimes we may not know definitively which site we'll be working on until a week or so before the work party, at which point we will share that information through Eventbrite.
Links:
Please check this Eventbrite page for volunteer events hosted by the City of Fremont Environmental Services
Please visit our Sabercat Creek Riparian Habitat Restoration Google Site. (We hope to add more info about the native and exotic plants on our restoration sites soon).

The Sabercat Creek Riparian Habitat Restoration Google Group includes announcements of events and a discussion forum. Members need not have a gmail address to participate.
City of Fremont Volunteer Opportunities (including Environmental Services)
Schedule of future work parties, so far…
We'll be having Sabercat Creek Habitat Restoration work parties on the 1st Saturday of each month (except January, when it'll be the second Saturday), from 9am-noon. We'll also add other work parties to the schedule as the needs of the plants/sites demand them.

Dec 5, 2015 (1st Sat), 9am-noon Sabercat Creek Habitat Restoration, Sites 2 and 3
https://www.eventbrite.ca/e/first-saturday-habitat-restoration-day-for-sabercat-creek-in-fremont-ca-tickets-17873444955
No work party January 2, 2016 - Happy New Year!
Jan 9, 2015 (2nd Sat), 9am-noon Sabercat Creek Habitat Restoration, Site(s) TBA (tentatively - site 4) https://www.eventbrite.ca/e/second-saturday-jan-2016-habitat-restoration-day-for-sabercat-creek-in-fremont-ca-tickets-19640622631
Feb 6, 2015 (1st Sat), 9am-noon Sabercat Creek Habitat Restoration, Site(s) TBA https://www.eventbrite.ca/e/first-saturdays-2016-habitat-restoration-day-for-sabercat-creek-in-fremont-ca-tickets-19539341697
Mar 5, 2015 (1st Sat), 9am-noon Sabercat Creek Habitat Restoration, Site(s) TBA
Apr 2, 2015 (1st Sat), 9am-noon Sabercat Creek Habitat Restoration, Site(s) TBA
May 7, 2015 (1st Sat), 9am-noon Sabercat Creek Habitat Restoration, Site(s) TB
Jun 4, 2015 (1st Sat), 9am-noon Sabercat Creek Habitat Restoration, Site(s) TBA
Organizer of First Saturday - Habitat Restoration Day for Sabercat Creek in Fremont, CA