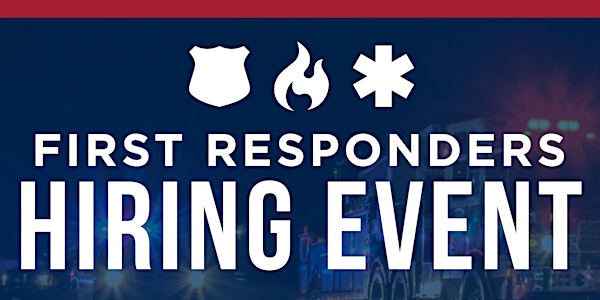 First Responders Hiring Event
Frist Responders Hiring Event
By Camp Pendleton Personal & Professional Development
Date and time
Thursday, June 8 · 11am - 2pm PDT
Location
Pacific Views Event Center 202850 San Jacinto Road Camp Pendleton Oceanside, CA 92058
About this event
Employers seeking to participate in this event contact Bruce Carroll at Bruce.L.Carroll@usmc.mil for details.
If you are seeking a rewarding career as a First Responder this event is for you!
Over 125 agencies representing federal, state and city law enforcement and public safety are invited to attend this popular annual employment event.
This event is open to all members of our military community with access to Camp Pendleton to include Active Duty, Veterans, retirees, spouses and family members.
Plan to attend and meet face-to-face with employers. All of the companies have open positions they are seeking to fill.
Tips for Success:
Pre-register—Receive notifications of any updates or changes to the event.
Dress professionally—First impressions go a long way.
Arrive any time between 10:45 AM and 1:00PM—Plan to spend 45 minutes to 1 hour at the event.
Prepare a brief but effective "elevator speech" to let those you meet with get to know you.
Keep an open mind—Meet with as many of the companies as you can; you may be surprised at what you find.
Plan to attend this event - FREE LUNCH for the first 150 attendees!!!
Confirmed Employers:
Anaheim Police Department
Arizona Dept. of Public Safety
Arlington, TX Police Department
Austin Police Department
California Dept. of Corrections & Rehabilitation
California Department of Forestry & Fire Protection
Chicago Police Department
Chula Vista Police Department
City of Carlsbad
Coconino County Sheriff's Office
Corona Police Department
Dallas Police Department
El Cajon Police Department
Escondido Police Department
Fort Collins Police Department
Fountain Valley Police Department
Houston Police Department
Huntington Beach Police Department
Indio Police Department
Irvine, CA Police Department
Irving, TX Police Department
Las Vegas Metropolitan Police Department
Los Angeles County Sheriff's Department
Los Angeles Fire Department
Los Angeles Police Department
MCB Camp Pendleton - Provost Marshal
MCI West MCB Camp Pendleton - Conservation Law Enforcement Office
Multnomah County Sheriff's Office
Nashville, TN Metropolitan Police Department
Newport Beach Police Department
North Richland Hills, Tx Police Department
Oceanside Police Department
Orange County Fire Authority
Orange County Probation Department
Oregon State Police
Palo Alto Police Department
Pasadena Police Department
Phoenix Police Department
Portland Police Bureau
Riverside County Sheriff's Dept.
San Bernardino County Probation Department
San Diego County Sheriff's Department
San Diego Police Department
San Jose Police Department
Santa Ana Police Department
Santa Clara County Sheriff's Office
Stockton CA Police Department
Texas Department of Public Safety
U.S. Customs and Border Protection
U.S. Drug Enforcement Agency
U.S. Federal Air Marshal Service
U.S. Federal Bureau of Investigation
U.S. Federal Protective Service
U.S. Forestry Service
U.S. Marshal Service
U.S. Secret Service
Ventura County Sheriff's Office
Washington County Sheriff's Office
About the organizer
Marine & Family Program's Personal and Professional Readiness, Family Member Employment and Transition Program Career Services offers comprehensive information, workshops, HIRING EVENTS and resources concerning employment, training, education, and special employer events for all Military Service and Family Members, Retirees, Veterans, and DOD Civilian Employees.