First Newark MEDITATION SAMPLER: Cycles of Movement, Stillness, and Sound
Sales Have Ended
Registrations are closed
The sales have ended. You are welcome to stop by though. Walk-ins welcome.
Sales Have Ended
Registrations are closed
The sales have ended. You are welcome to stop by though. Walk-ins welcome.
Description
A day of 20-minute sample sessions with twelve instructors, stitching together:

MEDITATION x YOGA x CHANTING x KHEMETIC x CAPOEIRA x DAO x STRESS RELEASE x DRUMMING x ART x LOVE x DHARMA TALK x

Stop by any time during the day or REGISTER to Choose Full-Day, Morning Session, or Afternoon Session Participation. Vegetarian Lunch Included. Donation-based.

Newark Center for Meditative Culture (NCMC) is excited to present our Meditation Sampler Retreat — integrating meditative practices by stitching together cycles of motion, stillness, and sound meditations! The Sampler is going to be an engaging and joyful expression of meditation disciplines! It's a chance to explore meditation in unique ways — such as art, drumming, and chanting — besides the usual sitting meditation and yogic movement.
We have wonderful Newark area teachers and instructors of various disciplines sharing. Here's a chance for beginners to get different tastes of meditation and the advanced to commune with us!
We've got twelve presenters giving 15-20 minute sample sessions (in alphabetical order): Leslie Bangor/I'm So Yoga Newark, Marcie Barth/NCMC, Kamilah Crawley/NCMC, Shaka Georges/Discovering the Healer Within, Jennifer Kohl/Lotus Yoga, Andrea Lee/Yoga Life Society, Muta Morton, Ihsaan Muhammad/NCMC, Amy Orrell/Newark Yoga Movement, Keven Porter/NCMC, Cornelia Santschi/NCMC, and artist Malik Whitaker. (Bio-Notes below.)
Naturally we think it's more beneficial to join us for the entire retreat, but we're offering the options to attend just for the Morning Session or Afternoon Session. A vegetarian lunch is included in between.
Donation-based program. CASH DONATIONS AT DOOR OR BY PAYPAL HERE. Suggested donation $10-15. NCMC programs are donation-based. We often give suggested fees, but we welcome any amount smaller or larger. It helps us to gift the teachers who are giving valuable services and to cover venue rentals. Generous donations are the only way we can continue our programming. Please consider paying it forward!
GENERAL SCHEDULE:

Morning Session: 10:00am-12:20pm
Lunch: 12:20pm-1:15pm
Afternoon Session: 1:15pm-4:00pm
PROGRAM DETAILS: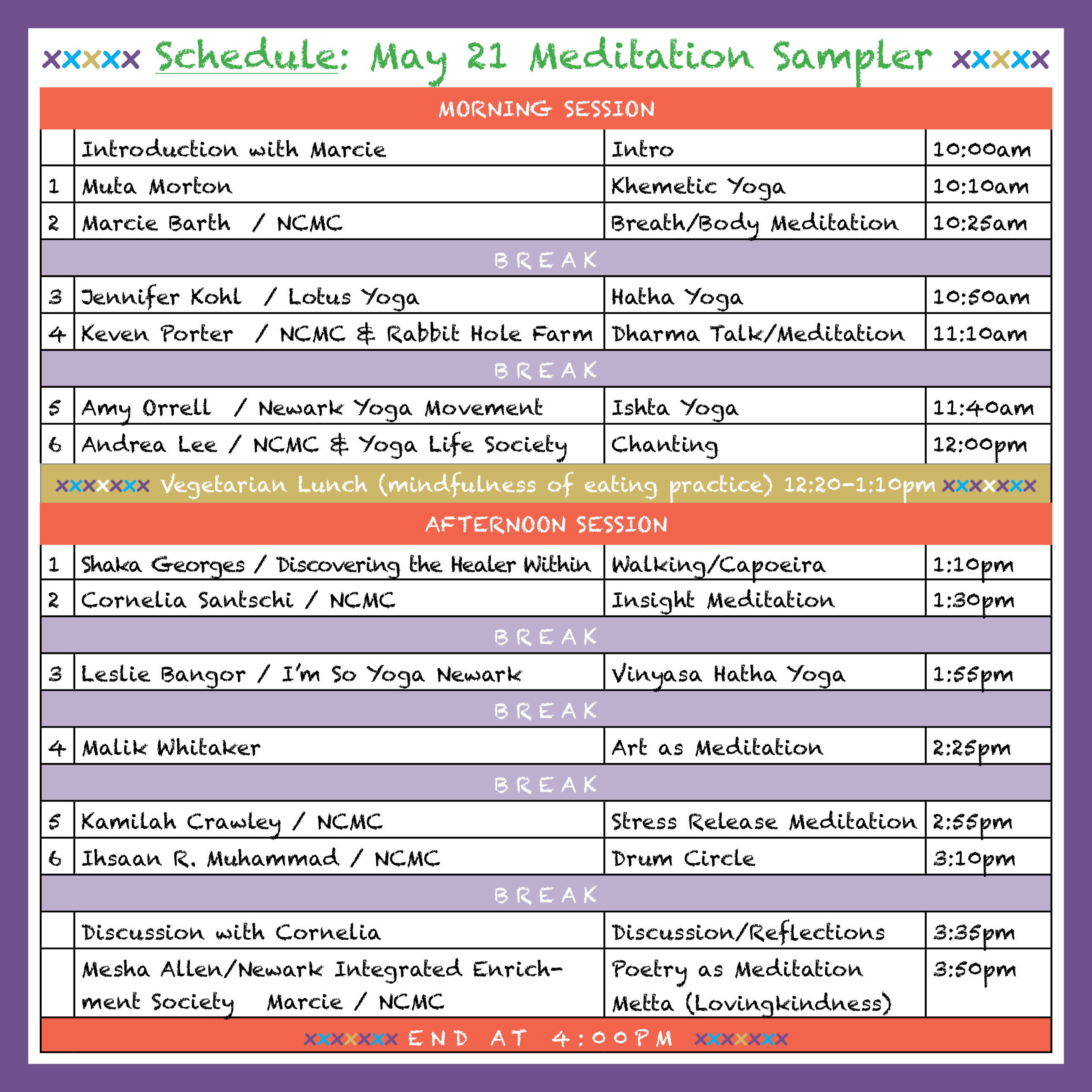 ---
TEACHER/PRESENTER BIO-NOTES
Leslie Bangor Leslie's journey began in 2014 after taking yoga classes in Newark she fell in love with yoga. Leslie began seeking information in the yoga industry and came across a yoga workshop at Earth Yoga NYC. Leslie then took the 200 Hour Yoga Teacher Training course there in 2015. By taking part in this training she learned there are various styles of yoga, multiple levels and a diversity in perspectives to teach from. Leslie teaches at a Vinyasa Hatha Beginners level class and is eager to learn more in her yoga journey. She enjoys being of service to others and teaching yoga is a great way for her to do so. Yoga has impacted Leslie in various ways — her memory has improved, she is more flexible, and is now stronger physically and mentally. Leslie runs I'm So Yoga Newark where she is the owner, operator and main Yoga Instructor. Her goal is to give people the opportunity to practice yoga regardless of their weight, race, or sex.
Marcie L. Barth began her inquiry into both sitting and moving meditation in 1998 with a focus on tai chi. In 2001 she committed her practice to sitting meditation (tranquility and insight) and the ongoing study of Buddhist philosophy and psychology. She served on the board of Flowering Lotus Meditation and Retreat Center in Mississippi. She is a founding board member of Buddhist Global Relief, a hunger relief organization established in 2008. Marcie is co-founder and Chair of NCMC where she also develops programs and is a meditation instructor.
Kamilah Crawley is a Certified Health Education Specialist with over 10 years of experience planning and implementing sexuality and health education workshops and trainings for students, parents, community groups, teachers, and professionals. Over the years, she has implemented several evidenced-based HIV and Pregnancy prevention interventions and provided individual educational counseling utilizing both client-centered and risk reduction skills. Currently, Kamilah works for the Children's Hospital of NJ at Newark Beth Israel Medical Center as a Program Coordinator. She provides pregnancy prevention education and counseling and coordinates and develops health and wellness programs for their School-Based Youth Services Program. She received her B.S. in Public Health from Temple University and her Master of Public Health from the Rutgers School of Public Health. Kamilah began her meditation practice in 2014 with her first weekend residential retreat in 2016. Kamilah, a founding member of NCMC, is a meditation group peer-leader there and also makes community meditation and mindfulness presentations.
Shaka Georges began his martial arts practice at the age of 9 years old. He immigrated to the U.S. from Haiti in 1975, and ever since then has studied various forms of martial arts including Wing Chun, White Crane Kung Fu Capoeira, and Tai Chi Long and Short Forms. He is a Tibetan Buddhist practitioner from the Mahamudra Lineage and has been meditating for over 10 years. He has also been a fitness coach and instructor in Newark. Shaka is a certified tai chi and qi gong teacher practicing in Montclair NJ and is a mathematics high high school teacher in West Orange. You can find him online at Discovering The Healer Within.
Jennifer Kohl is a Newark-based yoga teacher and founder of Lotus Yoga. She is the executive director of All Stars Project of New Jersey.
Andrea Lee is Treasurer of Newark Center for Meditative Culture where she is a meditation and mindfulness presenter and instructs retreat yoga and chanting sessions. Living in Montclair, she is currently an Assistant Teacher at Montclair Cooperative School. She is a yoga instructor and performs in a chanting group. She is a student at Yoga Life Society.

Muta Morton is an aspiring yogi, artist and gardener who believes everyone has a right to live a happy meaningful life. He grew up moving from foster home to foster home, struggling with depression, homelessness and being emotionally and financially deprived since age ten. Now at 26, Muta searches to find the big picture, using ancient wisdom and truths to guide him through what was meant to be a free planet for people to live together as one, but instead has become a power, money and blood hungry planet. He believes we can change and make the world a better place. He believes that the design of most on the planet right now is to use and abuse people, propagating a planet of hate that would ultimately self destruct. Muta feels that by going deep inside ourselves together we can actually sustain this planet and make it a better place for generations to come.
Ihsaan R. Muhammad graduated from Rutgers Law School and has been until recently a practicing lawyer. Still retaining his law certification, he is now a branding and marketing communications consultant at his own company IHSAAN Marketing. Born and raised in Newark, he leads drum circles there and in the surrounding area. He is also active in a local yogic community. Ihsaan is a drum circle leader and mindfulness presenter with NCMC where he also serves as Secretary.

Amy Orrell has been involved in the wellness field for 20 years. Her path has led her to become a massage therapist, personal trainer, and most recently a yoga instructor in 2008. She has had the opportunity to work with a multitude of individuals from infants to the young at heart. Her focus is about helping each individual live their best life possible. Ultimately that is what led her to become a part of Newark Yoga Movement. She has functioned in a larger capacity with the organization in trying to cultivate community partnership to be able to provide important life skills to not just survive in life but to thrive and empower others toward live a peaceful life even in the midst of the storm.
Keven Porter has been a yoga instructor for several years after having studied at the Yoga Institute in Mumbai, India. He is also a children's meditation course teacher in the vipassana tradition of S.N. Goenka. He has completed a study program on ayurvedic nutrition and yoga therapy at the School of Ayurveda and Panchkarma in Kerala, India. He is Director of Rabbit Hole Urban Farm in Newark. Keven also served as a board member of Eyes Like Mine in Newark where he instructed a Yoga for Your Eyes class. He is a licensed massage therapist. Keven and his wife are both committed yogis serving this community. Keven is a community liaison and sits for NCMC.
Cornelia Santschi is currently studying in the Community Dharma Leader Program (CDL5) through Spirit Rock and Insight Meditation Society to become a meditation teacher. She serves as a meditation instructor and liaison to the insight meditation community for NCMC. She has been a vipassana (insight) meditator and dedicated student of Buddhist psychology for over 15 years. She is the director of Neuro-psychology at the Institute for Neurology in NJ, and founder/director of Anatta World Health & Education Outreach, a grassroots non-profit that creates and supports medical and educational programs in developing countries. Cornelia is a meditation teacher and insight community liaison for NCMC.
Malik Hardaway-Whitaker was born and raised in Newark, NJ. He studied advanced art while attending high school at St. Benedicts Prep and later at Rutgers University and the Art Institute of America, along with several artist programs and residencies. From his studies, he has translated his style and technique into a complete disciplinary form. He is also an accomplished muralist whose work can be seen on several buildings, churches and colleges throughout Essex County. Malik is most famous for his "Brick City Project", a collection of bricks with painted scenes of Newark, which he's displayed in many galleries and exhibitions around Newark, Jersey City and NYC. The trials and tribulations of living in the inner city has helped to shape Malik's passion and appreciation for life. He seeks to pass on and inspire positive messages to his community and all who view his works. He currently is the owner of M-Print Art studios in Newark, where he continues to display his art. He is currently mentoring and teaching art to students with physical and mental disabilites and also facilitating workshops in the Newark public school system and charter schools. See The Art of Malik Whitaker.
---
Website: www.newarkmeditation.org

Contact: info@newarkmeditation.org