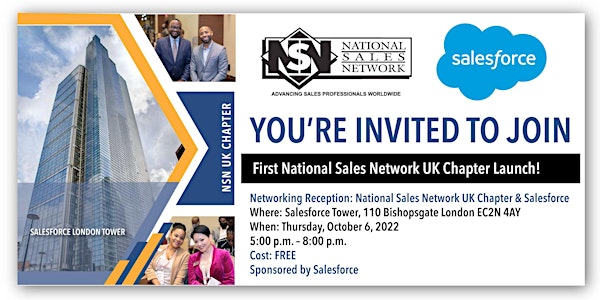 First National Sales Network UK Chapter Launch
First National Sales Network UK Chapter Launch
When and where
Location
Salesforce Tower 110 Bishopsgate London EC2N 4AY United Kingdom
About this event
Networking Reception: National Sales Network UK Chapter & Salesforce
Where: Salesforce Tower, 110 Bishopsgate London EC2N 4AY
When: Thursday, October 6, 2022
5:00 p.m. – 8:00 p.m.
Cost: FREE
Sponsored by Salesforce
The NSN a 30 year old organisation that has done so much in the USA to foster diversity in the Medical Sales industry is launching in the UK.
WHO WE ARE….
About the National Sales Network Organization
National Sales Network (NSN) is a 501(c)(3), not-for-profit membership organization whose objective is to meet the professional and developmental needs of sales and sales management professionals and individuals who want to improve their sales and leadership skills.
Since 1996 NSN has conducted an annual conference & career Fair. Working in conjunction with the largest companies in the world to foster diversity in the Medical Sales and associated industries.
This years conference in Atlanta marked the 25th Year Anniversary of the NSN National Conference and was attended by 2000+ people from all major metro areas nationwide.
Following the success of the 25th Anniversary conference comes the announcement that NSN is going global with the launch of the NSN UK Chapter on 6th Oct 2022.
Join us on 6th October 2022 for this free Salesforce sponsored Networking Event at the prestigious Salesforce Tower in London.
This event offers the opportunity to connect in person with existing NSN members, learn about the opportunity here in the UK as well as grow your professional network.