Description
First Look at the New Canon Pro 2000 Series 24" Printer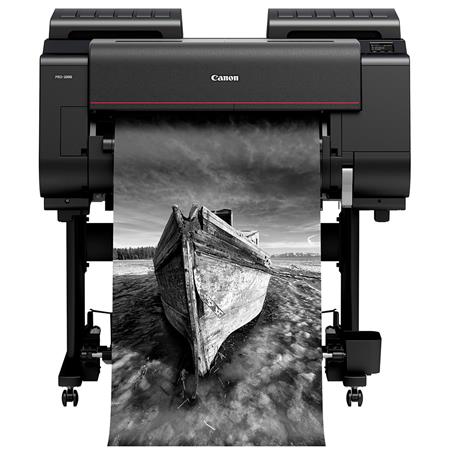 Learn, Touch, and Print on Canon's New 24-inch imagePROGRAF PRO-2000 Printer, designed to provide spectacular image quality for the fine art and photographic markets. Output solutions for photographers who are "equally obsessed" with the printed image, the imagePROGRAF PRO-2000 provides 11-color plus Chroma Optimizer delivering the quality demanded by the fine art community. Complementing Canon's professional line of DSLR cameras not only in appearance, but also in ability to create industry-leading imagery, this new models ensure a level of stunning Canon image quality from input to output, known as "Crystal-fidelity.

The Art of Input to Output with Industry Leader Pete Wright
From Capture to Print Professional Photographers Obsess on all aspects of the Capture to Print process. Learn from Industry Leader; Pete Wright as he shares some of his tips, techniques, and experiences.
Pete Wright

Pete Wright is an international award-winning Master Photographer and writer based out of Bradenton, Fl. In his 19 years in business, he has photographed everything from professional sports, to weddings, to portraits. Through his experience growing up in the darkroom assisting and learning from his father, he truly fell in love with black and white photography. This ultimately led to his passion for recreating timeless Film Noir style portraits as an homage to his favorite photographer, George Hurrell.
Pete has been active in print competition and judging for well over a decade with very prestigious results. He has judged and chaired at the highest levels at WPPI and PPA as well as state competitions around the US. In 2014 alone, Pete's work was recognized with Best in Show honors in both Virginia and Southeast PPA (SEPPA), multiple category First Place awards in Virginia, SEPPA and North Carolina. He also won the prestigous Canon Par Excellence Award, Fuji Masterpice Award, LexJet Sunset Best Portrait Award and Lexjet 3rd place nationally, as well as a 3rd place PPA Grand Imaging Award and had multiple images not only merit, but also entered into the International Loan Collection at PPA. He followed 2014 with an almost equally impressive 2015 adding an additional Lexjet Award, multiple category wins in Virginia, Florida and SEPPA, 4 more international merit prints and 3 loan collection prints and a prestigious first place open category win at SWPP in London. Pete has earned PPA photographer of the year honors 10 times over the last decade.
In May 2015, Pete's First Book "Cinematic Portraits, How to Create Classic Hollywood Photography" was published by Amherst Media and was followed in the Summer of 2016 by his Wedding Photography book "Wedding Photography Kickstart" co-authored with his wife, Liliana. His work is also featured prominently in the Amherst title "500 Poses for Photographing Full-Length Portraits: A Visual Sourcebook for Digital Portrait Photographers" Additionally Pete has been a regular contributor to Professional Photographer Magazine, Action News Magazine, Richmond Weddings Magazine and others. Pete has been lecturing around the world since 2005 in both platform and hands-on environments. He has spoken four times at Imaging USA, eight times at WPPI. He has also taught around the U.S. at other workshops like After Dark, PSD Experience and various other state and regional conventions. Additionally, Pete has lectured in the Philippines, Grand Cayman, Bermuda and Jamaica and London, England.