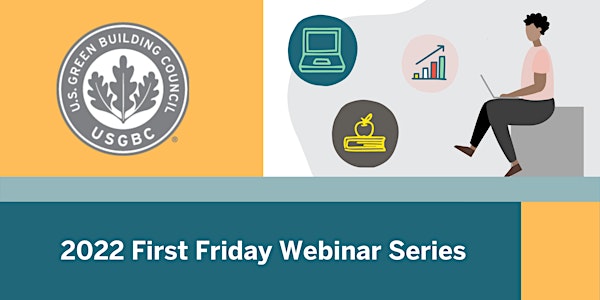 First Friday Webinar: Celebrating Global Leadership
Join us for our 2022 monthly First Friday Webinar education series. Earn LEED specific CEU credits.
About this event
Our August 2022 online webinar will be on Friday, August 5 at 10:00 am PT / 11:00 am MT / 12:00 am CT / 1:00 pm ET. Login From your computer. Please note that registration closes one hour before the event starts to make sure everyone can get the proper links.
This collection of LEED specific courses is available to anyone but is free with an individual membership supporting your local community. Code for free entry is sent quarterly or request at https://usgbc.wufoo.com/forms/qnwormn1w34s5j/
This course is approved for 1.5-hour LEED specific for BD+C, Homes, and the LEED Green Associate.
About:
Over the past 25 years, the concept of green building has evolved to include not just sustainability, but also health and wellness, resilience, and equity. USGBC and GBCI will focus our future work on these "four pillars" – to create a green building landscape that reflects the values of its members and has the broadest possible impact.
Green buildings are not just beneficial to the natural environment – they have a profound effect on the health, equity, and resilience of the people and communities they affect. From its inception, LEED has provided a framework and valuable tool for helping us deliver on our broader environmental and social priorities. Health and wellness, sustainability, resilience and equity aren't just ideals. Our current day realities mean they are immediately integral to the wellbeing of people and planet. Yet these pillars make the most impact when they are looked at and considered uniquely for a given community, and a given project. The green building and sustainability movement has generated innovation and leadership across the globe.
This session looks at how these cornerstones of sustainability are being prioritized and actualized for various building use types, and community goals. It explores diverse projects that have used LEED to deliver on their project-related goals and have excelled in actualizing these cornerstones of sustainability. You'll hear from a cross-disciplinary panel that will describe their unique project objectives, and how LEED was used to galvanize, organize, and deliver on their goals. Gain a greater understanding of how health, equity, and resilience are intrinsic to LEED and sustainability. Together we can create spaces where everyone can feel safe and healthy in the spaces where they live, work, learn and play, reflecting the needs of today's communities.
Opening hosted by the Big South Region.
Objectives
Understand how the concept of green buildings has evolved beyond sustainability to help us deliver on key health and social priorities
Identify examples of how all versions of LEED are used as a tool for delivering health and wellness, resilience, social equity and sustainability goals
Describe and explain to stakeholders that health, equity, and resilience are intrinsic to LEED and sustainability
Discover how LEED v4 and v4.1 is adapting to new challenges and market conditions by including new strategies and certification pathways
Join us for the rest of the series:
9/2/2022 Sustainable Transportation
10/7/2022 Future Shock: The Changing Role of Green Building in ESG and Finance
11/4/2022 Implementing LEED v4.1: A Practitioner's Perspective (Greenbuild 2021)