Hosted by R & Company's Evan Snyderman, this CraftNOW program will include interviews with artists Anna Von Mertens and Jaydan Moore
About this event
In June, CraftNOW Philadelphia invites R & Company to highlight their current exhibition Objects: USA 2020, which hails a new generation of artist-craftspeople by revisiting a groundbreaking event that redefined and elevated American craft.
Hosted by R & Company's Evan Snyderman, son of Philadelphia's renowned craft gallerists Ruth and Rick Snyderman, this program will include interviews with artists Anna Von Mertens and Jaydan Moore.
The Objects: USA 2020 exhibition surveys American handmade arts through a curated selection of 100 artists, including 50 of the most impactful contemporary makers working today and 50 historical artists, whose work viewed together is a testament to the diverse, pluralistic, and hybrid state of handmade objects in American culture today.
Anna Von Mertens' "Portraits" series references contemporary auratic photography. Fascinated by this collision of pseudoscience and abstraction, Von Mertens set about making textile versions of historic portraits including the Mona Lisa, Velázquez's Philip IV, and Whistler's Mother, giving an aura to each subject in what she considered an appropriate palette of the utmost sincerity.
Jaydan Moore was born into a family of tombstone makers in California and spent his childhood rummaging through other people's objects. Today Moore's work reclaims antique pieces of silver and silver plate, collaging them into expressionist compositions. This method yields a complex set of ideas about the meanings embedded within inherited materiality while honoring the latent value of the objects, shaped skillfully by the hands of late artisans.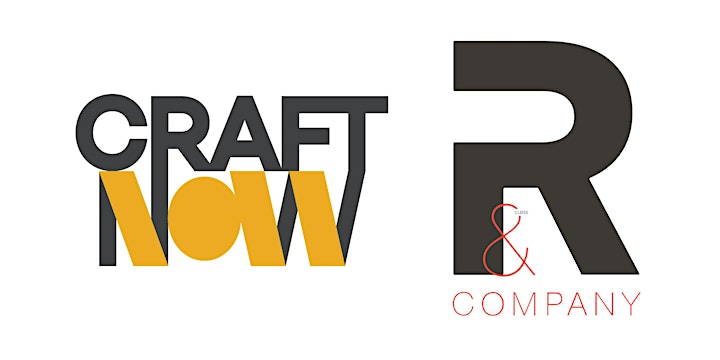 Organizer of First Friday Preview with R & Company
CraftNOW Philadelphia unites the leading institutions, artists and patrons of Philadelphia's craft community. CraftNOW celebrates the city's rich legacy of craft, its internationally-recognized contemporary craft scene, and its important role as an incubator for arts based in wood, clay, fiber, metal and glass.
CraftNOW Philadelphia is made possible through a collaborative partnership with The University of the Arts serving as our fiscal agent.