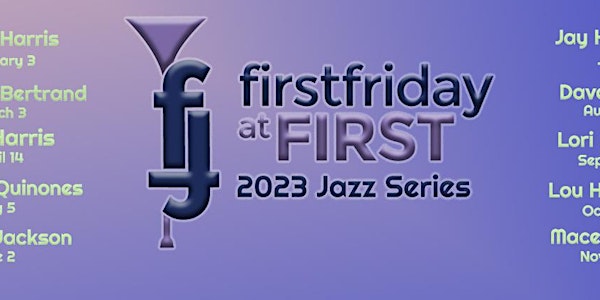 First Friday at First - Jazz Series 2023 with Jay Hoggard
Welcome to First Friday at First "LIVE" with some of Atlanta's top jazz performers gracing the stage!
By "First Friday at First" presents 2023 Jazz Series
Date and time
Friday, July 7 · 6 - 9pm EDT
Location
The Commons 125 Ellis St., NE Atanta, GA 30303
About this event
We are so excited to return to First Friday at First "LIVE" for our 2023 Jazz Series -- Atlanta's first choice for extraordinary jazz performed by many of the best musicians and vocalists to grace a jazz stage anywhere on the globe!
Next up, a long-time friend of First Church's jazz ministries--Jay Hoggard. Ranked among the greatest vibraphone innovators, Hoggard returns to the stage on July 7th.
The line-up for the remainder of the 2023 Jazz Series at First Friday includes ; drummer Dave Potter with his unique style of blending the past and present history of Jazz with a watchful ear towards the future joins us in August; while acclaimed international jazz vocalist Lori Williams joins us in September; followed by the innovative, master of all 88 keys Louis Heriveaux in October. The season wraps in November with Mace Hibbard, one of the most exciting and versatile saxophonists on the scene today.
The public is invited for great music, dinner, fun, and fellowship. Doors open at 5:30 PM.  Seating is limited. The availability of tickets at the door are based upon advanced ticket and table sales. General Admission tickets are $25, student tickets are $10 each with student identification (show ID at the door). Reserved tables of 8 are $200. Prices for dinner range from $4.00 to $10.00. Funds raised at church-based events will be used to support other church programming and ministries. 
For further information about First Friday at First or the purchase of Tables, General Admission or Student Tickets, please contact First Church at 404-659-6255 and ask for the church administrator during regular office hours or contact the First Friday team at firstfriday@firstchurchatl.org. Free parking is available at the C.A.R.E. parking lot next door to The Commons on Piedmont and Ellis Streets. Paid parking is available at the First Church parking lot off of John Wesley Dobbs at 105 Courtland Street .  
COVID-19 Protocols
As part of our return to First Friday at First events, we are anxious to provide a safe and comfortable environment given current COVID-19 guidelines. We continue to reduce the number of seats per table and wearing of masks indoors is optional.
To attend our concerts, we ask that you stay at home if you are currently suffering from any of the following symptoms: fever, respiratory illness, cough, sore throat, or shortness of breath.
About the organizer
First Friday at First is a part of the "Jazz Ministry" at First Congregational Church. Because of COVID-19, we were forced to cancel most of the 2020 jazz series, with a "Return to First Friday -Video Jazz Series in 2021and the Return to First Friday at First - LIVE" for a limited 2022 Jazz Series. This year we present a full season (10 concerts) of exciting jazz. We invite you to join us for our 2023 Jazz Series (see Collection) --Know that we will continue to follow COVID guidelines and strongly suggest the practice of mask wearing when feasible indoors!
This program is hosted by First Congregational Church, UCC in Atlanta, GA.