About this Event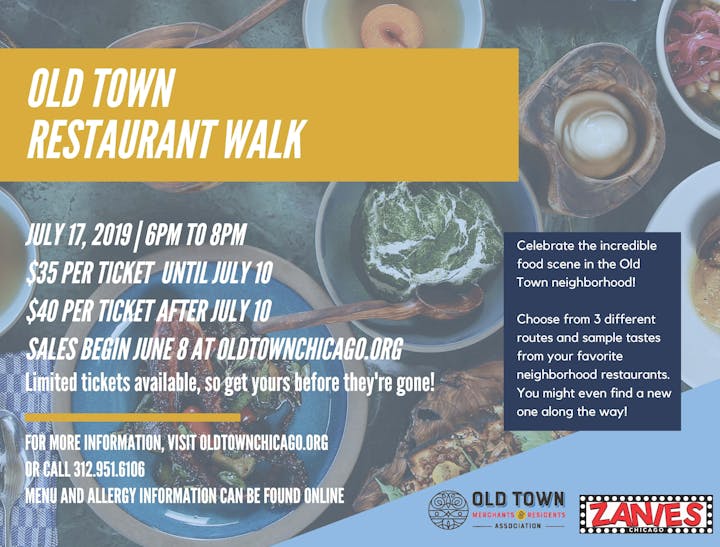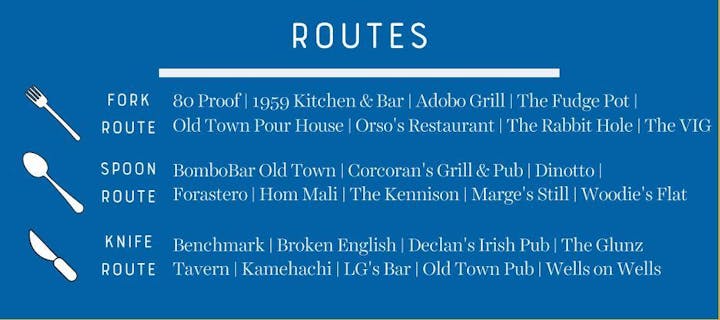 Join us on Wednesday, July 17th from 6pm to 8pm for the first-ever Old Town Restaurant Walk!
Experience the incredible food scene in the Old Town neighborhood unlike you've ever done before.
Choose from the FORK, KNIFE, or SPOON and sample tastes from your favorite neighborhood restaurants. You might even find a new one along the way. In addition, some restaurants will be offering an alcoholic beverage to compliment their taste for $7.
Each ticket comes with a taste from each restaurant listed on that route and a gift bag filled with different goodies from Old Town businesses.
Check in for the event will begin at 4pm at Pipers Alley (230 W North Ave).
$35 per ticket until July 10
$40 per ticket after July 10
Limited tickets available so get yours before they're gone!
See below for details about what each restaurant is offering. 
Key
(V) – Vegetarian
(GF) – Gluten Free
(DF) – Dairy Free
(NF) – Nut Free
Route #1 – Fork
80 Proof (1500 N Wells)
Jumbo Fried Shrimp - jumbo shrimp with fries, cocktail sauce and lemon wedges
1959 Kitchen & Bar (1616 N Wells)
Pork Ragu Sliders - A modern take on sliders with pulled pork paired with ragu sauce (NF)
Rum Punch- A sweet,refreshing punch made for the summer! Flor De Cana Anejo, Garnd Marnier, Orange, Pineapple, Angostura Bitters
Adobo Grill (215 W North Ave)
Guacamole & Chips
The Fudge Pot (1532 N Wells)
An Assortment of Fudge, Toffee, Chocolate-Dipped Strawberry (GF) (V)
Old Town Pour House (1419 N Wells)
Taste: Baked Mac N Cheese - Smoked cheddar, grilled chicken, bacon lardons, smoked cheddar gratin, cavatappi pasta (NF)
Beverage Compliment: Bottlenectar - Our very own collaboration with Goose Island that is brewed exclusively for Bottleneck restaurants. This light-bodied pale ale showcases the unique Huell Melon hops that give this beer a sweet melon aroma.
Orso's Restaurant (1401 N Wells)
Bruschetta - Fresh toasted Italian bread topped with diced tomatoes marinated in olive oil, balsamic, garlic, and fresh basil (V) (DF) (NF)
Chianti Classico - Italian Red Wine from the Chianti Region
The Rabbit Hole (1208 N Wells)
Award Winning Dry Ranch Rub Chicken Wings - Tasty wings , juicy in the middle with a mouth watering dry ranch rub! (NF)
Ginger Green Tease - Jameson cask with ginger liquor and peach, refreshingly delicious!
The VIG (1527 N Wells)
VIG Burger - American cheese, tomato, pickle, horseradish dijonnaise
Seasonal Sangria - Blend of red wines, brandy, benedictine, fresh fruit juices
Route #2 – Spoon
BomboBar Old Town (1529 N Wells)
BomboBurger - Sharp American Cheese, Pickles, Red Onions, Dijonnaise, Sesame Seed Bun
Your choice: Wine or cocktail on tap - Pour your own 6oz Glass of White Wine, Red Wine, Rose or Vodka Lemonade from our self-serve tap.
Corcoran's Grill & Pub (1615 N Wells)
Fish & Chips
Dinotto (1551 N Wells)
Arancini - Arborio Rice Ball stuffed with Fontina Cheese, Ground Beef , & Sweet Peas
Aperol Spritz - Prosecco Sparkling Wine and Aperol
Forastero (449 W North Ave)
Porky Pig Taco - Yucatán-style pork roasted in banana leaves, topped with lime-cured habaneros and onions. (GF) (NF)
Hom Mali (417 W North)
Hom Mali Magic Drink - Iced butterfly pea flower tea
The Kennison (1800 N Lincoln)
Heirloom Tomato Summer Bruschetta - Green City Market Heirloom Tomatoes, Stracciatella Cheese, Balsamic Vinegar, Extra Virgin Olive Oil on a Sourdough Crouton (V) (NF)
Marge's Still (1758 N Sedgwick)
Pasta Primavera in a Tomato Vodka Sauce
Woodie's Flat (1535 N Wells)
Chicken & Waffle Bites - waffle battered chicken breast, maple hot sauce and powdered sugar
The Centerfold - Ketel One Vodka, Captain Morgan White Rum, Strawberry Simple Syrup, Fresh Lime Juice
Route #3 – Knife
Benchmark (1510 N Wells)
Buffalo Cauliflower & Crispy Asian Brussels Sprouts - buffalo cauliflower with green goddess dressing & brussels sprouts with sweet & spicy sesame sauce, red pepper flakes and goat cheese (GF) – Just cauliflower
Broken English Taco Pub (1400 N Wells Street)
Empañada de Elote - Savory dough pastry filled with roasted corn, poblano pepper, & queso Oaxaca
(V) (NF)
Basic B Margarita - Hornitos tequila, Combier, fresh lime juice, & agave
Declan's Irish Pub (1240 N Wells)
American Classic Burger Sliders - Diner style burger sliders with American cheese, pickles, house made dijonnaise on a toasted brioche bun
The Glunz Tavern (1202 N Wells)
Schnitzel Slider - Veal cutlet on a pretzel bun with lingonberry mayo (GF) (NF)
Spicy Chipperbec Margarita - Perfectly balance of sweet, savory and heat
Kamehachi (1531 N Wells)
Tuna Sushi Canape - Chopped yellowfin tuna with kizami wasabi and a hint of sesame oil on top of soy-wrapped vegetable roll (GF) (DF) (NF) (Contains Sesame Oil)
Yuki-kage Sake - Junmai Cold Sake
LG's Bar (1525 N Wells)
Buffalo Chicken Sandwich - tossed in buffalo sauce, greens, tomato, onion, garlic dill sauce.
French 75 - Plymouth Gin, Lemon, Bubbles
Old Town Pub (1339 N Wells)
Our Famous Thin Crust Pizza – Your choice of Sausage/Pepperoni or Veggie Pizza
Wells on Wells (1617 N Wells)
Grilled Calamari - Sauteed in a white wine sauce with shrimp, spinach, tomatoes, mushrooms, fresh herbs, garlic and onions served with crostini