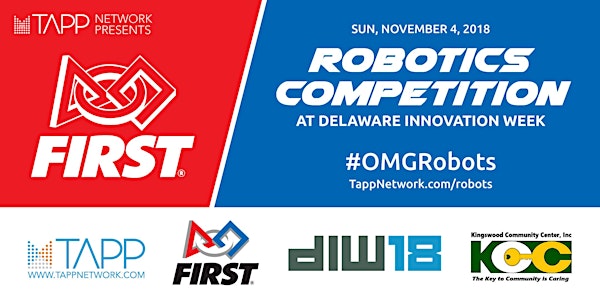 FIRST at Delaware Innovation Week
When and where
Location
Kingswood Community Center 2300 Bowers Street Wilmington, DE 19802
Description
As part of Delaware Innovation Week, come to an afternoon showcasing local high school and middle school students FIRST. This event will have a scrimmage for local FIRST Tech Challenge teams playing the 2019 game, Rover Ruckus. This event is open to people of all ages. Besides watching and driving student designed and built robots, learn basic engineering concepts in interactive workshops running ever half hour to an hour.
Sponsored by Tapp Network and Kingswood Community Center
Agenda:
FTC Scrimmage: 1 pm to 5 pm
Experience VR: 1pm to
FIRST Ladies Conference: 4 pm to 5 pm
More activities will be announced soon!
What is FIRST?
For 30 years, FIRST® has inspired millions of young people to reach for the stars. Project-based, hands-on FIRST programs introduce students to coding, programming, and engineering in an environment where students work collaboratively to solve a yearly robotics challenge. Explore K-12 programs designed to inspire the next generation of innovators, technology leaders, and changemakers here on Earth – and beyond.
FIRST Tech Challenge 2019 Game- Rover Ruckus
ROVER RUCKUS℠ presented by Qualcomm® Incorporated is played on a 12 ft. x 12 ft. (3.7m x 3.7m) square field with approximately 1 ft. (0.3 m) high walls and a soft foam mat floor. The object of the game is to attain a higher score than the opposing alliance by descending from the Lander, collecting Minerals from the Crater, sorting and scoring Minerals into the Cargo Hold of the Lander, performing Autonomous tasks, and navigating to specific parts of the Playing Field. The Scoring Elements for the game are 60 Silver Minerals and 90 Gold Minerals, and a team supplied Team Marker.