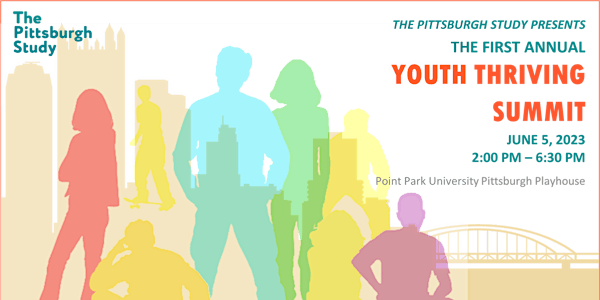 First Annual Youth Thriving Summit
Youth-led forum to address mental health, well-being, and thriving. School and community leaders are invited to join in the evening.
Date and time
Monday, June 5 · 2 - 6:30pm EDT
Location
Pittsburgh Playhouse at Point Park University 350 Forbes Avenue Pittsburgh, PA 15222
About this event
4 hours 30 minutes

Mobile eTicket
With a focus on youth mental health, well-being, and thriving, the First Annual Youth Thriving Summit is The Pittsburgh Study's youth-led forum for young people to come together to share personal and community strengths and challenges and the solutions they are building.
This past academic year, teen leadership groups across several school districts and communities, members of the University of Pittsburgh's Youth Research Advisory Board (YRAB) as well as youth behavioral health and violence prevention initiatives have been working on a range of topics to ensure that young people can thrive. This is an opportunity to showcase their accomplishments and their call to action.
Attendees will include students as well as parents, school administrators, civic leaders, nonprofit organizations, researchers, and clinicians. Students and organizations from around the county will be attending. School districts include McKeesport Area, Moon Area, North Allegheny, Penn Hills, and Steel Valley. Collaborators include Allegheny County DHS, Gwen's Girls, Jewish Healthcare Foundation, and The Pittsburgh Study's Youth Leaders in Action.
The purpose of the event is to foster conversations that build optimism, connect young people to resources and peers who share their feelings, and to amplify youth empowerment by creating the space and time for mapping and new ideas as engaged leaders within their schools and neighborhoods.
The packed agenda moves swiftly from a Welcome session into the Un-Conference, where students will use breakout rooms for small group discussions in a free-flowing format which allows people to move across multiple conversation topics. A youth and an adult facilitator will be present in each breakout room to help guide meaningful dialogue. Later in the afternoon, youth teams will deliver presentations on their work and success in key areas. The event concludes with our keynote speaker, evening snacks, and a summary of action items and feedback collected throughout the event.
The Un-Conference- Breakout Room discussions across seven priority topics:
• Breaking the Stigma Around Mental Health
• Owning a Positive Perspective for Your Personal Mental Health
• Listen, Think, Speak: Building Better Dynamics Between Youth & Adults
• Bullying: We Can Do Better and So Can You!
• Social Media: A Hunt for Healthy Content & Communities
• Coming Out of Covid: What Just Happened? Where Are We?
• Stable Futures: Financial Literacy & Planning for Success
Youth Leadership in Action Presentations
• Bullying : How one group of students raised bullying as a priority with school administrators to advocate for changes in school policies.
• Leadership & Literacy: Steel Valley School District's Expect Respect leaders bolster literacy among elementary school children by visiting the classrooms and reading to the children.
• Advice & Action: Learn about the impact that the Youth Research Advisory Board (YRAB) has had and how they deliver unique and valuable youth perspectives to research studies and activities with the potential to contribute even more.
• Peer Mentorship: The Penn Hills High School Youth Leadership Group tells their story of creating an online platform for peer mentorship and advice in partnership with the school district. The platform is a place for students to ask questions and share answers around a myriad of topics including mental health, healthy relationships, and other challenging issues that students experience.
Keynote Speaker: Jaime Martinez
Evening Snacks & Engage for Change- where our young leaders will intentionally engage with adults to share insights about their challenges and their ideas for change.
About Our Keynote Speaker
Jaime Martinez is a passionate leader and advocate dedicated to creating positive change. He is the youngest co-founder of North Allegheny (NA) For Change, a grassroots coalition focused on youth empowerment and policies to improve the educational experience and well-being of young people at North Allegheny and beyond. Under his leadership, the organization received the inaugural Emerging Leadership Award from the Urban League of Greater Pittsburgh, the largest civil rights organization in Southwestern Pennsylvania. He has continued his policy work in both chambers of Congress and recently spoke at a White House-affiliated national conference on consensus-based leadership. Jaime's passion for the success of young people and students inspired him to run for a seat on his local school board, seeking to become the first Latino and youngest-ever member. His commitment to service and social justice has made him a respected leader and a powerful voice for change in his community. He plans on graduating from the Johns Hopkins University with Bachelor's Degrees in Public Health Studies and International Studies in December 2023.
Directions & Parking Information
Directions to Playhouse:
From the East:
Take I-376 W/US-22 W to Exit 71A Grant Street. Continue straight on Grant Street and make a left onto Forbes Avenue.
From the West (Airport):
Take 1-376 E to Exit 71A Grant Street. Continue straight on Grant Street and make a left onto Forbes Avenue.
From the North:
Take US-19 Truck/McKnight Road. Merge onto I-279 S and take the 7th Avenue/6th Avenue Exit from I-579 S/Veterans Bridge. Keep left and follow signs for PPG Paints Arena 6th Avenue and merge onto Bigelow Blvd. Turn right onto Sixth Avenue, followed by a left onto Grant Street and then right onto Forbes Avenue.
From the South:
Take PA-51 N. Use right lane to take US-19 S Truck ramp to Downtown/S Side/Dormont/I-579. Use right two lanes to turn right into Liberty Tunnel. Continue through Liberty Tunnel and turn slight right onto Crosstown Blvd. Turn left onto Forbes Avenue.
Public Transportation
Pittsburgh Regional Transit offers a variety of buses, "T" light-rail service and inclines to get you to the theatre. For schedules, rates, schedules, and general information about these services, visit the PRT website at rideprt.org or call 412-442-2000.
Parking:
On-street metered parking is available along Forbes Avenue and adjacent streets at Pittsburgh Parking Authority hourly rates.
The nearest public parking garage is located at the Hilton Garden Inn, 250 Forbes Avenue. Other garages and surface parking lots are located downtown at various rates; many have discounted rates beginning at 4pm. Please note that some may be cash only. Check out these additional parking resources from our friends at the Pittsburgh Downtown Partnership.
EV Parking and Charging:
Third/Fourth Avenue Garage: 238 Fourth Ave, 1100ft away. 8 EV spots located on the 2nd floor and clearly marked.
One Oxford Centre Garage: 339 Cherry Way, 1100ft away. 8 EV spots available.
The Pittsburgh Study Youth Thriving Summit has been made possible thanks to generous funding from the Shear Family Foundation.
The Pittsburgh Study is committed to hosting free Summits for our neighbors, scholars, and clinicians in the Pittsburgh region. Please consider making a charitable donation to support these efforts and our continued work across the community. Donate Today!
To learn more about sponsorship opportunities for this event and other Summit events presented by The Pittsburgh Study, please contact our communications director: deborah.moore31@chp.edu