Symposium/Poster Sessions
About this event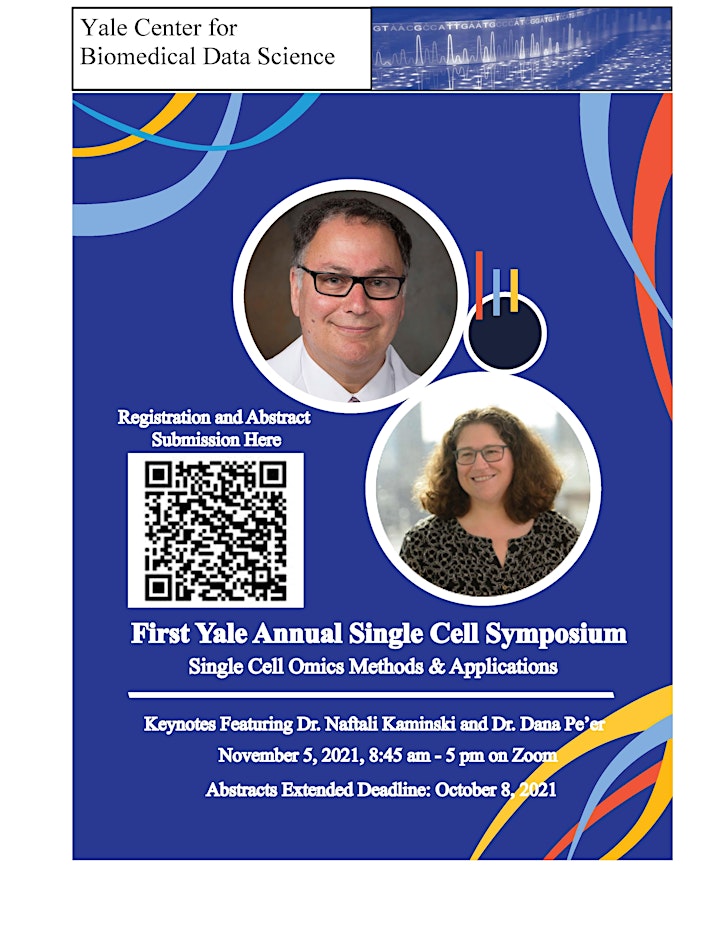 On behalf of the Yale School of Medicine Single Cell Interest Group, we are excited to announce our First Annual Yale Single Cell Symposium, scheduled for Friday, November 5th, 2021, 8:45-5:00 EDT.
The purpose of this Symposium is to offer a platform for trainees to present their cutting-edge research in the field of single cell omics and to excite the Yale and greater academic community about single-cell research. This Symposium hopefully will also serve as an excellent networking opportunity among faculty and trainees interested in this field.
We will have two exciting keynote speakers for the event: Dr. Naftali Kaminski, the Boehringer Ingelheim Pharmaceuticals, Inc. Professor of Medicine and Section Chief of Pulmonary, Critical Care & Sleep Medicine at Yale School of Medicine; and Dr. Dana Pe'er, the Chair of Computational and Systems Biology Program at the Sloan Kettering Institute and the Scientific Director of the Alan and Sandra Gerry Metastasis and Tumor Ecosystems Center.
We anticipate having trainees (this includes undergraduate and graduate students as well as post-doctoral candidates) present their research in 15-minute time blocks.
If you are interested in presenting, please fill out the Abstract Submission at Qualtrics before October 8.
Single Cell Research in Progress Trainee Organizing Committee
Chair: Amy Zhao. Vice Chairs: Linda Chan, Alexandre Jourdon, Mario Skarica, Holly Steach, Victoria Habet
Please email cbds@yale.edu or click on the contact button below with any questions.
AGENDA
First Yale Annual Single Cell Symposium
Single Cell Omics Methods and Applications
Session I: 9:00-10:10
9:00-9:20: Daniel Stadtmauer, Graduate Student, Department of Ecology and Evolutionary Biology
9:20-9:40: Cody Limber, Graduate Student, Department of Ecology and Evolutionary Biology
9:40-10:00: Kenneth Hoehn, DPhil, Postdoctoral Associate
10:00-10:10: Break/Buffer Time
Session II: 10:10-11:00
10:10-10:30: Gabriel Baldissera, BSc, Postgraduate Associate
10:30-10:50: Bunmi Olaloye, MD, Clinical Associate
10:50-11:00: Break/Buffer Time
Keynote I: 11:00-12:00
LUNCH 12:00-1:30
1:00-1:30: 10x Genomics 2021 Pilot Award and New Tools for your Data Analysis Journey with Michael Bronson, Ph.D., Senior Sales Executive CT & NYC and Nur-Taz Rahman, Ph.D., Scientist, Applied Bioinformatics
Session III: 1:30-3:00
1:30-1:50: Alexis Weinreb, PhD, Postdoctoral Associate
1:50-2:10: Sam Kerr, ExPath Graduate Student, Experimental Pathology Graduate Program
2:10-2:30: Le Zhang, PhD and Jamie Park, Postgraduate Associate
2:30-2:50: Mamie Wang, PhD Student, Computational Biology and Bioinformatics
2:50-3:00: Break/Buffer Time
Session IV: 3:00-4:30
3:00-3:20: Joseph Brancale, Graduate Student MD/PhD Program
3:20-3:40: Rahul Dhodapkar, MCSc, Neuropsychiatric Genetics Program
3:40-4:00: Alexandre Meli, Postdoctoral Fellow
4:00-4:20: Bao Wang, PhD Student
4:20-4:30: Break/Buffer Time
Keynote II: 4:30-5:00
5:00-5:30: (optional): Trainee Networking
Organizer of First Annual Yale Single Cell Symposium