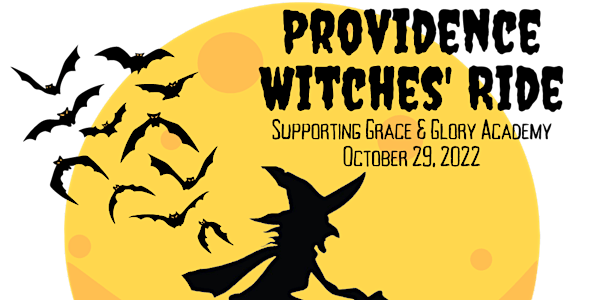 First Annual Providence Witches' Ride
Let's Get "Witchy with It" For the Sweet Children of Haiti!
When and where
Location
Providence Swim Club 555 Providence Trail Mt. Juliet, TN 37122
About this event
We welcome all the spooky women of Mount Juliet to participate in the First Annual Providence Witches' Ride, in support of Grace & Glory Academy in Lanzac, Haiti.
Grace & Glory Academy feeds, clothes and educates over 300 children (pre-K through 8th grade). Tanna Clark, a MJ mom, started the Grace & Glory non-profit to take a stand against poverty through education, nutrition and leadership training.
100% of the donations for The First Annual Witches' Ride will go directly to sponsoring the students for this upcoming school year.
Grab your best witchy wardrobe and your fastest "broomstick" and meet us at the Providence Neighborhood Pool parking lot on Saturday, October 29th.
As we festoon in our most witchy attire with our fellow witches on "broomsticks," we will set out on a short parade route from the Providence Neighborhood pool parking lot, showering candy, trinkets and joy to our children...all in the name of charity.
Encourage your little ones to align the route to receive the "spooky" fun.
"Broomsticks" can include walking shoes, scooters, bikes, or anything else to let you soar! Electric "broomsticks" are taboo. BYOT (Things) for tossing to our young ones.
We plan for all witches to reconvene for brew and savory spells after the ride. More spooky details to come.
We welcome witches of all ages.
If you have "creepy" connections to any "ghoulish" businesses or individuals, who would like to support this cause...in any form of candy, brews, brunch items, or "boo"tiful donations or goodies, please share (krmwall@yahoo.com).
Please visit the Grace & Glory pages for more information about this amazing cause.
https://graceglorykids.org/
https://www.facebook.com/graceglorykids
It's for the children! Boo!