Description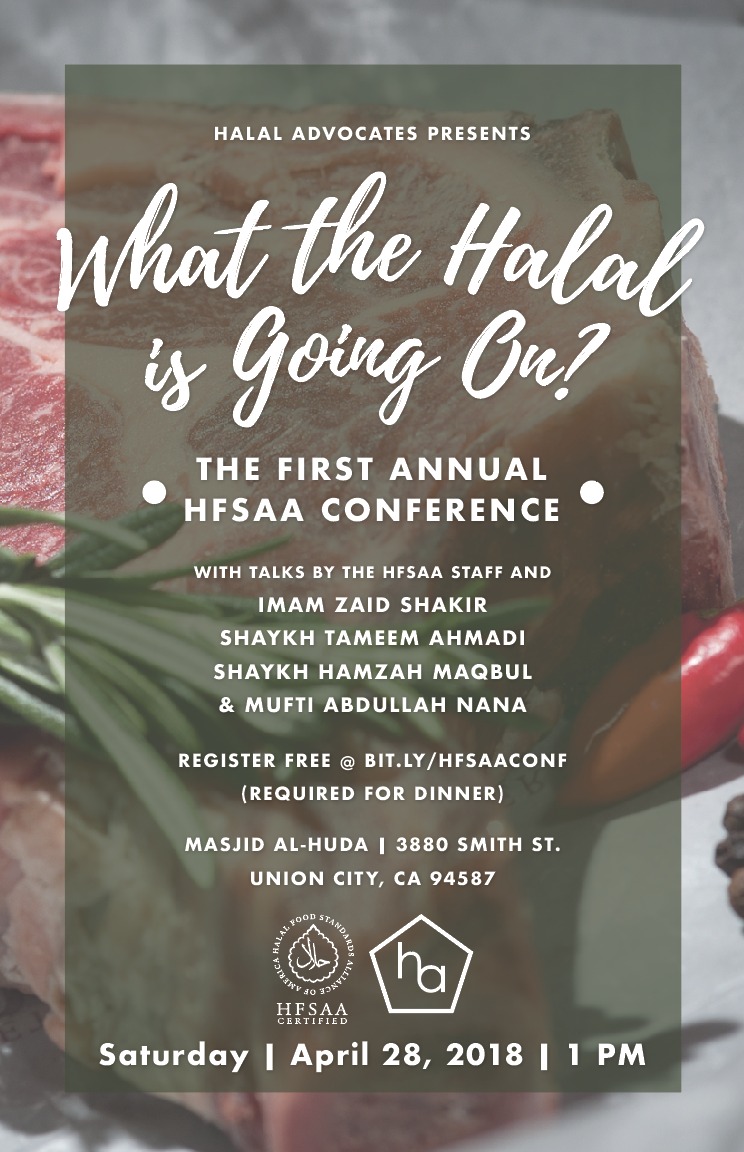 The Halal Advocates present the first annual HFSAA Conference in Union City, CA. This conference will be a full day program starting from dhuhr salah (1:30pm) ending around isha salah (8pm). In this conference we will have respected scholars from across the country such as:
-Imam Zaid Shakir
-Shaykh Hamzah Maqbul
Additionally, we are honored to host local scholars, Mufti Abdullah Nana, and Shaykh Tameem Ahmadi. The conference will also host the entire HFSAA staff:
-James Chambers, Executive Director
-Abdul Ghani Jamali, Regulatory Affairs Manager/Research Specialist
-Shaykh Fasih Khwaja, Inspections Manager
-Jabir Tarin, Bay Area Chapter Lead
-Hamzah Warsi, National Director of Chapters
-Imran Qasim, Director of Media Relations
There will be lectures on contemporary issues such as: Halal vs Zabiha, Meat of The People of the Book (Ahle Kitab), Hand Slaughter vs Machine Slaughter, Horizontal Cut vs Vertical Cut, and much more!

Be sure to register for this free event, and bring a friend with you! Dinner is free, but the lesson and education is truly priceless! We hope to see you all at our first annual HFSAA-CON 2018 inshallah!

*Consider making a generous donation for the sustainability of this organization and for this event! May Allah reward you for your kind donation and righteous intention!