Description
FIRST CHAPTER MEET & GREET & EAT
FEBRUARY 18, 2019 @11a - 7P
@
LIFE SPRING REJUVENATION CENTER
It is that time again for our Annual Chapter Meet, Eat & Greet Meeting. We did not have a gathering last year as we were quite swamped with client work and events. Our aim this year is to recruit new practitioners to assist with keeping up with the demands of new clients and upcoming events. We need to be able to refer new clients to other practitioners who are quite able and available to take advantage of the opportunities. As a result, we encourage everyone to bring a superstar practitioner that you think would compliment the modalities that we offer.
REMINDER:
PLEASE BRING NOTEBOOK & PEN, WELLNESS VEGAN DISH, SNACKS, BEVERAGE AND/OR PLASTICWARE, PAPER CUPS/PLATE/NAPKINS !!!!
The Chapter Agenda for the next meeting will be as follows.
Chapter Business: Upcoming Classes, Biz Insurance, Member Updates & Partnerships
Establishing Your Business Credit
Preparing for Festival Season 2019 and finally Small Business lecture by Derrick Guest:
Guest Speaker: Derrick Guest - New book signing "Opportunity Knocked Next Door"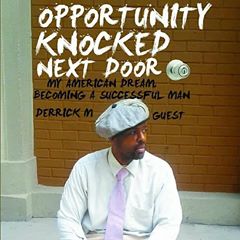 First attendees to renew, or join will receive an autographed copy of his book. Do bring an awesome fellow practitioner in need of a Chapter home base. As we are in need of more hands on deck to participate in our various wellness events & festival in 2019. Receive a 10% discount if you renew at the event and an additonal 10% if your guest joins at the event !
We must all participate in making sure Life Spring Rejuvenation Center is left clean as when we found it !!
Venue: Life Spring Rejuvenation Center, 953 E. 225th Street,Bronx, NY 10456
(Between Paulding & Bronxwood)
Please bring a wellness dish, beverage, snack, plasticware, paper plates or naptkins. Bring lots of biz cards to share amongst your fellow practitioners. Dont forget to bring a dynamic holistic health practitioner or Two or Three !!
Seats go pretty fast so please RSVP asap !
Sista Shai (Shy-ee)
African Holistic Health Chapter of NY
347-430-3716
www.africanholistic.weebly.com