About this Event
Three of Bexar County's leading child advocacy groups for children in need – Voices for Children, The 100 Club, and the Bexar County Children's Court – are preparing for the 2019 Badges, Bags, and Bling Event! High end bags, purses, and jewelry will be modeled by our local heroes who wear the badge. The evening festivities will conclude with a live auction to raise funds to assist families affected by child abuse and the surviving dependent children of those who have paid the ultimate sacrifice while serving our community.
We are excited to highlight our dedicated law enforcement professionals and emergency responders who deal with these tragic situations on a daily basis impacting our community's children, while also raising awareness and funds to address solutions
Please contact Miranda Cushman, mcushman@voicesa.org or 210-858-8175 for Sponsorhip information and payments, thank you!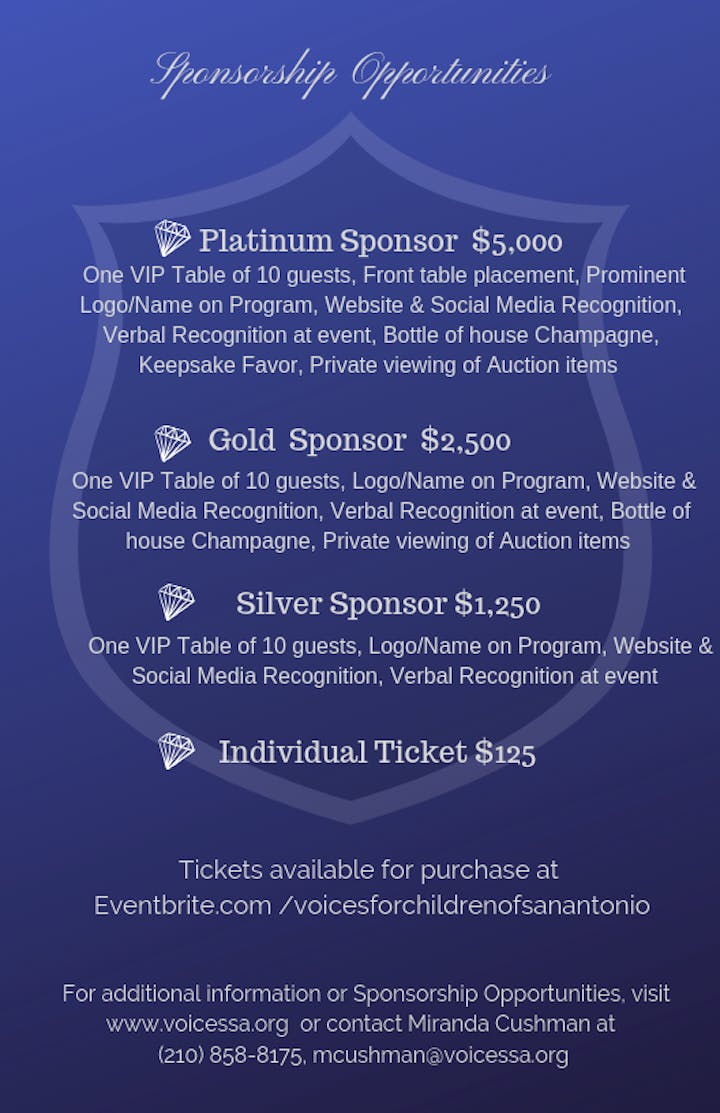 Voices for Children of San Antonio expands our community's capacity to respond to current and emerging needs of children through purposeful and strategic advocacy that improves programs, practices and policy.
Voices' envisions opening a window of opportunity to ENGAGE and ENERGIZE the community stakeholders so that every child moves everyday toward a bright tomorrow.
As a multi-issue agency, Voices' responds to community and state issues affecting the quality of life for children through data/ knowledge sharing, researching best practices and by convening and oganizing partner organizations and stakeholders to plan, collaborate and work toward change.