Fireside with Jen Bilik, founder, Knock Knock

Wednesday, January 9, 2013 from 7:00 PM to 9:00 PM (PST)
Event Details
SMARTY Members: FREE
Guests: $30
Not a Member? Join here!

About this event:
You've told us, and we've heard you; you can't get enough of Knock Knock head honcho Jen Bilik!

The busy entrepreneur has graced two SMARTY panels now but continues to be buried in SMARTY fan mail. SO, to satisfy your craving, we've created an event that allows you to ask Jen for advice about your business - from soup to nuts....ahem....even if you're not in the soup / nut businesses, respectively! Truly this is an opportunity for you to ask Jen the anything about the following topics, either generally, or specific to your own business:

Marketing: The Knock Knock team is a posse of master marketers. Ask Jen anything from how to think about messaging, PR, social media marketing, in-store display, website positioning, collateral and more.

Operations: How do you implement systems with strong organizational protocols?
How do you make key hires – maybe it's your first, third or 10th? How do build a team and figure out your role?

Sales: Jen will describe her sales model and SMARTY's may ask questions about how to think about sales within their own models.

Product Design: How do you know whether your product will find a home with customers? How do you simultaneously stay inspired and creative while also keeping a critical eye on what you do so that your offerings are realistically appealing in the marketplace?

Product vs. Service Models: Thoughts? Epiphanies? Challenges with each?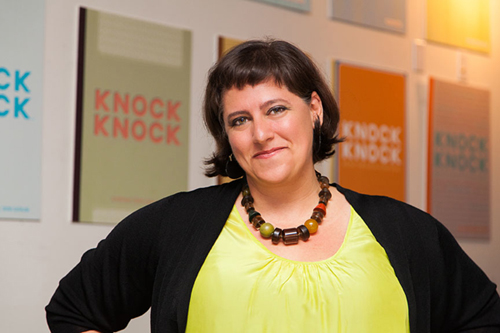 About Knock Knock Founder Jen Bilik:
Jen Bilik is the founder, owner, and overall head honcho of Knock Knock.

Jen grew up handy in Berkeley, California, quilting with her mother and learning carpentry with her father. After high school, she attended the University of Michigan, where she majored in English literature and film studies, plying her secret arts-and-crafts hobbies on the side.

After college, Jen decamped to New York City and labored variously as a film development intern, apprentice film editor, architectural draftsperson, tutor, babysitter, and newspaper proofreader before accepting an actual salaried job in publishing. Happenstance landed Jen in coffee-table books, exciting mini-productions unto themselves with graphic designers, illustration sources, four-color printing, authors, and copyediting.

While serving as the point person for text on late-breaking books, she inadvertently enjoyed a series of deskside internships in graphic design. After a freelance stint that included editing many books as well as co-authoring two (Todd Oldham: Without Boundaries and Women of Taste: A Collaboration Celebrating Quilt Artists and Chefs), Jen moved to Los Angeles to ponder how she might make her elusive mark. A few years and a million head scratches later, Knock Knock was born out of Jen's desire to play with paper and wit.

For Jen, the Who's There family represents a stimulating culmination of many interests—art, craft, business, strategy, printing, writing, coordinating, managing—and she keeps them all well-honed by serving as the company's lead writer, head honcho, and creative director (aside from all the other boss stuff).

With Knock Knock, Jen and the team seek to create products distinctive in concept, content, and design, immune to the disease of committee homogenization.
Members email Diana for the member discount code. 
Have questions about Fireside with Jen Bilik, founder, Knock Knock?
Contact SMARTY
When & Where
212 marine street, suite 100 Santa Monica
90405


Wednesday, January 9, 2013 from 7:00 PM to 9:00 PM (PST)
Add to my calendar