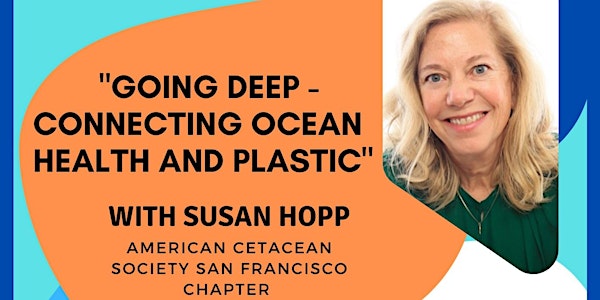 Fireside Chat with Susan Hopp - Quarterly Orcasound Events
Plastic has permeated human life and our planet, with the oceans and wildlife bearing direct consequences. This presentation will shed light
About this event
"Going Deep - Connecting Ocean Health and Plastic"
This is going to be the first of Orcasound Quarterly Meetings. We are honored to host Susan Hopp (American Cetacean Society San Francisco Chapter Board Member) for her informative speech on the problem of plastics pollution in the oceans and its impacts.
Plastic has permeated human life and our planet, with the oceans and wildlife bearing direct consequences. This presentation will shed light on the state of our plastic consumption, the connection to our climate crisis, the impact on the ocean habitat, and actions we can all take to restore and protect the oceans and wildlife we love.
This webinar is offered for free. A suggested donation of $10 per participant is encouraged and appreciated. Donations help cover webinar costs and support us in installing new hydrophones. For your donations please visit https://opencollective.com/orcasound/donate
About Orcasound project: Orcasound connects your headphones to live hydrophones (underwater microphones), your ears to an ocean of sound. Help us explore and conserve marine life around the globe, starting with studying and saving the Southern Resident killer whales of the Pacific Northwest. As an Orcasound community scientist, you can listen to whales or learn more about marine bioacoustics. To learn more, please visit https://www.orcasound.net
About Susan Hopp
Susan Hopp is a strategist, educator, and practitioner of sustainable and regenerative management. Since 2007, she has applied her years of experience with technology companies, both startups and multinationals, to building sustainability momentum in business and society. In her consulting practice, she spotlights the business case for sustainability as a key integrated strategy informing culture and organizational practices and works with organizations across industries to help them formalize their sustainability strategy and execute sustainability initiatives. An alumnus of Presidio Graduate School of Sustainable Management in San Francisco, Susan has worked with over 50 organizations helping them develop sustainability action plans. An adjunct faculty member at University of San Francisco since 2018, she teaches Sustainability Leadership and Regenerative Adaptation in the Environmental Management Masters program. Lead by her passion for a healthy Marin County where she lives, she is an appointed Integrated Pest Management commissioner and is co-chair of PlasticFree Marin, an active citizen group dedicated to community involvement and education toward reuse and away from single-use plastic. Driven by her love of the ocean and marine mammals, she has been a board member of the San Francisco Bay chapter of the American Cetacean Society since 2018. For more information please visit https://www.usfca.edu/faculty/susan-hopp or https://www.linkedin.com/in/susanhopp/