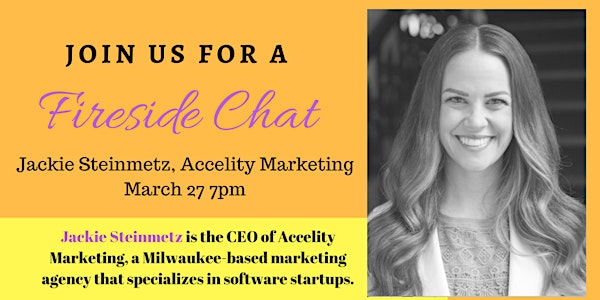 Fireside Chat with Jackie Steinmetz, Accelity Marketing
Location
MalamaDoe-A Coworking Community for Women
4465 N Oakland, Suite 201
Shorewood, WI 53211
Description
Jackie Steinmetz is the CEO of Accelity Marketing, a Milwaukee-based marketing agency that drives growth in B2B software startups. Closely involved with the startup community, Jackie is an organizer for Startup Milwaukee's Emerge event series, a marketing partner and sponsor of Milwaukee Startup Week, a member of the Golden Angels Advisors, a coach and advisor at The Commons, and advises early-stage startups.
Jackie is also a member of the HubSpot Partner Advisory Council, a small group of HubSpot's top agencies that guide the direction of HubSpot's Partner Program. In addition to her professional involvement, Jackie is an adoptive foster parent who continues to support past foster children, their families, and the community as a whole.
A second-time entrepreneur, Jackie sold her first business—a cookie company—in 2015. Before becoming an entrepreneur, Jackie worked at GE Healthcare and Zywave.
Our illuminating conversations take place at MalamaDoe, a coworking community where you'll learn the back stories of successful entrepreneurs and hear how they overcame obstacles. Don't miss this FREE, unique and motivating opportunity to gather with a group of energetic women. The event aims to support and encourage female business owners by showcasing local role models. Space is limited, so register today
*Event is sponsored by MOR Bakery & Cafe. http://morfoodsmke.com/connect.html