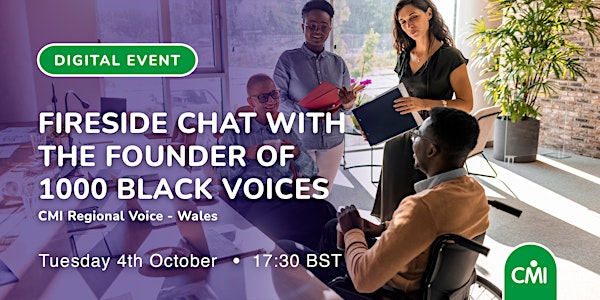 Fireside chat with Dr Elizabeth Shaw the founder of 1000 Black Voices
Tune in for a fireside chat with the founder of 1000 Black Voices, Dr Elizabeth Shaw.
About this event
It is increasingly important for managers and leaders to consider the importance of leading diverse teams and how this will positively impact their organisation and employees. By adopting a culture encompassing equality, diversity and inclusion this will drive talent, resilience and empowerment within organisations ultimately eradicating racism.
1000 Black Voices amplifies the voices of the Black community, with the goal to facilitate positive change. They educate people on what it means to be Black by aiding organisations, institutions and communities that want to develop their inclusion-building and antiracism experiences.
Join us on Tuesday 4th October, for a fireside chat with Dr Elizabeth Shaw of 1000 Black Voices, where we will be discussing the importance of adopting a culture centred around equality, diversity and inclusion in the workplace.
Our Speaker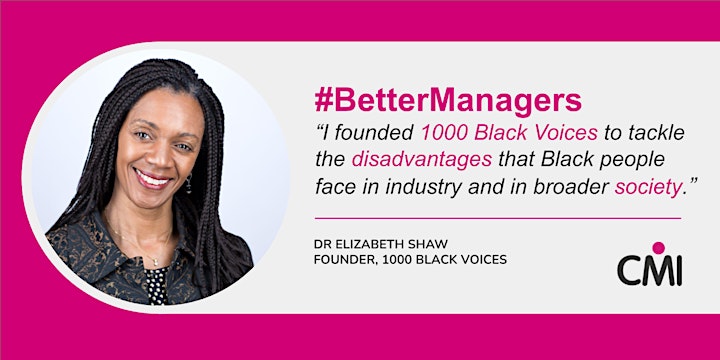 Dr Elizabeth Shaw
Founder, 1000 Black Voices
Dr Elizabeth Shaw is a founder, board advisor and executive coach. Elizabeth has been recognised as a Champion for Change by BIMA100 for the work she does in shaping the British digital industry. She founded 1000 Black Voices to tackle the disadvantages that Black people face in industry and in broader society. 1000 Black Voices works to advance authentic equitable inclusion and amplify Black voices through organisational inclusion programs, career development and Black Tech Accelerator programs helping scale-up and sustain growth of Black-led Tech start-ups. Her professional experience is across a range of diverse brands where she drives transformational change and facilitates leadership development.
Our Host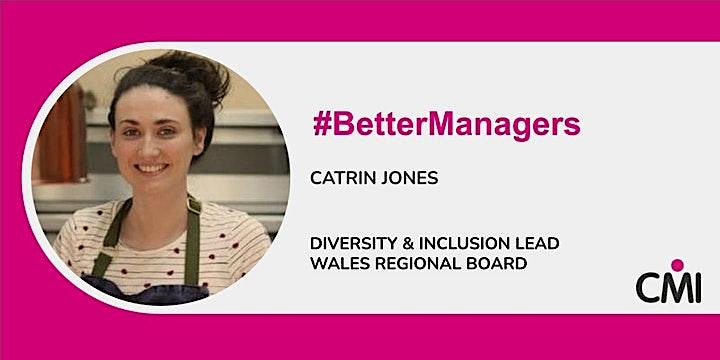 Catrin Jones
Diversity & Inclusion Lead, Wales Regional Board
Catrin is 28 years old and Co-Owner of Crwst, a café, deli and bakery based in Cardigan, Ceredigion. Catrin and partner, Osian, opened Crwst to create a special space for an unforgettable customer experience; from the food and service to the interior and atmosphere. Their main focus is the production of high-quality food and drink using the best of local produce and served to the highest level of friendly service. They are proud to bring a fresh and modern feel to their traditional home-town. Osian, being a chef and baker, is the driving force behind Crwst's food and produce. Catrin manages the business side of things which includes team development, strategy, and finance.
3 years after opening their doors, Crwst is proud to have an array of awards under their belt. These include; UK's Best Rural Start Up 2019; Most Welcoming Café South West Wales and most recently 3 Great Taste Awards for Osian's sauces which includes their famous Pembrokeshire Sea Salted Caramel. Catrin has also been recognised for her skills, winning IOD's Start Up Director of the Year 2019.
In the meantime...
If you're a member of CMI, or subscribe to our content, you can find thousands of exclusive, practical development resources in ManagementDirect. Log in here and search for a topic to get started!
Not yet subscribed?
From free newsletters packed with the latest trends, insights and tips for managers and leaders, to the full suite of invaluable tools and benefits that come with being a CMI member, we've got something for everyone. Visit our website to find out more.