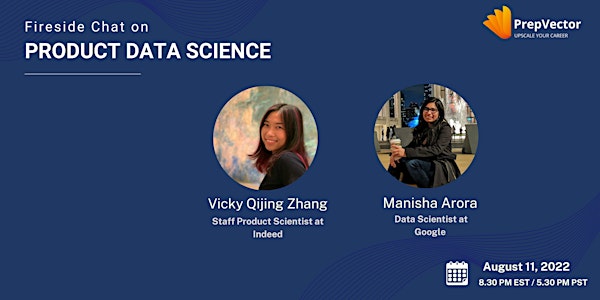 Fireside Chat on PRODUCT DATA SCIENCE
- Grow as a Data Scientist - Skills to pivot into Product Data Science - Learn from experts in this area
About this event
About
Do you want to grow your career as a Data Scientist and learn how to drive impact through data-driven decision-making? PrepVector is hosting a fireside chat with Vicky Zhang – Product Scientist at Indeed and Manisha Arora – Data Scientist at Google, where we will learn more about their roles and understand what it takes to pivot into Product Data Science.
Date: 08/11/2022
Time: 8.30 PM EST / 5.30 PM PST
Link to Join: meet.google.com/muw-xukj-kki
*** About the Host: ***
Manisha is a Data Scientist at Google currently leading the Experimentation vertical for their Ads platform across Search, YouTube, Shopping and Display. She works with top Google advertisers to support their marketing and business objectives through data insights, machine learning, and experimentation solutions. Manisha is also passionate about coaching and helping data scientists level up in their careers. Outside of work, you can find her performing aerial silks or preparing delicious home-made chocolates!
Refer to her profile here:
https://www.linkedin.com/in/manisha-arora-39502830/
*** About the Guest: ***
Vicky is currently a Staff Product Scientist at Indeed. She has been driving data science efforts within the Qualifications group. During her 6 years at Indeed, she has ideated and executed several cross-functional projects and improved the way Indeed recommends screener questions and assessments – thus making hiring more efficient for all employers and jobseekers on Indeed!
Learn more about her role here https://www.youtube.com/watch?v=du-f2iw_824&ab_channel=Indeed
Refer to her profile here:
https://www.linkedin.com/in/vickyzhang3/
*** Who should attend this webinar? ***
Data professionals, Product professionals, and anyone truly passionate about data-driven product growth
*** What you will learn: ***
- Understanding product growth through the applications of data science
- Understand how experimentation drives decision making for product led growth
- Role of data scientists in tech
- Growth & Challenges of product data science role
- Roadmap for someone getting started with DS or trying to break into tech
*** Instructions: ***
- Curious about how to join? Click on the "Attend" button and join the event at the specified date/time through the link provided in the event details.
- Do not forget to block your calendars!
- Share this event with your network so more people can benefit from this conversation
- This is an interactive event and you will get a chance to ask questions.
DISCLAIMER: The content of this event is for educational purposes only and does not include any specific facts of the presenter's current or previous company. The opinions expressed in this event are personal and do not represent any employer.