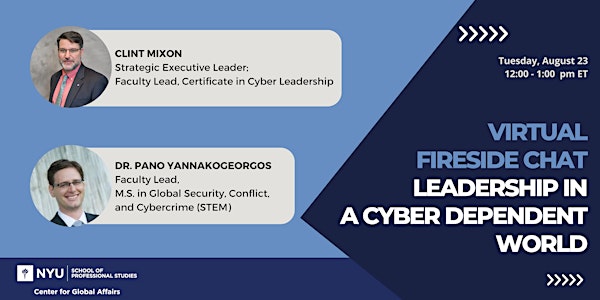 Fireside Chat - Leadership in a Cyber Dependent World
How organizations can improve their cyber resiliency and build teams who are prepared to confront the demands of our cyber-dependent world?
About this event
Effective leadership is an overlooked yet essential component of building and maintaining a cybersecurity posture. Today's business operations depend on cyber more than ever and solid leadership has always been essential to profitable business operations. Therefore it is more imperative than ever for leaders to understand their organization's technological dependencies and be able to lead across technical and non-technical communities. Effective 21st century leaders are required to understand how data breaches, hacking, ransomware, and evolving digital privacy laws impact day-to-day operations and revenue to enable the development and implementation of cross-cutting strategies.
Join Clint Mixon, a Strategic Executive Leader and Advisor on Cyber Strategy, Policy, Risk, Operations, Planning, and Leadership and faculty for the NYU Certificate in Cyber Leadership, and Dr. Pano Yannakogeorgos, Clinical Associate Professor and Program Director of the MS in Global Security, Conflict & Cybercrime (STEM) at the NYU SPS Center for Global Affairs, for a conversation about how organizations can improve their cyber resiliency and build teams who are prepared and able to confront the demands of our cyber-dependent world.
—-----------------------
Clint Mixon is a strategic executive leader and adviser on cyber strategy, policy, risk, operations, planning, and leadership, and he teaches at the NYU SPS Center for Global Affairs, the US Air Force E-School, and the Naval Postgraduate School. He has over 20 years of leadership experience, ranging from small teams to cross-functional teams of 450+, while managing over $4B in assets and annual budgets over $400M. Mixon has five years of experience working with US Cyber Command and Cyber National Mission Force teams. He also has 21 years of instructional experience spanning technical, undergraduate, and graduate programs. He is a trusted adviser to US DoD & International MoD leaders on cybersecurity and modification of adversary cyber activities. Mixon served at NY City Cyber Command in numerous roles culminating as Acting Chief of Strategy where he oversaw a team of cyber professionals working on strategy, policy, risk management, awareness training and continuity of operations. Mixon also oversaw a federal grant focused on the creation and development of a city-wide cyber workforce program. Mixon currently serves as the Information Security Lead for a non-profit private university that performs cutting edge research where he secures a complex hybrid network structure for over 12,000 users. Mixon is a 26-year US Air Force combat veteran with seven combat deployments during which he served as a commander of combat forces in three different multinational coalition operations.
Dr. Pano Yannakogeorgos is a Clinical Associate Professor at the NYU SPS Center for Global Affairs. He joined CGA after an 8 year career in government civil service with the US Air Force finishing his tenure as the Founding Dean of the Air Force Cyber College at Air University. Prior to starting up the AF Cyber College he was a Research Professor at the Air Force Research Institute where he participated in Air Force Chief of Staff (CSAF) sponsored projects evaluating cyberpower, national security and military operations for senior military leaders. At the CSAF's direction, he led a comprehensive study on organizing, training and equipping the Air Force's cyber workforce published as "The Human Side of Cyber Conflict." His scholarship has been published in Strategic Studies Quarterly, IEEE Security and Privacy, Air and Space Power Journal, Journal of Information Warfare and Terrorism as well as in several edited volumes, monographs, and policy briefs. His most recent co-authored book is The Cyber Threat and Globalization. Dr. Yannakogeorgos' professional activities include membership on the Roundtable on Military Cyber Stability (RMCS) - a multi-year series of "track 1.5" cyber norms dialogues among current and former government officials from the US, China and Russia. Contributing to global cyber capacity building efforts, he has educated senior military officers and government officials around the world as a faculty member with the Defense Security Cooperation Agency's Institute for Security Governance (formerly the Center for Civil-Military Relations). Prior to entering government service, Dr. Yannakogeorgos was a Senior Program Coordinator and Research Professor at the Division of Global Affairs at Rutgers University. Dr. Yannakogeorgos received a Bachelor of Liberal Arts in Philosophy, cum laude, from Harvard University, and his M.S. and Ph.D. in Global Affairs from Rutgers University.