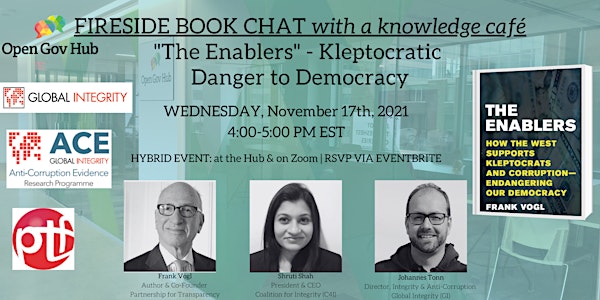 FIRESIDE BOOK CHAT | "The Enablers" - Kleptocratic Danger to Democracy
Come to discuss new book by Frank Vogl in a fireside chat with anti-corruption expert & enjoy the knowledge cafes with drinks afterwards.
When and where
Location
OpenGov Hub 1100 13th Street, NW Suite 800 Washington, DC 20005
About this event
How is our democracy endangered by kleptocracy?
Frank Vogl, book author and a founding Board Member of Partnership for Transparency (PTF) is launching his new book The Enablers: How the West Supports Kleptocrats and Corruption -- Endangering Our Democracy (publication date: 11/15/21).
He will be chatting about what's inside with fellow Hub Members & anti-corruption experts, Johannes Tonn, Director, Integrity & Anti-corruption at Global Integrity, and Shruti Shah, President & CEO of Coalition for Integrity (C4I).
Join us live at the Hub & watch via Zoom webinar. If you're coming in person, we will host a knowledge cafe & a reception afterwards.
FOR THOSE ATTENDING IN PERSON: We'll have 30% discount flyers to buy the book!
MORE ABOUT THE AUTHOR
Frank Vogl is a founder and current Chairman of the Board of the PTF. Frank is also a co-founder and former Vice Chairman of Transparency International. Frank is an author, lecturer, and adjunct professor at Georgetown University teaching a graduate course on corruption, conflict resolution and security.
PLANNING TO ATTEND IN PERSON?
IMPORTANT: Please bring your vaccination card (physical or digital copy) and your face mask with you for admission. Thank you!
THIS EVENT IS FREE & OPEN TO ALL MEMBERS & THE PUBLIC.