Fireboy DML "The Apollo Tour". His very first ever USA tour is set to hit the states in February 2022.
About this event
"Fireboy‌ ‌DML‌ ‌is‌ ‌here‌ ‌to‌ ‌put‌ ‌Africa‌ ‌on‌ ‌the‌ ‌map.‌ ‌As‌ ‌one‌ ‌of‌ ‌the‌ ‌leaders‌ ‌in‌ ‌the‌ ‌Afrobeats,‌ ‌Afropunk,‌ ‌and‌ ‌
Afro-R&B‌ ‌movements,‌ ‌the‌ ‌Nigerian‌ ‌recording‌ ‌artist‌ ‌has‌ ‌been‌ ‌dubbed‌ ‌"the‌ ‌future‌ ‌of‌ ‌Afrobeats"‌ ‌—‌ ‌
bringing‌ ‌his‌ ‌Afro-life‌ ‌mentality‌ ‌to‌ ‌the‌ ‌States."‌ ‌-‌‌ ‌‌Flaunt‌ ‌
‌
"With‌ ‌a‌ ‌sweet‌ ‌sound‌ ‌that's‌ ‌often‌ ‌decorated‌ ‌by‌ ‌the‌ ‌plucking‌ ‌of‌ ‌an‌ ‌acoustic‌ ‌guitar,‌ ‌Fireboy‌ ‌DML‌ ‌
stands‌ ‌out‌ ‌among‌ ‌Nigeria's‌ ‌most‌ ‌hyped‌ ‌artists."‌ ‌-‌‌ ‌‌The‌ ‌Face‌ ‌
‌
"He's‌ ‌as‌ ‌charismatic‌ ‌as‌ ‌the‌ ‌deep‌ ‌oceanic‌ ‌vistas‌ ‌the‌ ‌overhead‌ ‌camera‌ ‌captures...the‌ ‌budgets‌ ‌are‌ ‌
increased,‌ ‌which‌ ‌means‌ ‌Fireboy‌ ‌can‌ ‌further‌ ‌flex‌ ‌an‌ ‌already‌ ‌dazzling‌ ‌array‌ ‌of‌ ‌styles."‌‌ ‌-‌ ‌‌MTV‌
November 22, 2021 - Nigerian singer-songwriter Fireboy DML, announces his first-ever U.S. tour this upcoming winter following the release of his sophomore album Apollo. For one month only, Fireboy will be stateside kicking off on February 3rd at Providence's The Strand and then making stops across the U.S. in New York, Chicago, Atlanta, and more before wrapping up in Seattle at Showbox on February 28th. Recently achieving much success with his latest record "Peru" that has since accumulated over 26M streams and still tops the charts in at least 22 countries since release in July, Fireboy returns to the US to bring fans live renditions of their favorite tracks off Apollo.
Tickets are on sale starting Wednesday, November 24th at 10AM local time on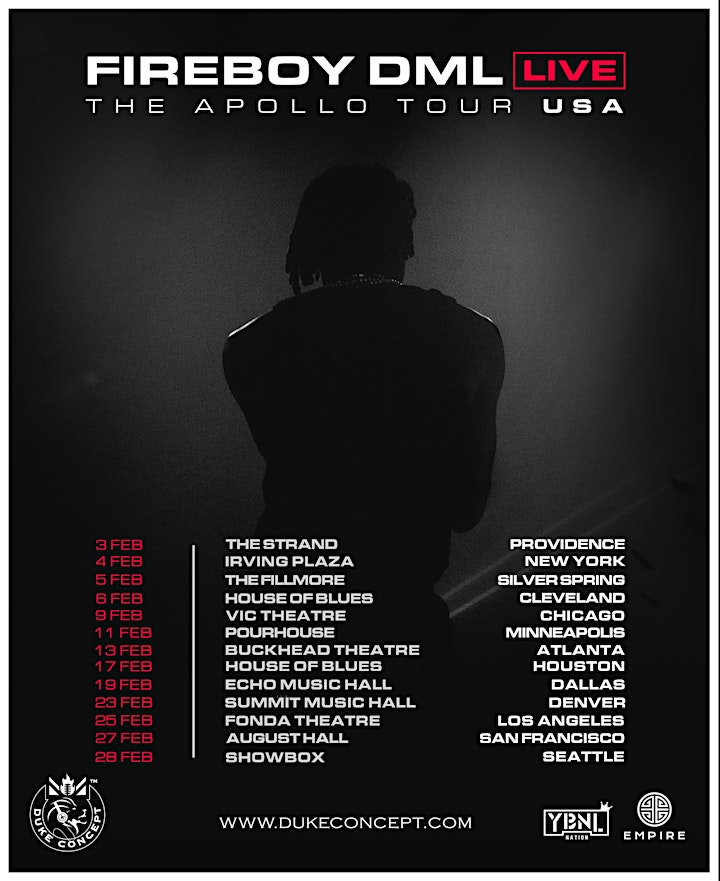 Organizer of Fireboy DML Live in Los Angeles