FinTuition Forum Boston: Securities Finance Reinvigorated

Wednesday, June 13, 2012 from 9:00 AM to 7:00 PM (EDT)
Event Details
A Special Focus on Securities Lending
Executive Seminars  9:00 AM - 1:50 PM
Beneficial Owner Closed Door Session:  Securities Lending Best Practices for US Mutual Funds
·        Best practices that also have value for other Beneficial Owners
Alpha Generation vs. Risk: Assessing the Revenues and reviewing the Risk mitigants
·        Sources and Outlook for earnings: Intrinsic value; Utilisation strategies; emerging markets; collateral transformation; yield enhancement
·        Benefits & Limitations of Benchmarking – Practical applications and constraints
Collateral: History and Changing Spectrum of Collateral
·        Collateral as a safety net against borrower default or alpha generation tool?
·        Cash versus non-cash – examining the perennial debate
·       Recent trends in collateral – what is driving the changes and will they continue?
Short Selling
·        Accusations surrounding speculative short sellers date back to 1609.  "By lending securities, isn't a Beneficial Owner acting against its own best interests?"  Analysis and evidence addressing this fundamental question
Roundtable Discussions & Presentations 2:00 – 4:45 PM
Demand Drivers
Borrowing demand drives the revenue opportunities - Review of trends, focus of borrowing side of the business and impact of regulations
 Managing for Success:– Changes driven by Market Participants
Forces "internal" to the industry that are pushing market participants to change.  Increased demands for transparency and reporting; Rising costs, tighter spreads, shorter duration, higher volume trading; Investment in technology, risk management and trading
Shaping the Future – External factors impacting the Industry
Discuss the business drivers and external factors that will have the biggest impact in shaping the Securities Lending and Equity Finance Industry in the months and years ahead. 
Networking Reception 4:45 – 6:30 PM
Confirmed Speakers:
Michael J. Barrett, Partner, Global Collateral Management Solutions, LLC
John Bilello, Director, Deutsche Bank Advisors 
Tom Daniels, Managing Director, BNY Mellon
Timothy D'Arcy, Senior Vice President, SunGard's Astec Analytics
 Jeff Kidwell, Co-Founder and Managing Director AVM, LP and III Associates 
 Paul Lynch, Chief Operating Officer, eSecLending 
 Michael McAuley, Managing Director, BNY Mellon 
 John Mosko, Vice President, Federated Investors 
Chris Poikonen, Executive Managing Director, eSecLending 
 Josh Lavender, Executive Director, JP Morgan
 Michele M. Sonier, Executive Director, JP Morgan
 James Treseler, Global Head of Equity Finance, Societe Generale
 Roy Zimmerhansl, Managing Director, FinTuition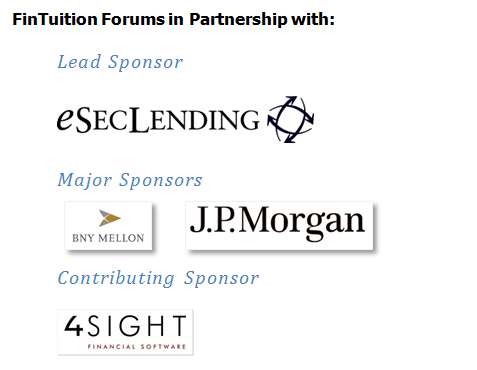 When & Where
10 Huntington Avenue
Boston, 02116


Wednesday, June 13, 2012 from 9:00 AM to 7:00 PM (EDT)
Add to my calendar
FinTuition Forum Boston: Securities Finance Reinvigorated