Description
What: Join us in San Francisco, america's top fintech hub, for a hands-on FinTech Startup Boot Camp. You'll be working closely with FinTech thought leaders and entrepreneurs from the local community, to learn the basics of getting a startup off the ground plus the necessary fintech training and network you need to increase your chances of success.
Dates: Nov 7th - Nov 11th
Cost: $1,999 to $2,999
Perks Included:
Each package includes a FREE legal, regulatory compliance and engineering consultation

Three month subscription FREE of charge to our proprietary FinTech research database

Two FREE event passes to FinTech networking events

50% discount coupon for an introductory startup video

25% discount to launch your own crowdfunding campaign

25% discount on additional training via FinTech School
Schedule Intro Call: 30 min chat with organizer by clicking here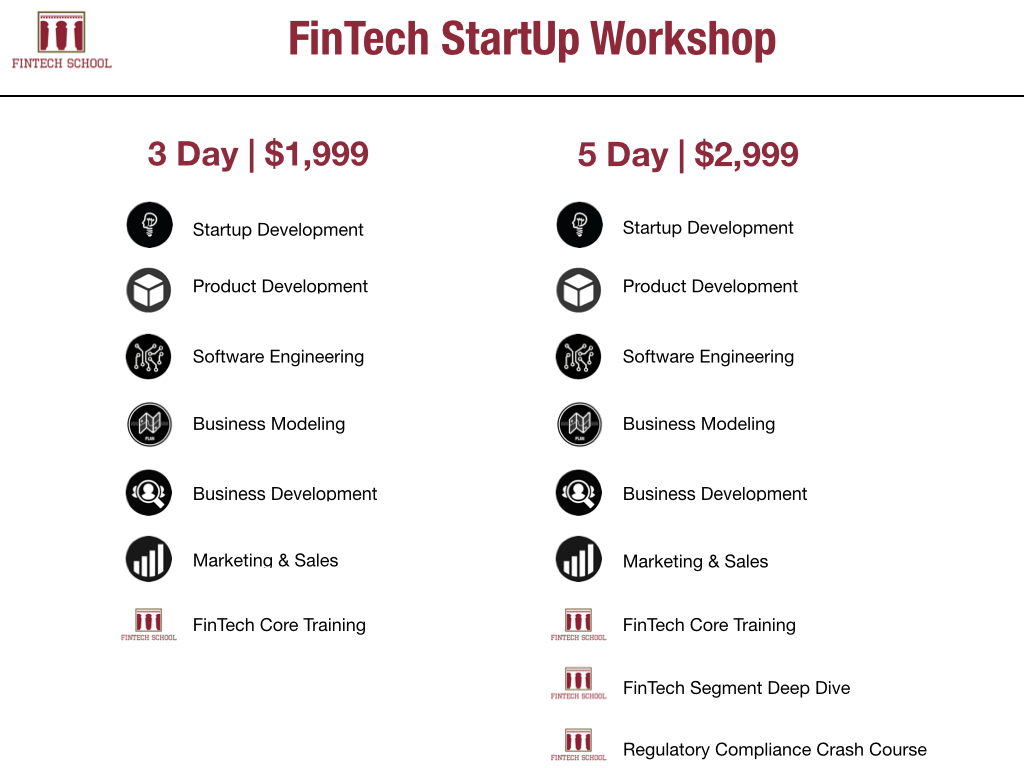 FinTech Courses
Venture Initiation Program (VIP) Courses
A startup is a temporary organization in search for a business model
Product Development
Product
Intro To Agile Product Management
How startups build products using different methodologies than a typical software development lifecycle followed at a bank

Defining A Minimum Viable Product (MVP)
Understanding what makes a product minimum in terms of features to build but also feasible in terms of monetization
​
Innovation Basics
The iterative approach to building great products and companies. How most innovative companies work and how game changing products and companies have built products that people actually want through pure trial and error.

Product Differentiation
Finding your points of parity and distinction to define your offering as a product or service including pricing, branding and overall differentiation in terms of cost, performance or other factors.

Application Programing Interfaces (APIs)
How do millions of users communicate with social media and content delivery platforms? Defining APis as products and API 1st businesses with ROI > 1

Basic Website Design
Using tools like weebly and square space to build you online presence overnight

Front End Technologies Overview
Angular.jS, Javascript, JQuery, HTML, CSS

Back End Technologies Overview
SQL vs. No SQL Databases

Software Engineering Tools
Source Control Tools

Software Engineering Best Practices
SDLC Basics. MVC Frameworks. Agile vs. Waterfall

Commonly Used References
Review of collaboration and dev resources (e.g. Stack Overflow, Quora, GitHub, HackerNews, Medium)
Startup Development
Startup Team Formation
How to assemble high performing teams that have perfect skill:will alignment

Startup Team Dynamics
The basic startup team. Team Size vs. Startup Stage.Hiring Sub-10. Startup Culture.
​
The Ideal Co-Founder
What to look for in a co-founder and how to avoid costly mistakes

Startup Legal Basics

Startup Compliance Basics

Startup Compensation Basics
​
Business Development
Business Modeling
Business Model Canvas
Intro to Business Model Canvas & how to use it to design your business

Business Model Analysis (SaaS, PaaS, IaaS, BaaS)
Compare and contrast all four of these different tech business models
​
In Depth Review Of Business Models For Financial APIs
Analysis of various Business Models for "API As Product" Businesses

B2B Business Development

Corporate Dev & Strategy Basics
Why do corporate roadmaps of incumbents matter to you as a startup? How to prep for exits given your corporate roadmap

Pricing 101
Sales & Marketing
Marketing
Digital Marketing For Startups
Define a strategic digital marketing plan for a startup
​
Go To Market Strategies

Public Relations 101
Digital buzz generation tips for startups

Developing Marketing Content
White Papers, Research, Testimonials, Thought Leadership Pieces
Metrics & Analytics
Web Analytics Intro
Google Analytics Overview. Page level and document embedded analytics
​
Customer Success
How to retain clients through listening organizations focused on customer success

Marketing Metrics​
How to monitor the health of your startup. Regularly.

​Experimentation Crash Course
How to engineer cheap experiments that yield maximum results
FinTech
FinTech Basics
Strengthen your FinTech Core Knowledge

Intermediate FinTech Topics
Build on top of a strong set of basics on more advanced FinTech Topics

Intro to Financial APIs
Learn why Financial APIs are the fastest growing category of APIs in the marketplace
FinTech Instructors

---
Edwin Carlson | Blockchain, Crypto-Currency
Edwin is a Visionary Startup Executive & Management Consultant with in-depth expertise in Finance and Technology. Accomplished in delivering market leading solutions that enhance business value while supporting strategic initiatives. Always compliant with industry regulations and directives! A Bitcoin enthusiast and promoter.

Edwin has built startups in FinTech as well as advertising, big data, loyalty marketing and human resources. He has consulted for leading companies in the banking and insurance fields, including JPMorganChase, Bank of America, Royal & Sun Alliance & HSBC, offering expertise in correspondent banking, payment processing and securities settlement.
---
Amilcar Chavarria | FinTech Core, Crowdfunding
Amilcar Chavarria is a serial financial technology (FinTech) entrepreneur with expertise in crowdfunding, personal finance, fixed income and risk management. He was most recently the Founder and CEO of FinTech Associates where he led a major FinTech player to launch the world's first Wealth Management Cloud, a robust set of Apps & APIs that power Robo Advisors & Digital Wealth Management Platforms. Prior to that, Amilcar was on the leadership team of a venture-backed startup that launched the leading payments and compliance engine for crowdfunding portals. As the Product's General Manager, he increased client growth by 300%. Amilcar was also the Founder & CEO of BuckSprout, a FinTech company focused on automating the financial advisory process and one of the earliest Digital Financial Advisors. Amilcar serves as a mentor, advisor and/or board member in several companies including Apple Pie Capital, Crowdismo, Sounding Board and CommonBond during their early stages.
---
Prakash Goswami | Payments + Transfers
Prakash Goswami is a seasoned Business Operations, Strategy and Technology executive with strong background in Strategy development, Investment planning & decision making, Portfolio/Program management, and Business Process Management. He has the proven ability to analyze the market trend and translate that to the organization's critical business requirements, identify deficiencies and potential opportunities.