Location
Hong Kong Island
Function room, Level 3, Core E, Cyberport 3, 100 Cyberport Road, Hong Kong
Hong Kong , Hong Kong Island
Hong Kong
Description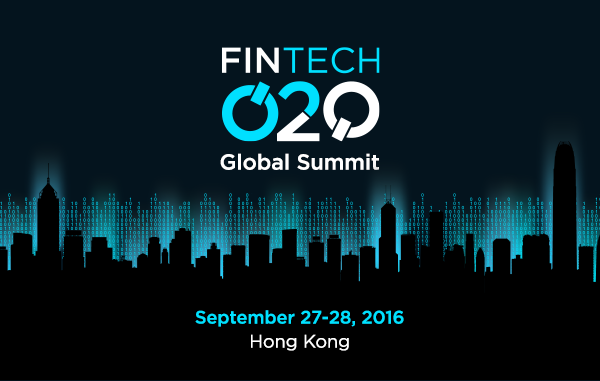 The Fintech O2O initiative began in 2015 as a monthly meet up in Hong Kong, co-organized by Cyberport and NexChange. The idea was simple – bring together like-minded professionals who recognize the impact of technology on traditional finance to network and discuss pressing topics. The initiative has welcomed 2,000+ professionals from 20+ countries.
Now in its second year, the initiative has grown into a global series with events planned in New York, London, Toronto and Shanghai.
To continue to serve the community in Hong Kong and globally, Fintech O2O is setting the stage for its first multi-day conference.
Register now to join 400+ professionals and 35+ speakers from 35+ countries!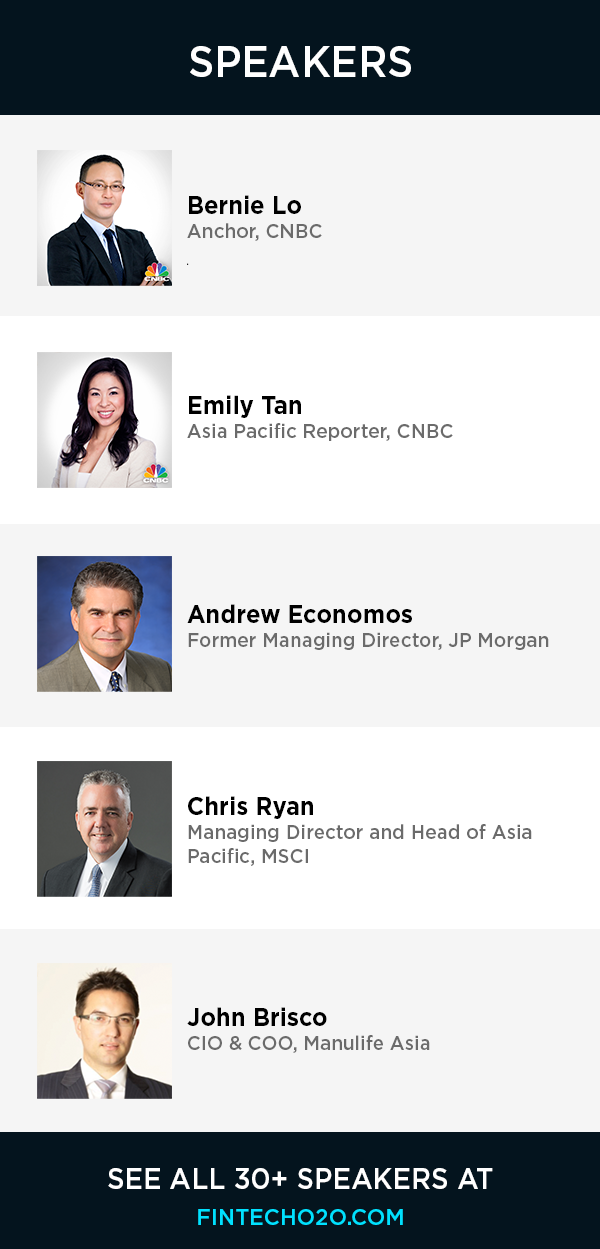 Thanks to our sponsors :

Agenda: (More speakers to be confirmed !)
DAY 1
8:30 am: Registration
9:00 am: Opening Remarks
Juwan Lee – CEO, NexChange
Herman LAM – CEO, Hong Kong Cyberport Management Company Limited
9:30 am: Keynote Address
Asset Management and Digital disruption: Don't Worry, Be Happy
Disruption is the name of the game, but what does it mean for asset management?
Andrew Economos - Former Capital Group / JP Morgan
10:00 am: RegTech: Another Brick in the Wall
Global, regional, and local regulations are changing but understanding them can work to your advantage.
Mushtaq Kapasi, Head of ICMA Asia-Pacific, moderator
Philippa Allen – CEO, Compliance Asia
Lapman Lee - Managing Director, Duff & Phelps and FSBC, European Chamber of Commerce
Edmund John Lowell - Founder of KYC-CHAIN
Ian Wood - Partner - Simmons and Simmons
10:45 am: Coffee break
11:15 am: Bringing traditional finance and fintech together: Can't Fight This Feeling
Traditional finance and fintech don't need to constantly be at odds. Can't we all just get along?
Jouko Ahvenainen - Co-founder & Executive Chairman, Grow VC Group
12:00 pm: Networking Lunch
1:00 pm: Cross Border Fintech Opportunities with US, UK and China: We are the World
How can APAC fintech start-ups expand globally, and what opportunities lie for overseas fintech in Asia?
Henri Arslanian – Adjunct Associate Professor, Hong Kong University
Karena Belin – Co founder, W-Hub
James McKeogh - Partner, KPMG
Travis Lundy - Advisor at Smartkarma
Jo Hawley - Director, Department for Intrernational Trade, Hong Kong and Macau, British Consulate-General
Jonathan Ha - CEO, Red Pulse
1:50 pm: Asset management: Don't You Forget About Me
It may not be as sexy as payment apps, but fintech in asset management has a wealth of potential.
Bernie Lo, CNBC - moderator
Joanne Murphy – Managing director, CAIA
Wing Cheung – CEO, Lattice Limited
Philip Yoon – Managing Director, Phinary Advisors Limited
Sebastien Chaker – Head of Asia, Calastone
2:45 pm: Coffee break
3:15 pm: Blockchain: We Built This City
Blockchain is the unavoidable fintech panel, but here we'll look beyond the buzzword to tangible implementation.
Leonhard Weese – President, Bitcoin Association, moderator
Alex Medana – CEO, WIP Solutions
Maxine Ryan – Co-founder, Bitspark Limited
Jack C. Liu - CSO, OKCoin & OKLink
4:00 pm: Adapting to an efficient investment world: Nothing's Gonna Stop Us Now
Financial services firms need to understand how using smart tools will create a critical advantage.
Chris Ryan – Head of APAC, MSCI
4:30 pm- Closing remarks
4:45 pm: Networking Cocktails
Day 2
9:00 am: Opening Remarks
9:10 am: InsurTech: We Didn't Start the Fire
Insurers give an inside look at how fintech is effecting their industry.
Lapman Lee - European Chamber of Commerce FinTech committee member, moderator
John Brisco- CIO & COO, Manulife Asia
9:50 am: Customer engagement and gamification in trading: Get Out of My Dreams, Get Into My Car
New technology is great, but the key is getting people to actually use it.
Isabella Carvalho – Manager, Asia Pacific Transaction Advisory Services, EY
Wladimir Huber – Co Founder & managing director, SwipeStox
Benjamin Bilski – CEO, SwipeStox
10:30 am: Payments: Material Girl
There's a slew of payments companies and apps now, and it's time to start picking the winning business models from the losers.
David Daoud – Principal Consultant, Maltem Consulting Group, moderator
Ajmal Samuel – CEO, Octo3
Shao Li Robert Liu – CEO & Founding Partner, Yintran Group
David Rosa – Co-Founder, NEAT
Paul Tomes – Co-Founder and CEO, Passkit
11:15 am: Coffee break
11:40 am: Cybersecurity: I Still Haven't Found What I'm Looking For
Security threats are around every corner. Can fintech help or are we just constantly playing catchup?
Emily Tan - Asia Pacific Reporter, CNBC, moderator
Cedric Jeannot – Phd, CEO, APrivacy
Carolyn Bigg – Of Counsel, DLA Piper
Duncan Wong – Director, security and data sciences, Astri
Eric Meyer - CEO - Apvera
12:20 pm: Closing Remarks