What the Hack is going on in the Financial Industry? Team up and find solutions for 5 exciting FinTech challenges in this 3-day Hackathon.
About this event
The moment when explorers, innovators and developers challenge the traditional finance and banking landscape is when the Fintech Hackathon 2019 starts!
Be part of a team who challenges the industry and reshapes the future of banking financial behavior. This is your opportunity to create unique ideas, prototypes, teams or even a Startup.
Talent Garden Vienna
Talent Garden is Europe's leading innovation platform for the digital & tech community and offering you to experience an incomparable Hackathon in a modern and inspiring environment. Meet motivated, enthusiastic, like-minded and passionate peers to work together on exciting challenges.
The Goal
The goal is to create innovative solutions to solve the challenges below. Those solutions are not limited to prototypes, click dummies or mocked services. Therefore, we really encourage you to work with the data our partners are providing. If you are passionate, curious, always looking for a challenge and already think about solutions how to tackle them - this Hackathon is for you. On top of the exciting experience, highly valuable prizes are waiting for you.
We are looking forward to receiving your application! If you apply as a group the max. size is five people per group.
The Prizes
Special prizes
WeAreDevelopers Conference tickets
VR Glasses & Powerbanks sponsored by BAWAG P.S.K.
Google Home Minis & Powerbanks sponsored by BAWAG P.S.K.
Workshops/Coachings with our main partners (BAWAG P.S.K., Bank Austria, Raiffeisen Bank International, BAWAG P.S.K Versicherung)
Pitch in front of C-Level Management
1:1 Business Model Challenging with Petra Hauser
Challenge prizes
Zero21 Memberships (Startup300)
Credits for Amazon Web Services (AWS)
EY consulting package (e.g. tax & legal consulting)
J. Hornig energy package
Special prices from Corona & Budweiser Beer
Talent Garden Club Membership
The Challenges
Challenge 1 | Individualization in investments – what is YOUR big idea? In today's world we expect tailor made offers in every aspect of our life. Yet investments are an attractive but sometimes complicated alternative for people. How can you make investments a cool personalized experience? How can you make this experience meaningful and fun to do?
Challenge 2 | Banking & insurance? FINALLY I get it! Financial literacy is an important topic in a society where knowledge is divided into diverse and unequal ways. How can you explain basic financial knowledge and the importance of insurance to kids but also adults?
Challenge 3 |  We'll Live to 100 – How Can We Afford It? Not saving today means risking our standards of living in retirement. One cause is limited transparency and awareness of retirement income and how to manage a potential gap. Develop solutions which facilitate and incentivize pension savings of private individuals.
Challenge 4 | We care - How can we support environmental engagement of our customers? Use financial behavior to engage in saving the planet. Environmental mindfulness and sustainability is more and more influencing customers decisions for specific products and services. Develop solutions that help and incentivize individuals & corporates to contribute to a sustainable ecological development via their financial behavior.
Challenge 5 | Megatrend Connectivity - Year 2019 is the year of Open Banking in Europe thanks to PSD2. Banks are opening up and discovering new ways to connect with customers, fintechs and other industry players, using APIs. Raiffeisen Bank International is constantly looking for ideas that will connect new partners and multiple markets in order to bring better products and services based on APIs. Our main goal is to thrill the customers through superior customer experience. As a part of the challenge, you can use any of the Open APIs available on the web, on our API marketplace, or prototype new APIs that Raiffeisen Bank International could offer in the future.
High Level Agenda
Friday, 22nd of November
04:30 pm: Arrival & Check in Talent Garden Vienna
05:00 pm: Welcome speech - Opening & Challenges
05.30 pm: Build your Team - Idea Pitch
07.00 pm: Dinner
08.00 pm: Deadline team registration
08.15 pm: HACKATHON START
09.00 pm: Input Session
12:00 am: Midnight Snack
Saturday, 23rd of November
09.00 am: Breakfast
09.30 am: Input Session
10.00 pm: Expert Session
01.00 pm: Lunch
02.00 pm Mentoring Session
07.30 pm: Dinner
08.30 pm: Input Session
12.00 am: Midnight Snack
Sunday, 24th of November
09.00 am: Breakfast
10:00 am: Pitch Training
01.00 pm: Lunch
02.30 pm: Coding Stop & Project Delivery
02.30 pm: Garden Networking
03.00 pm: Start Closing Ceremony & Pitches
05.00 pm: Winners & Award Ceremony
05.30 pm: Apéro
07.00 pm: End of Hackathon
Questions?
Please contact us anytime if you have questions about whether this event is something for you or you have questions regarding the organisation. We are looking forward to answer all your questions:
Mariella Mangold | mariella.mangold@talentgarden.com
Thank you to our Partners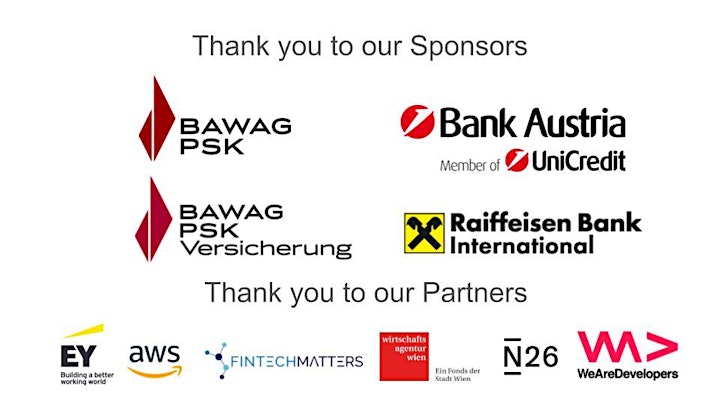 Organizer of FinTech Hackathon 2019