FinTech Forum Silicon Valley

Wednesday, September 21, 2016 from 8:00 AM to 6:30 PM (PDT)
Event Details
FinTech Forum Silicon Valley
September 21st, 2016
8AM - 6PM
Plug and Play HQ
440 N. Wolfe Rd.
Sunnyvale, CA 94085
FINANCIAL TECHNOLOGY, or FinTech, refers to a spectrum of technology innovations and startups that demonstrate disruptive potential in applications, processes, products, or business models in the financial
industry. As FinTech continues to develop and evolve, providing solutions to more facets of the financial industry, it faces a more traditional problem: balancing consumer protection with innovation. Unlike other areas of technology, FinTech requires a certain degree of fiduciary duty to their users - bringing questions of regulation, security, and compliance to the forefront. 
The George Washington University's Center for Law, Economics, and Finance is holding the FinTech Forum Silicon Valley at Plug and Play in Sunnyvale, California on Wednesday, September 21st, 2016 to bring together industry leaders, academic experts, government regulators, and legal scholars in the heartland of innovation to discuss the issues that arise in the search for such a balance. The Forum is co-hosted by Plug and Play and co-sponsored by Morrison & Foerster and White & Case.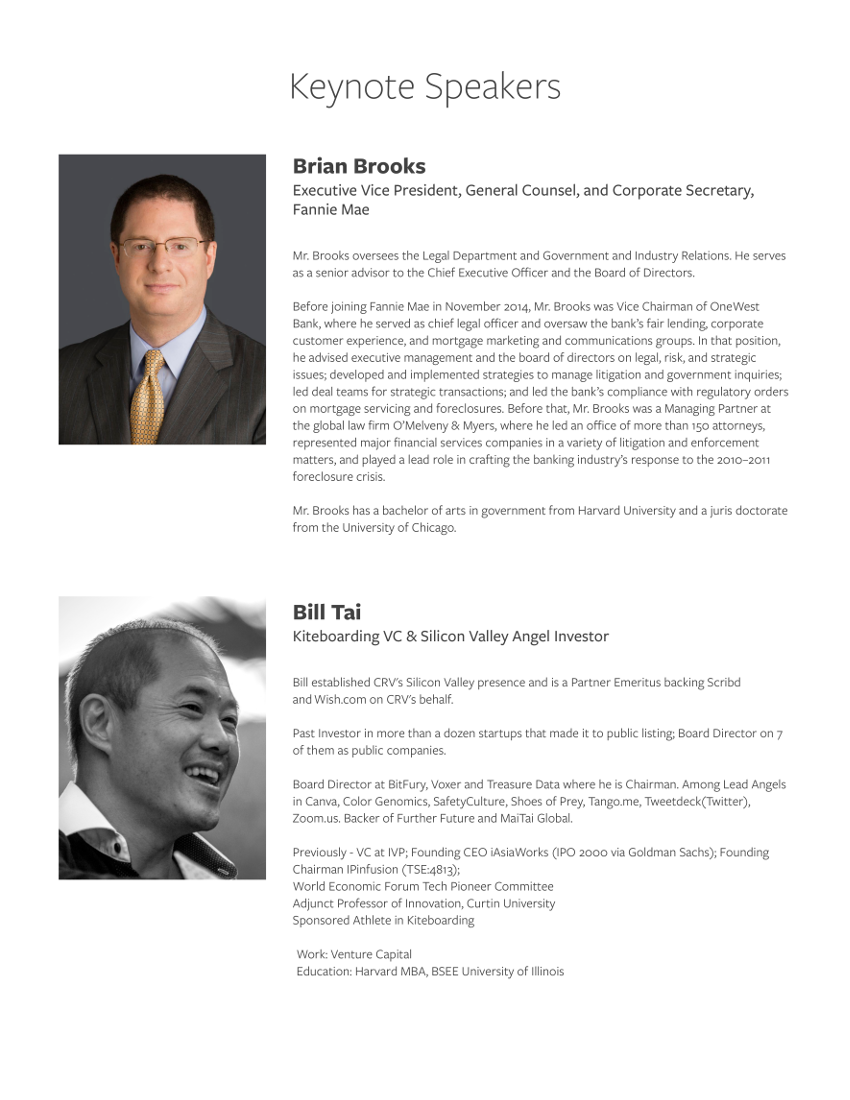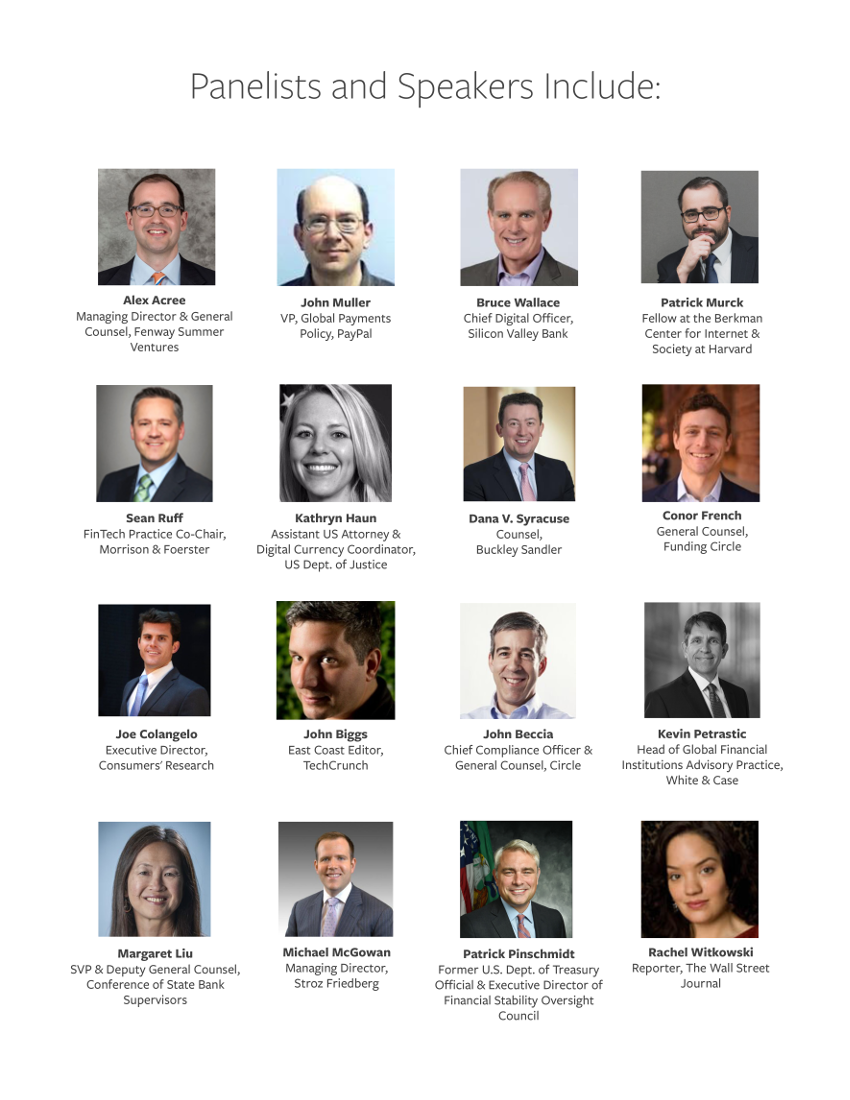 Agenda
8:00 – 9:00am – Registration & Continental Breakfrast
9:00 – 9:15am – Opening Remarks: Neil Ruiz, Executive Director, GW Center for Law, Economics and Finance
9:15 – 9:25am – Plug and Play Overview: Scott Robinson, VP & Co-Founder, Plug and Play FinTech
9:25 – 10:00am – The Current Regulatory Framework: Obrea Poindexter, Partner, Morrison & Foerster & Kevin Petrasic, Partner, White & Case
10:00 – 10:45am – Keynote Address on FinTech Innovation and the Regulatory Landscape: Bill Tai (Venture Capitalist)

10:45 – 12:00pm – Panel I: The Challenges of Reconciling Innovation and Regulation: Patrick Pinschmidt (Former US. Dept. of Treasury), John Beccia (Chief Compliance Officer & General Council, Circle Financial), Alex Acree (Managing Director & General Counsel, Fenway Summer Ventures), John Muller (VP, Gloabl Payments Policy, Paypal) & Bruce Wallace (Chief Digital Officer, Silicon Valley Bank)
12:00 – 1:00pm – Lunch and Keynote Address: Brian Brooks (EVP, General Counsel and Corporate Secretary, Fannie Mae)

1:00 – 1:45pm – Startup Pitches: 10 Min. Pitches + 5 Min. Q&A
1:45 – 3:00pm – Panel II: Legal and Practical Problems of Security in a Fast Moving FinTech World: John Biggs (East Coast Editor, Techcrunch), Michael McGowan (Managing Director, Stroz Friedberg), Patrick Murck (Fellow, Berkman Center for Internet &  Society, Harvard), Kathryn Haun (Asst. US Attorney & Digital Currency Coordinator, US. Dept. of Justice), Nathan Taylor (Partner, Morrison & Foerster), and Kevin Petrasic (White & Case)

3:00 – 4:15pm – Panel III: Who is the True Lender? Sean Ruff (FinTech Practice Co-Chair, Morrison & Foerster), Conor French (General Counsel, Funding Circle), Scott Wyckoff (General Counsel, CA Dept. of Business Oversight), and Oliver Ireland (Partner, Morrison & Foerster)

4:15 – 5:30pm – Panel IV: Who should regulate? State or Fed? Heather Somerville (Technology Reporter, Thomson Reuters), Margaret Liu (SVP & Deputy General Counsel, Conference of State Bank Supervisors), Dana V. Syracuse (Counsel, Buckley Sandler), and Joe Colangelo (Executive Directory, Consumers' Research)

5:30 – 5:35pm – Closing Remarks: Neil Ruiz, GW Center for Law, Economics and Finance
5:35 – Close – Networking Reception
Questions? Contact: neilruz@law.gwu.edu
Organizer
Plug and Play Tech Center
FinTech Forum Silicon Valley