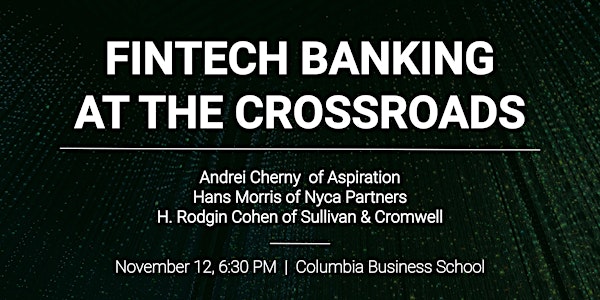 Fintech Banking at the Crossroads
A fintech founder, a venture capitalist, and a leading lawyer discuss the challenge of innovation in the regulated banking world
When and where
Location
Columbia Business School, Room 142 Uris Hall, Room 142 3022 Broadway New York, NY 10027
About this event
Fintech companies still have not cracked the code when it comes to banking. The fintech charter experiment conducted by the Office of the Comptroller of the Currency has gone nowhere, and banking regulators still seem unwilling to embrace the tech-based business models that consumers love. Can innovative fintech companies gain access to consumer deposits and payments, or will banks retain their hold over the system?
Join Andrei Cherny, Co-founder and CEO of Aspiration; Hans Morris, Managing Partner of Nyca Partners; and H. Rodgin Cohen, Senior Chairman of Sullivan & Cromwell, as they discuss the future of fintech banking in a public lecture moderated by Todd H. Baker, Richman Center Senior Fellow.
Find our more about the Richard Paul Richman Center for Business, Law, and Public Policy.
This event is open to the public and on the record. Registration is required to attend. By attending, you consent to appearing in any photos or videos produced by the event organizer or affiliated third parties. No personal recordings are allowed. If you have any questions or concerns, please contact us in advance at richmancenter@gsb.columbia.edu.