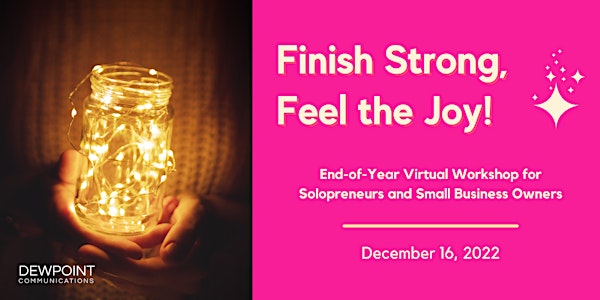 Finish Strong, Feel the Joy – End-of-Year Solopreneur Workshop
Get ready to close the books on 2022 and celebrate everything you've achieved in your business this year!
About this event
No matter what kind of year you've had in your business, navigating the twists and turns of 2022 is reason enough to celebrate!
Let's face it, as solopreneurs and small business owners, we put a lot of pressure on ourselves. And, we tend to focus on things that aren't going well more than the things that are.
So, as 2022 draws to a close, we're going to come together in a small group of like-minded peers to claim our victories, reflect on where we still want to make progress, and identify any last minute business items on our wish list that will help us finish the year strong, and feel the joy that we deserve.
You should join us for this workshop if you:
Have a service-based business, and have been hustling all year long, never stopping to take stock.
Know that you need some fresh perspective, and a chance to breathe!
Are serious about taking 2023 by storm, and want to set yourself up for success.
Want to break out of the isolation of running a business all by your lonesome and connect with other solopreneurs who know exactly what you're going through
Here's what you can expect:
A chance to remember the big picture, why you started this business in the first place, and renewed perspective on what's really important.
Real-time evaluation of what's worked this year, where you still need to focus, and a chance to really reap the rewards of all your hard work.
Plenty of time for your questions – we keep the group size small so that everyone can get some focused coaching support.
You'll also gain new perspectives, ideas & knowledge from listening to the experiences of fellow solopreneurs!
Please note that this workshop will not be recorded, so please join us on the day!
Here's what recent event participants had to say about the experience:
"This event was fantastic, so well run, and filled with valuable content. I highly recommend going to the next one. Victoria is knowledgeable, nimble on her feet, professional, highly experienced, gracious, funny, and a beautiful soul."
"Victoria gives amazing value with her gift of time, experience and genuineness with her interest in you and your business. This retreat was filled with nuggets on next steps in mindset and value and the confidence to up my game with the packages that I offer my clients."

About the Presenter
Victoria Dew, SCMP -- Dewpoint Communications
Victoria knows first-hand how challenging being a solopreneur can be, and is an expert at helping others to navigate their way through the highs and lows of building a business. She is a certified business coach, and helps purpose-driven entrepreneurs build profitable companies that are aligned with their values and life goals. Learn more here.
Here's what some of our current and past clients have to say about coaching with Victoria:
​"If someone is reading this and trying to decide whether to commit...DO IT! Don't even think about it anymore. I recently started in one of Victoria's group programs and it's the most personally resonant, hands-on business learning experiences I have had in a long time – if ever! So appreciative of Victoria's authentic and low-key presence combined with sharp business and coaching acumen, all guided by an understated but laser-focused, intuitive manner" – Amy F.
" I went from unemployment to six figures in 2020! I've been able to hire a full-time employee and support myself. I ended 2020 reaching my monthly revenue goal and since January 2021 been doubling it every month – have already hit my annual goal for this year!' – Lara J
"My business has doubled in size and revenue since working with Victoria!" – Mary S
"I went from 0 to $8500 in the first month I worked with Victoria. Having the confidence to just put my fees out there in the world and let people respond to them was huge for me. I would have absolutely undercharged otherwise." – Sara C.
"Victoria offers clarity that is desperately needed when starting a business. You can do a million things OK, but Victoria shows you 3 things you can do best." Lori L.
"Working with Victoria has opened my eyes and mind to possibilities I hadn't considered. She is an idea machine. She has a lot of compassion and can quickly identify pain points. I truly believe my business wouldn't be where it is now without her guidance and support." Diana L.