About this Event
Brought to you by the international guitar community of Fretmonkey and world-renowned fingerstyle guitar record label Candyrat Records, the 2nd Fingerstyle Collective Guitar Festival brings together some of the world's finest and most notable guitar players on the planet at Camp Mitchell located on the bluffs of Petit Jean Mountain in Morrilton, Arkansas.
Events include nightly concerts (Friday through Sunday nights at 7PM), an international guitar competition with unprecedented prizes (at 9AM on Saturday), and beginner to advanced level instructional guitar master classes taught over the course of the weekend by event headliners and featured presentations by music industry professionals taught. All ages and levels of interests are welcome to register for all events! The tentative concert schedule is as follows:
Friday @ 7PM
Sandro Norton
Peter Ciluzzi
Alexandr Misko
Marcin Patrzalek
Saturday @ 9AM
International Guitar Competition
Saturday @7PM
Roger Schmidt
Matt Thomas
Gareth Pearson
Don Alder
Stephen Bennett
Sunday @ 7PM
Antoine Dufour
Thomas Leeb
Ian Ethan Case
Jonathan Kreisberg
Individuals interested in the instructional guitar camp and other festival activities should visit www.fingerstylecollective.com to view the comprehensive event schedule and additional options.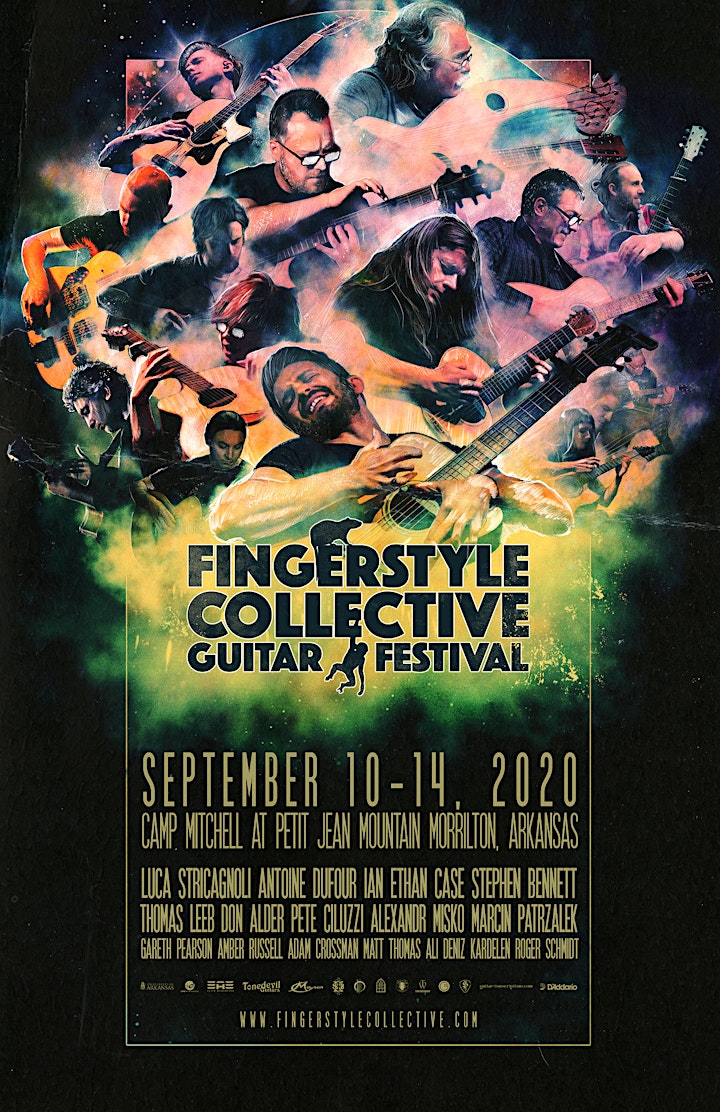 Tentative Full Schudule of Festival Events (Including Instructional Guitar Masterclasses)
Thursday, September 10, 2020 (VIP Experience – Open to all Registered Instructional Guitar Campers)
 10 AM – 5 PM VIP Instructional guitar camp check-in
 12 PM – 4 PM CPR Artist Management Pre-Festival Workshop (Pre-festival add-on workshop)
 5 PM VIP Meet & Greet Luca Stricagnoli Wine and Cheese Reception at Rockefeller Museum of Automobiles
 7 PM VIP Concert Luca Stricagnoli w/ Adam Crossman, Ali Deniz Kardelen, and Amber Russell
 9:30 PM Fretmonkey & Candyrat Camper Open Mic w/ Spencer Elliott (Open to registered Instructional Guitar Campers)
Friday, September 11, 2020 (VIP Experience Continued – Open to all Registered Instructional Guitar Campers)
 8 AM – 8:50 AM Breakfast with feat. speaker Reid Wick (Recording Academy) – Dining Hall
 9 AM – 9:50 AM Gina Mendello – Artist Management Mastermind Intro Workshop
 10 AM – 10:50 AM Instructional Master Class feat. Luca Stricagnoli
 11 AM – 11:50 AM Instructional Master Class feat. Marcin Patrzalek
 12 PM – 1 PM Lunch in Keller Dining Hall / Sponsored Booths Open / Pool Opens to Registered Guests
 1 PM – 1:50 PM Instructional Master Class featuring Stephen Bennett
 2PM – 2:40 PM ToneWood Amp Product Demonstration Clinic feat. Alexandr Misko
 2:50 – 3:30 PM ToneDevil Harp Guitars Product Demonstration Clinic feat. Matt Thomas
 4 PM Beer Yoga on the Bluff w/ yoga Instructor (must be 21 or older to consume alcohol)
 4 PM – 5:30 PM Redneck Water Polo (Camp Mitchell Pool at the Falls)
 4 PM – 5:30 PM Guided Hiking / Petit Jean Mountain and State Park (shuttle provided)
 5:45 PM – 7 PM Festival BBQ (Doors open at 5:30 PM to General Public Concert and BBQ Ticket Holders)
 7 PM Concert feat. Marcin Patrzalek, Alexandr Misko, Peter Ciluzzi, and Sandro Norton
 10 PM Camp Fire Jam w/ Travis Bowman and friends
Saturday, September 12, 2020 (Open All Day to General Public Ticket Holders)
 8 AM – 8:50 AM Breakfast w/ featured speaker Owen Kirschner – Keller Dining Hall
 8:30 AM Guitar Competition Competitors Draw Numbers – Burke Hall
 8:30 AM Sponsored Booths Open
 9:00 AM – 5 PM International Guitar Competition Hosted by Mark Grover – Burke Hall & Hoke Lodge
Feat. performance by Jorge & Nicole (Live & Online competition winners announced in Keller Hall following competition)
 10 AM – 2:30 PM Gina Mendello – Artist Management Mastermind for Professional Musicians Workshop – Grace Lodge
 12 PM – 1 PM Lunch / Break / Pool Opens to Registered Guests
 5:45 PM – 7 PM Dinner
 7 PM Concert feat. Stephen Bennett, Don Alder, Gareth Pearson, Roger Schmidt + Festival 'Legacy Award' Presentation
 10 PM Camp Fire Jam w/ RD King and friends
Sunday, September 13, 2020 (VIP Experience Continued – Open to all Instructional Guitar Campers)
 7:30 – 8 AM Acoustic Worship Service with Tyler Sellers – at the Chapel Bluff
 8 AM – 8:50 AM Breakfast – Keller Dining Hall
 9 AM – 9:50 AM Featured 'Michael Hedges' presentation by John Stropes
 10 AM – 10:50 AM Mayson Guitars Product Demonstration Clinic feat. Don Alder
 11 AM – 11:50 AM Instructional Master Class feat. Antoine Dufour
 12 PM – 1 PM Lunch in Keller Dining Hall / Pool Opens to Registered Guests / General Public Campers Check-in begins
 1 PM – 1:50 PM Instructional Master Class featuring Thomas Leeb
 2PM – 2:40 PM Instructional Master Class feat. Ian Ethan Case
 2:50 PM – 3:30 PM Stonebridge Guitars International Product Demonstration Clinic feat. Roger Schmidt
 4 PM Beer Yoga on the Bluff w/ yoga Instructor (must be 21 or older to consume alcohol)
 4 PM to 5:30 PM Redneck Water Polo (Camp Mitchell Pool at the Falls)
 4 PM to 5:30 PM Guided Hiking / Petit Jean Mountain and State Park (shuttle provided)
 5:45 PM – 7 PM Dinner (Doors open at 5:30 PM to General Public Concert Ticket Holders)
 7 PM Concert feat. Ian Ethan Case, Thomas Leeb, Antoine Dufour, and Matt Thomas
 10 PM Thomas Leeb Birthday Party @ Camp Fire Jam
Monday, September 14, 2020
 8 AM – 8:45 AM Breakfast – Dining Hall
 Checkout by 10:30 AM. Shuttle to Winfield, Kansas leaves at 10:00AM. Shuttle to Fretmonkey Recording Studio Tour leaves at 10:30 AM. Consult Festival Airport Shuttl