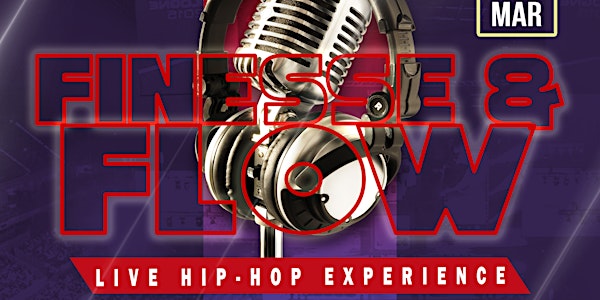 Finesse & Flow Live Hip-Hop Experience: Trayce Chapman, Don MegaTron, DeyT
Trackyon Music & Entertainment Presents, Finesse & Flow Live Hip-Hop Experience. Bringing you artists that show great finesse w/ their flow
Date and time
Friday, June 16 · 7 - 11:30pm MDT
Location
1800 E Colfax Ave 1800 East Colfax Avenue Denver, CO 80218
About this event
4 hours 30 minutes

Mobile eTicket
Trackyon Music and Entertainment Presents Finesse & Flow Live Hip-Hop Experience.
Bringing you artists that show great Finesse in their Flows.
DJ Destiny Shynelle on the Ones & Twos, and hosted by Jelie, we bring you Finesse & Flow.
Live Hip-Hop Performances from Trayce Chapman, Don MegaTron, DeyT, and hailing from the Pacific Northwest 3n'1 Rekcordz!
Find this experience at The Squire Lounge 1800 E Colfax Ave, Denver CO
Friday, June 16th, 2023
Promo Codes from artist for additional Discounts if not already applied
DES - DJ Destiny Shynelle
JELIE - Jelie
CHAP - Trayce Chapman
MEGA - Don MegaTron
DEYT - Dey T
Check Out The Featured Artist for This Edition of Finesse & Flow
Trayce Chapman
Trayce Chapman is a trailblazing genre-bending hip-hop artist of African-American descent based in Denver, Colorado. Sonically he fuses hip-hop lyricism with melodic rap & R&B vocals, to craft his melodic rap bangers and true hip-hop vibes. He's a wordsmith meticulously taking his fans on a journey with all of his tracks. He has released 6 projects to date and is currently preparing for the release of his Contraband 3 album, which is a follow up to his now 3 part Contraband album series. He began to gain popularity following the release of his single "The Flux", which cemented his spot in the conversation for "Best up-and-coming musician in Denver" according to 303Magazine. Millions of streams and counting, Trayce Chapman has been actively pushing himself creatively and is becoming known for his catchy lyricism, and his ability to seamlessly flow over hip-hop, R&B and alternative production.
Don MegaTron
Talented as they come. Recording Artist, Published Model, and Actor. Originally born in Los Angeles, California, matured in Denver, CO. Repping the Mile High to his fullest, and bringing his talents all over the West Coast.
Starting in 2017, Don MegaTron produced his own fashion experience entitled "The World is Ours"; bringing the runway and the concert experience together. Additionally, in 2019 Don MegaTron participated in "The Model Experience" in Los Angeles, CA as a runway model hosted by Ashley Runway and Lamiya Good.
To credit his acting presence, in 2018 he also was in Wale's "Black Bonnie" music video and circa 2019 was in Wiz Khalifa's and Curren$y's "Gettin Loose" music video in support of their collaboration "2009".
Don MegaTron has released two independent projects since 2019 available on DSP. In 2019 the "Sovereign EP" and in 2020, the "Warrior EP". The "Warrior EP" is a 9 track tape that has banger after banger, and includes 4 visuals that has accumulated over 50K views in total.
It's such a great opportunity to have him on the VMK 2022 Tour, and have him representing Trackyon Music and Entertainment.
Dey T
DeyT is a 25-year-old rapper and producer hailing from Aurora, Colorado. A former wrestling champion who quit at the height of his career to pursue music, DeyT has a background in audio engineering and a passion for creating emotive, introspective music.
He has released six albums including "#Normal," "The Spaceman Continuum," and "Digital Hippie," as well as popular singles such as "True Story," "The Switch Ups," and "Risky."
Known for his fascination with celestial bodies and the cosmos, DeyT channels his competitive energy into his craft and has established himself as a promising up-and-comer in the underground rap scene. In addition to his music career, he is also the mastermind behind the "Spaceman" alter ego and clothing brand, which features an astronaut diving into a black hole as its logo.
His latest album, "Come to God," explores themes of drugs, sex, and troubled relationships as well as the artist's spiritual beliefs, making it a must-listen for fans of introspective rap music
3n'1 Rekcordz
Hailing all the way from the PNW (Pacific Northwest) 3n'1 Rekcordz brings us an original sound and lots of flow we are so excited to welcome them back to Denver!
Hosted by Jelie
Jelie is a multi-talented rapper and producer who is at the fulcrum of an evolving Hip Hop scene. Jelie pronounced "Jel-eye," is a very different and uniquely wired musician who isn't afraid to break the rules and push the boundaries of our perception with her deeply layered lyricism and well-crafted production. Born and raised in Denver, Colorado, Jelie is making music driven by a desire to motivate, inspire, and tell her story her way. She holds a Bachelor of Science degree in Recording Arts, and music is how she expresses herself authentically. She writes lyrics that draw from her experiences, and by using her musical acumen, she articulates stories and shared perspectives that will connect with audiences across the spectrum. She cites icons such as Missy Elliott, Tech N9ne, and Brotha Lynch Hung as pivotal influences in her music. She also draws inspiration from her family. Her autistic brother and sister are central to her motivation and heart. She has a deep-rooted passion and loves working with people who are perceived as disadvantaged, the elderly, the young, and the disabled. As an artist, her bars are cold and knit together by emotive and expressive punchlines. Her effortless intonations are accentuated by a skillfully resonated voice. She delivers her rhymes in a cadence that crescendos with spellbinding emotional undertones. The talented enigma is here to reshape and leave an indelible mark in the industry.
Follow on Instagram @jelie303