Description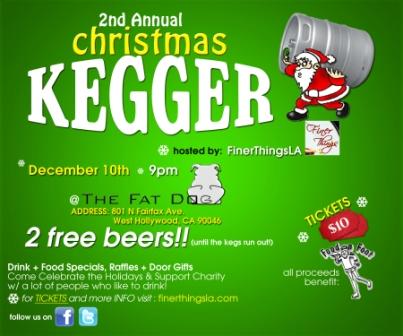 When: Saturday, December 10th, 9:0pm - 1:00am
Where: The Fat Dog - Hollywood, 801 N. Fairfax Ave
Tickets: $10, All Proceeds Benefit FoodOnFoot (www.foodonfoot.org)
Deals: First two beers FREE (until kegs run out) + $3 FinerThingsLA holiday shots
Bonus: FREE PARKING!
Come join us in a holiday booze fest!
Yet again, another amazing year for FinerThingsLA. You make us drunk+fat gals feel so loved and we cannot wait to celebrate the holidays with you again this year! We loved everyone who attended last year and can't wait to meet members of our new larger following (wow we sound like a cult now, don't worry, no kool-aide will be served..)
There will be free beer, lotsa booze, lotsa food,, raffles for some fun stuff, and US!
Make Sure to Dress In Your Holiday Best! (Interpret as You Like, We Love Costumes and Originality!)
ALL PROCEEDS BENEFIT FOOD ON FOOT (www. FoodonFoot.org)
CONFIRMED RAFFLE DONORS INCLDUE:
* The Dry Bar (We adore this place: get your hair did while you sip on champagne? Love it.)
* Morrocan Wines by Exotic Imports (Yes, there is wine from Morroco. And its delicious.)
* Bites Desserts (Secret addicition to those sugary little cake pops...)
* Sephora (Gotta look good..)
* NightTap (These are our partners in drunk+fat+cheap crime...)
* BelAir Belini (Sparkly deliciousness with a hint of peach)

* U*Styled (Need to get your shit together and revamp your style? See her.)

Organizer of FinerThingsLA Christmas Kegger 2011