Description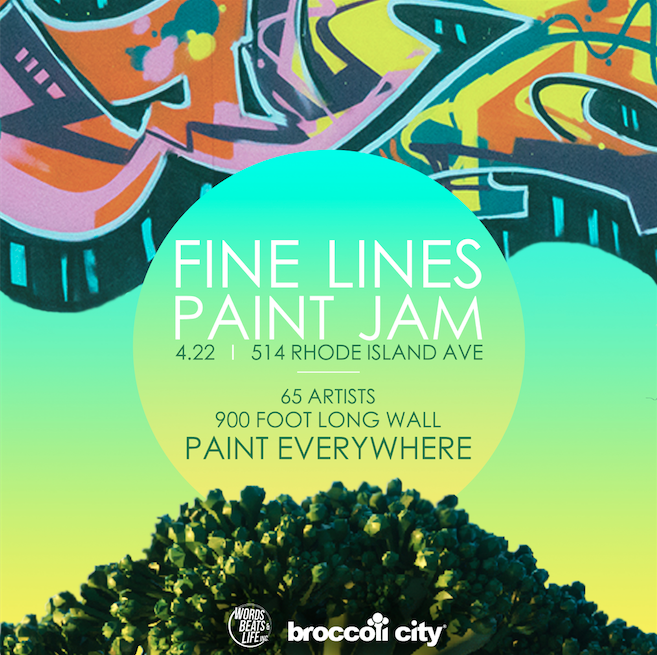 15- year strong Hip-Hop nonprofit Words Beats & Life is bringing back 900ft of canvas for DC to conquer this Earth Day. On April 22nd, witness over 50 street, graffiti, and fine artists transport you through their visions of a sustainable city at the Fine Lines Paint Jam in partnership with the Broccoli City Festival. While artists illustrate their imaginative landscapes of a green future, enjoy food trucks, live music, family friendly performances, and a diverse community of art lovers at 514-680 Rhode Island Ave NE.
The Fine Lines Paint Jam is the clearest window into safe, public spaces for anyone, especially youth, to freely create. This year, it's also one artist's chance to win a very live surprise via Broccoli City Festival (BCFest) on May 9th! Be the artist with the most brilliant Broccoli City to win.
Don't forget about our annual Photo Competition where one talented photographer will win $350. Send your name and social media info to marcus@wblinc.org for registration details. Til then, keep up with everything Words Beats & Life at wblinc.org and check out Broccoli City's week of events leading up to Broccoli City Festival at bcfestival.com. Please send all vendor and partnership inquiries to marcus@wblinc.org. We'll see you on April 22nd then catch us at Broccoli City Festival May 9th playing games and giving out gear in Market Village!