Finding Your Wings

Thursday, December 11, 2014 from 7:00 PM to 10:00 PM (PST)
Event Details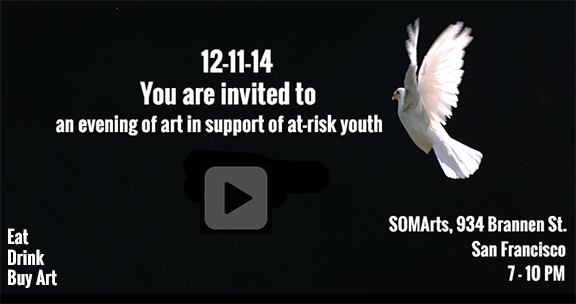 This signature event presents unique artwork inspired by WINGS benefiting
The Imagine Bus Project.  Complimentary entrance, wine, hors d'oeuvres, and live music.
... 
Underwriting Sponsors
Triple Point Capital & First Republic Bank
...
Live Painting By Zio Ziegler
Live Auction With Tyler MacNiven, Co-Owner of West of Pecos
Live Performance By Holly Muñoz
...
Signature Dish Sponsors
Angel Heart Cakes, Buck's of Woodside, Kitchentown, Mochica,
Wine and Beer Sponsors
B Cellars, Boutique Wine Marketing, Fort Point Beer Co., Miura, Swirl, Tejada Vineyards
...
Contributing Artists
Abrasha, Steve Anderson, Rebecca Anne, Jose Antonio, Rafael Arana, Carolyn Barlow, Brad Black, Francesca Gajona Blythe, Jaren Bonillo,  Marie Cameron, Manuel Cardero, Chris Cardinale, Franklin Cariffe, James Carrington, Petra Class, Hardie Cobbs, Daniel Cohen, Linda Cosgrove, Martha Davis, Nathan Dehart, Dave Eggers, Manuel Encinas, Sandra Enterline, Christiane Evans, Tamara Fowler, Leslie Fry, Shelley Gardner, Josh Greenberg, Stephen Gomez, Tracy Griffith, Nathan Henry-Silva, Tom Hill, Cameron Hirigoyen, Linda Horning, Katherine Jacobus, Cecy Jones, Kurt Kemp, Lauren Koch, Jennifer White Kuri, Jeff Larson, Sandra Legler, Baptiste Lignel, Carlos Loarca, Hung Lui, Thomas Mann, Annette Marwald, Carlos Merino De Villasante, Mary Merrick, Nancy Modefferi, Ian Montgomery, Andrew Moore, Milena Moordian, Visi Moordian, Holly Muñoz, Kevin O'Gara, Bill Owens, Mark Perlman, Silvia Poloto, Alejandro Quicoces, Nico Rivetti, Craig Roberts, Lilii Samii, Boni Sanchez, Kate Schermerhorn, Adrian Segura, Jim Seibold, Pamela Simlow, Kerry Skarbakka, Karen Stanton, Sarah Stolar, Jeff Sugarman, Celia Tejada, Nicolas Terry, Kimberly Thompson, Petter Torle, Raissa Trend, Trilium Graphics, Giorgio Tuscani, Jennifer White Kuri, and Zio Ziegler
...
Special Thanks
Oberon Design and Manufacturing, Mercury Prograde, Ship Art International,
and SOMArts Cultural Center


Finding Your Wings is supported by the SOMArts Cultural Center's Affordable Space Program, which provides subsidized, large-scale affordable space and technical assistance to nonprofits. SOMArts receives support from the San Francisco Arts Commission's Community Arts and Education Program with funding from Grants for the Arts/The Hotel Tax Fund. The mission of SOMArts is to promote and nurture art on the community level and foster an appreciation of and respect for all cultures. To find out about SOMArts classes, events, and exhibitions, please visit www.somarts.org
When & Where

SOMArts Cultural Center
934 Brannan St
San Francisco, CA 94103


Thursday, December 11, 2014 from 7:00 PM to 10:00 PM (PST)
Add to my calendar
Organizer

OUR MISSION
Through arts education and community partnerships, The Imagine Bus Project engages and inspires incarcerated youth, and youth impacted by the juvenile justice system. We enable self-expression and positive personal development so that young people can successfully re-enter their communities and find a path to a fulfilling future.