Finding Your Voice: A Gathering of Inclusive United Methodists
About this Event
We will have three events throughout the course of the weekend, each with it's own unique focus!
Clergy and lay people are invited to join us on Saturday 4-6 PM for a learning session led by JJ Waren, RMN, and MOUMCNEXT. This session will also include facilitated strategizing around creating a more inclusive Church. Kirkwood UMC, 201 W. Adams
Youth and Young adults are welcome to join with one another (and JJ) in joyful fellowship at Clementines Naughty or Nice Creamery from 7-9PM [ice cream not provided-bring cash!]. This event will meet safe sanctuary guidelines. Clementine's Naughty or Nice Creamery, 1637 S. 18th Street.
Finally, all are encouraged to join us in worship at Webster United Methodist on Sunday at 2PM. This worship service will be led by representatives from Methodist Churches across the region and will feature a variety of worship styles. Message provided by JJ Warren. Webster United Methodist, 600 N Bompart.
*Funds raised by ticket sales will cover costs of event. Remaining funds will be donated to MO RMN*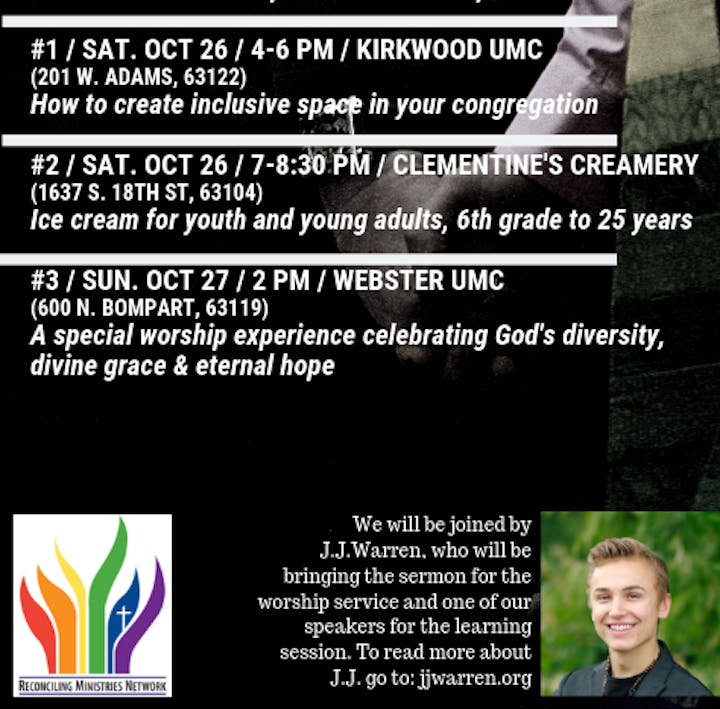 Please note Location for each event!