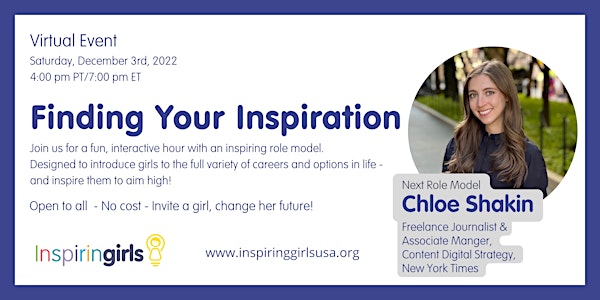 Finding Your Inspiration in Journalism with Chloe Shakin
Enjoy an hour-long session with a fantastic role model in the field of journalism. Hear her story and get your questions answered.
About this event
We are thrilled to announce the next role model in Inspiring Girls USA's Finding Your Inspiration Series: Chloe Shakin, Freelance Journalist and Associate Manager, Content Marketing Strategy at The New York Times. MS '22 Columbia University Graduate School of Journalism.
About Chloe Shakin
Chloe will be sharing advice for young women curious about all things journalism — from reporting and writing, to using social media to tell stories and brainstorming new ways for newsrooms to embrace digital technology. She'll share how she got her start in journalism at her high school and college newspapers, what it's like to work at The New York Times, and ideas for how girls can follow in her footsteps.
About the Finding Your Inspiration Series
The Finding Your Inspiration Series is a FREE, online, monthly event series, designed for 11-16 year old girls to hear from fantastic women role models sharing about their personal, educational, and professional journey. All sessions are lively and fun, and always a safe environment for girls to get involved - to learn, ask questions, and get inspired. Older and younger girls, parents, grandparents, friends, teachers, mentors, couselors, and even men and boys attend. Why? Because everyone can benefit from hearing from more women role models and support the next generation of women leaders.
Did you know?
Research shows that introducing girls to role models broadens their minds, boost their expectations of success, and reduce stereotypes. 70 percent of girls say they think differently about their futures after hearing from women role models.
What will you ask?
What does your job mean to you? Who inspired you? What does an average day look like? What did you study? What have been your highs and what has been tough along the way? What was the best advice you were given when you were young? What advice would you give now?
We hope to see you there!
Any questions or comments, reach out to us at hello@inspiringgirlsusa.org or to learn more visit: https://inspiringgirlsusa.org/finding-your-inspiration-series