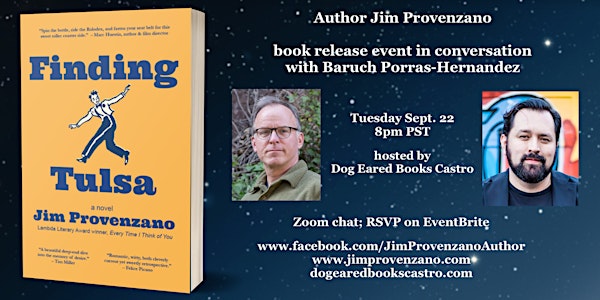 Finding Tulsa; author Jim Provenzano in a talk with Baruch Porras-Hernandez
Jim Provenzano discusses his seventh novel, Finding Tulsa, with writer Baruch Porras-Hernandez, in a talk hosted by Dog Eared Books Castro
About this event
Jim Provenzano's seventh novel, Finding Tulsa, will be published September 22, 2020 with Palm Drive Publishing. Join Jim, with host Alvin Orloff of Dog Eared Books, in a book talk with Baruch Porras-Hernandez.
Order advance paperback copies soon directly from Dog Eared Books in San Francisco.
The Story: Stan Grozniak, director of a '90s cult action trilogy and gay art films, almost self-sabotages a prestigious directing gig with his writer-producer ex-boyfriend, after casting his rediscovered teenage summer stock crush. His tale of cinematic success and failure captures the passion and heartache of making love, making movies, and the occasional riot.
JIM PROVENZANO is the author of Finding Tulsa, Now I'm Here, the Lambda Literary Award-winning Every Time I Think of You, its sequel Message of Love (a Lambda Literary Award Finalist), the novels PINS, Monkey Suits, Cyclizen, the stage adaptation of PINS, and the short story collection Forty Wild Crushes.
Audiobook adaptations include PINS (narrated by Paul Fleschner) and Every Time I Think of You and Message of Love (narrated by Michael Wetherbee). Born in New York City and raised in Ashland, Ohio, he studied theatre at Kent State University, has a BFA in Dance from Ohio State University and a Master of Arts in English/Creative Writing from San Francisco State University. A journalist, editor, and photographer in LGBT media for three decades, he lives in San Francisco.
BARUCH PORRAS-HERNANDEZ is the author of the chapbooks "I Miss You, Delicate" and "Lovers of the Deep Fried Circle" both with Sibling Rivalry Press. He's toured with the legendary Sister Spit Queer poetry tour, is a two-time winner of Literary Death Match, a regular host of literary shows for KQED, LitQuake, and was named a Writer to Watch in 2016 by 7x7 Magazine.
His writing can be found with Write Bloody Publishing, Santa Ana River Review, The Tusk, Rio Grande Review, Foglifter, Assaracus, Foglifter, Red Light Lit, Sparkle and Blink, and many more. He has been an artist in residence at The Ground Floor at Berkeley Rep, a Lambda Literary Fellow in Poetry, and Playwriting. He's been featured in shows with The Rumpus, Writers with Drinks, and has performed several times at BusBoys and Poets in D.C. His solo show Love in the Time of Piñatas got a clapping man from the SF Chronicle and was performed to sold-out houses at Epic Party Theatre in December of 2019. He lives in San Francisco.
Advance Praise for Finding Tulsa
"Finding Tulsa reminds you what a good friend a novel can be. It's about friendship, about "losing men and then finding them," about brotherly love and conflict, and the possibility of resolution. It's sexy, funny, astute, panoramic – it knows about suburban Ohio basement rec rooms and glam parties in the Hollywood hills. I felt like I had met a charming guy at a cocktail party who seemed to get me, understood my past, confided his own, and then disappeared to another better party before I was ready for him to leave. And it's wrapped around a fearless, wrenching narrative about facing your childhood demons, raising the question of whether or not one of the demons might have been you. There's so much to savor, to argue with, reflect upon, learn from, enjoy."­ – John Weir, Lambda Literary Award-winning author of The Irreversible Decline of Eddie Socket
"Everything's coming up roses in Finding Tulsa, Jim Provenzano's intoxicating portrait of an artist as young to middle-aged man, from a high school musical techie in torn shorts to a semi jaded independent gay filmmaker. It's a well-told yarn, full of humor and panache about a Hollywood player torn between his boyhood crush and a porn star. Spin the bottle, ride the Rolodex, and fasten your seat belt for Provenzano's sweet roller coaster ride." – Marc Huestis, film director (Sex Is …) and author of Impresario of Castro Street: an Intimate Showbiz Memoir
"Jim Provenzano must have been spying on me from my adolescence (making short films with my brother) to my adulthood (making gay movies and TV series). I identified with every twist, turn, and blow by blow of this sexy show biz saga!" – Sam Irvin, Director of Dante's Cove; Co-Producer of Gods And Monsters, The Broken Hearts Club
"Finding Tulsa is sexy, romantic, witty, engaging, both cleverly current yet sweetly retrospective. It's Jim Provenzano's most complex and accomplished novel. He gets so much right and so evocatively about show business, from those school plays we all remember to Hollywood made-for-television movies, with delicious stops at boyhood Super-8 movies and out of town gay porn shoots." – Felice Picano, author of Justify My Sins: A Hollywood Novel in Three Acts, and the New York Times best-seller Like People in History
"Jim Provenzano's sexy, funny and soulful new novel Finding Tulsa is a beautiful deep-end dive into the memory of desire, the thumping bass note that drives life and art. The novel gorgeously explores how our hearts and cocks are woven with our theatre and films as we figure out how to be the star of our own queer story." – Tim Miller, Performer and author of A Body in the O
"Lights! Camera! Action! Finding Tulsa is a show-biz comedy told by a witty industry insider divulging how plays and movies and characters like 'Tulsa' help gay boys survive adolescence, create identity, and worship beauty. What better icons could Provenzano have picked than Sondheim and Gypsy on which to fly his vivid characters, backstage intrigues, and dialogue sure to thrill the theater and movie queen in all of us. Writing at the top of his powers, with his striped tie and hopes high, he's got rhythm. All he needs is you to go with 'im. A splendid romp! Let him entertain you!" – Jack Fritscher, author of Mapplethorpe: Assault with a Deadly Camera and the Lammy Finalist Some Dance to Remember: A Memoir-Novel of San Francisco 1970-1982
"Jim Provenzano always keeps in mind what the original 'Tulsa' said in Gypsy: 'This step is good for the costume.' Provenzano never misses a step as he suavely combines aesthetics and homoerotics in a work that is throughout deeply touching." – David Ehrenstein, author of Open Secret: Gay Hollywood–1928-2000
https://dogearedbookscastro.com/
https://www.jimprovenzano.com