Description
Join me as I host guest speaker, Barbara Spector, President, SmartMoves! Inc. for our upcoming session on how to deal with six obstacles that are making your ability to hire the best and brighest in sales more difficult.
Most managers experience a greater percentage of failures when staffing their companies with salespeople than non-salespeople. Why? Salespeople are different and they must overcome different challenges.
In Finding the Needle in the Haystack: Overcoming the 6 Obstacles to Hiring Sales Superstars, our speaker will talk about what those differences are and how to use those differences to your advantage when hiring salespeople.
1. The 6 challenges salespeople face that we overlook when recruiting them.
2. Is your job posting attracting top talent or just "C" players?
3. Why pre-employment assessments fall short when hiring salespeople.
4. What we often neglect to uncover when we read resumes before proceeding with our interview process.
5. A different approach to interviewing sales candidates that can tell you if you have someone that will actually succeed.
6. Onboarding salespeople must be more than "here's your desk, here's your phone, go get 'em kid!"
If you want to hire top performing salespeople and get past the obstacles that may be hindering your recruitment and hiring efforts, you don't want to miss this session!!
REGISTER NOW! Once you register, log in information will be emailed to you!
About Our Guest Speaker - Barbara Spector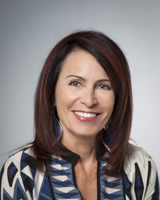 Barbara Spector is the Founder and President of Smart Moves where she is an expert in sales force improvement, retention and development. She has her degree from Boston University, has been a guest lecturer at Syracuse University's School of Sales and Marketing and is certified in over a dozen assessment methodologies. She specializes in and speaks on helping the C-Suite make effective hiring decisions to accelerate their revenue. As a member of SHRM, ATD, AA-ISP, NAED, NAPW and the National Speakers Association, she has worked with companies such as Corning, Merrill Lynch, US Bank, Citizens Bank, Woodruff Sawyer Insurance, Samsung, NEC, Raytheon, HCA Healthcare Corporation of America & Sun Microsystems. With over 20 years of sales success and conducting effective sales trainings nationwide, she has been a multi-million-dollar producer in her own right and recently named the Woman of the Year by the National Association of Professional Women.