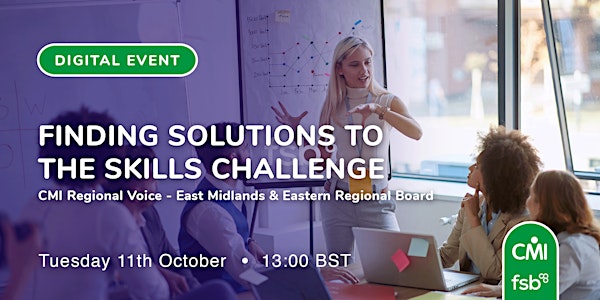 Finding Solutions to the Skills Challenge
We will discuss how managers can recruit and retain staff with the right skills, and upskill existing staff.
About this event
From recruiting your first employee, to growing an established team, hiring people with the right skills is essential to driving business success. However, the UK is facing skills shortages in areas as diverse as manufacturing and engineering to health and care. In this session we will discuss how managers can recruit and retain staff with the right skills, and upskill existing staff. As part of this, we will consider how small businesses can learn from best practice in large organisations, and vice versa.
This event is held in partnership with the Federation of Small Businesses.
Our Speakers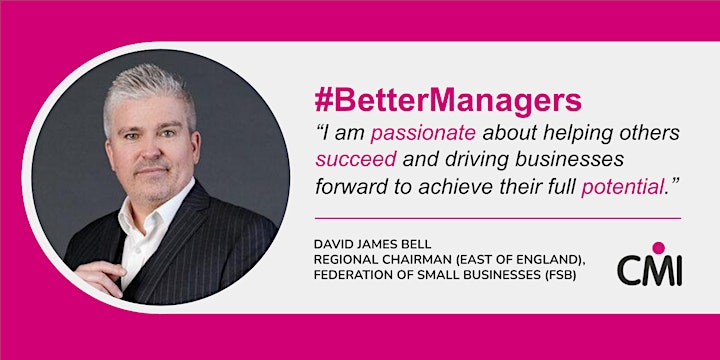 David James Bell
Regional Chairman (East of England), Federation of Small Businesses (FSB)
David is a highly accomplished, multi-award-winning company director, entrepreneur, executive business advisor, technology expert, keynote speaker and chat show host. He is passionate about helping others succeed and driving businesses forward to achieve their full potential.
Starting his entrepreneurial journey back in 1995 at the tender age of seventeen, David Co-founded APC Solutions – now recognised as a leading provider of wireless communications solutions. Twenty years on it's now a multimillion-pound company delivering projects in the UK, Europe, South Africa, North America and the Middle East.
David has vast experience and knowledge in communications, IT solutions and technology, backed with a solid understanding of business management and leadership.
In 2013 David founded Simboc Limited, a business consultancy and management company providing bespoke services to other organisations. Motivated by his passion to see others reach their potential, David takes particular pleasure when mentoring and coaching others to help them realise their dreams and business goals.
David Founded The Speaker Expert in early 2015 to help coach and train individuals who want to learn how to speak and present like an expert. The Speaker Expert is now the go-to speaking organisation for many business owners and their teams.
David volunteers as a STEM (Science, Technology, Engineering & Mathematics) ambassador for STEMNET, helping to inspire young people and encourage them to enjoy STEM subjects.
In 2015 David was awarded an Honorary Fellowship of the Institute of Enterprise and Entrepreneurs for his contribution to UK enterprise.
In June 2017, David was awarded Fellowship (FCIM) status as a member of the Chartered Institute of Marketing (CIM).
In late 2020 David Co-founded UniEE (University of Enterprise and Entrepreneurs), then shortly afterwards David and Nick launched ChatBox Productions. Chatbox Productions – 'the home of conversation' is a company born from the pandemic and was founded by business owners David Bell and Nick Looby. They answer the need for support, information, entertainment, and discussion in both business and public arenas.
David lives in Essex in England with his family and exuberant (and at times insane) Springer Spaniel. In his spare time, David likes to play squash, watch motorsport, indulge in a glass of fine wine or tackle the downhill on a pair of skis. He's partial to a game of golf, but he's not any good at it.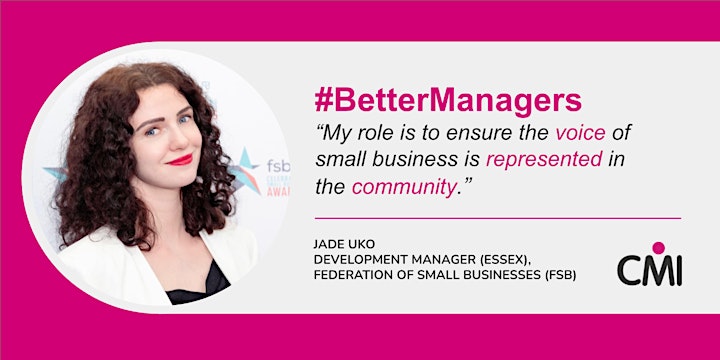 Jade Uko
Development Manager (Essex), Federation of Small Businesses (FSB)
Jade Uko is a Federation of Small Businesses Development Manager. Jade's role is to ensure the voice of small business is represented in the community and at different levels of decision making and representing small businesses in the community. As a former unitary Councillor, Jade became the youngest female Council Speaker in history and is passionate about equality, education, and economic development. In her spare time, Jade is a school governor and mentor for a national educational charity.
Our Host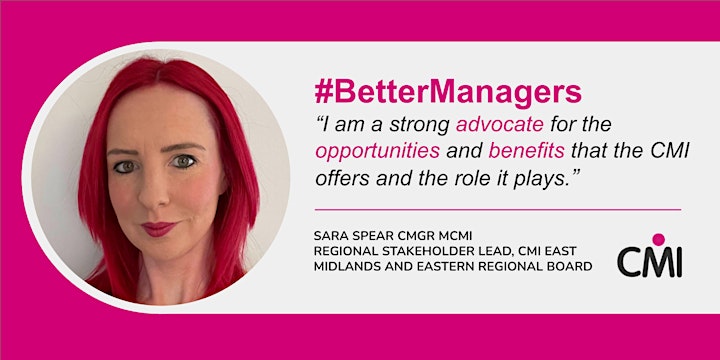 Sara Spear CMgr MCMI
Regional Stakeholder Lead, CMI East Midlands & Eastern Regional Board
As Head of School of Management at Anglia Ruskin University, Sara oversees teaching, research, and business engagement activity across the areas of Marketing, Entrepreneurship, Events, Tourism, Human Resource Management, and Organisational Behaviour. Sara is a Senior Fellow of the Higher Education Academy, and has previously worked at the University of Portsmouth and the University of the West of England. With a PhD in Marketing, Sara leads research projects which focus on using marketing for social good, and improving health and wellbeing, especially within educational settings. Her interest in supporting schools, children, and families has led to her becoming a Governing Member of a Multi Academy Trust, and a Parent Governor at a primary school.
Having worked with the CMI on the professional accreditation of courses, and enhancing student employability, as well as gaining Chartered Manager status herself, Sara is a strong advocate for the opportunities and benefits that the CMI offers its Members, and the role it plays in supporting and developing managers and leaders. Sara is delighted to join the board as Regional Stakeholder Lead, and is keen to continue developing strong links between the CMI, businesses, third sector organisations, and universities.
In the meantime...
If you're a member of CMI, or subscribe to our content, you can find thousands of exclusive, practical development resources in ManagementDirect. Log in here and search for a topic to get started!
Not yet subscribed?
From free newsletters packed with the latest trends, insights and tips for managers and leaders, to the full suite of invaluable tools and benefits that come with being a CMI member, we've got something for everyone. Visit our website to find out more.