Finding Solutions to Problems of Copyright Infringement

Tuesday, October 12, 2010 from 8:00 AM to 10:00 AM (EDT)
Event Details
To Register for Future IP Breakfast Events Please go
to http://ipbreakfastseries.eventbrite.com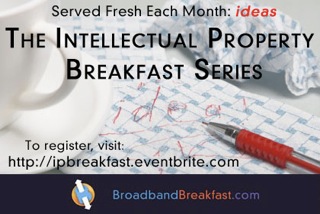 BroadbandBreakfast.com presents
The Intellectual Property Breakfast Club
Event
Finding Solutions to Problems of Copyright Infringement
(Continued in November Breakfast)
Now is an exciting time for copyright and patent experts to gather in a neutral forum to discuss the policy, business, legal and technological issues surrounding intellectual property on the internet.
BroadbandBreakfast.com is thus hosting a new monthly Intellectual Property Breakfast Club, meeting on the Second Tuesday of the month to complement our successful Broadband Breakfast Club.
Almost all parties agree that piracy in all of its varieties (P2P services, potentially infringing cyberlockers, unlicensed streaming sites) has been a widespread problem confronting copyright holders for more than a decade. Although the content industry has secured court victories against infringers and inducers, they have taken years. Fresh thinking is warranted: what are some practical approaches to addressing piracy more effectively?  What role can intermediaries (like payment processors, advertisers, telecommunications providers and search engines) play to combat piracy?  What can the government do?
Intellectual property advocates, policy-makers, journalists, top officials and the general public, all seeking to trade insights on these important issues, are invited to attend this event of the BroadbandBreakfast.com, an online news service focusing on internet policy and intellectual property. Tickets to the event are FREE.
This event is on the record and open to the public. 
For News and Events on BroadbandBreakfast.com follow us at
http://www.twitter.com/broadbandcensus
Event Details
Title: Finding Solutions to Problems of Copyright Infringement (Continued in November Breakfast) 

Date: Tuesday, October 12, 2010, 8 a.m. - 10 a.m. 
Where: Clyde's of Gallery Place, 707 7th Street NW, Washington, DC 20001
The breakfast begins at 8 a.m., followed by a discussion, beginning shortly after 8:30 a.m. and ending by 10 a.m.
Panelists:
Adam M. Eisgrau, President, Eisgrau Business Alliances

Adam started as a Fellow with Senator Frank Lautenberg later becoming Senator Dianne Feinstein's Chief Judiciary Committee Counsel. Upon leaving the Hill, Adam served for four years as the Ameri¬can Library Association's first Legislative Counsel. He was also a primary organizer for the Digital Future Coalition, representing the Coalition in Geneva at WIPO's historic 1996 treaty conference.  Adam began his private sector lobbying career as Senior Director and Deputy General Coun¬sel of The Wexler Group (now Wexler Walker). He continued that work as Vice President of Flanagan Consulting and Executive Director of P2P United until he launched Eisgrau Business Alliances. Adam sits on the Advisory Board of Public Knowledge, He has also served as an Adjunct Professor with Georgetown's Masters Program on Communication, Culture & Technology.  He received his J.D. from Harvard Law School in 1984 and graduated magna cum laude from Dartmouth College in 1980 with a degree in American Studies.
Lee Knife, Executive Director, Digital Media Association (DiMA)
Lee Knife is currently acting Executive Director of Digital Media Association ("DiMA") in Washington, D.C. Previously, Lee was General Counsel and Director, Legal and Business Affairs.  Lee is responsible for all aspects of the association's business and he continues to provide expertise in negotiations and arbitrations associated with sound recording and musical composition royalty rates in the US and internationally.  Prior to DiMA, Lee practiced entertainment law in New York, primarily in the music business. He served as a Business & Legal Affairs Executive at EMI, BMG and Polygram, and was Vice President, Legal and Business Affairs at a large independent company that provided multiple to artists, Sanctuary Records. He also worked at and provided consulting services to several internet-based, new-media companies.
Howard J. Symons, Member, Mintz Levin Cohn Ferris Glovsky and Popeo
At Mintz Levin, Howard Symons chairs the firm's Communications practice, and has more than 30 years experience on telecommunications policy issues. Howard represents cable, wireless, and telecommunications companies and trade associations before Congress, regulatory bodies and the courts. Prior to joining Mintz Levin, he served as Senior Counsel to the Subcommittee on Telecommunications in the U.S. House of Representatives. Howard was one of the principal drafters of the Subcommittee's legislative response to the AT&T divestiture and the Cable Communications Policy Act of 1984. He was also responsible for the Subcommittee's oversight of the FCC's activities. Howard served as an Adjunct Professor at the National Law Center of GWU. He received his B.A. from Yale University and his J.D. from Harvard Law School.
Michael S. Zaneis, Vice President, Public Policy, Interactive Advertising Bureau (IAB)
Mike Zaneis is head of IAB's Washington, DC office. He develops and manages the interactive advertising industry's legislative, regulatory and policy-making agenda. Prior to joining IAB, Mike served as Executive Director of Technology and E-Commerce at the US Chamber of Commerce where he oversaw issues pertaining to online consumer privacy, data security, telecommunications, intellectual property, counterfeiting, piracy, and e-commerce. Mike has worked in the political arena since 1995 and has engaged in government affairs at the local, state and federal levels. He received his bachelors degree from Michigan State University and both his JD and MPP from Georgetown University.

Additional panelists have been invited
The event will be hosted and moderated by Drew Clark, Chairman and Founder, BroadbandBreakfast.com, a news and events company building a community around broadband stimulus, the national broadband plan, and intellectual property.  Drew Clark has a long-standing reputation for fairness and depth in his reporting. He worked for the National Journal Group for eight years, ran the telecommunications and media ownership project of the Center for Public Integrity, and was Assistant Director of the Information Economy Project at George Mason University. He has written widely on the politics of telecom, media and technology for a variety of publications, including the Washington Post, GigaOm, Slate, and Ars Technica. Drew launched BroadbandCensus.com in January 2008 as a means of providing objective information about broadband speeds, prices, availability, reliability and competition.
The Intellectual Property Breakfast Club is a "widely attended event" under House of Representatives Rule 25, clause 5(a)(4)(A).
-----

For individuals outside of Washington, or those whose schedule doesn't permit attendance in person, archived webcasts of Broadband Breakfast.com's events are available for free on BroadbandBreakfast.com.
BroadbandBreakfast.com seeks sponsorship of our events from interested companies and organizations. We especially encourage organizations to sponsor a package of multiple events — such as one of our upcoming topical series. For details on sponsorship opportunities, please contact Sylvia Syracuse at 646-262-4630 or sylvia@broadbandcensus.com. The Broadband Breakfast.com is a program of Broadband Census News LLC.
Follow us on Twitter at www.twitter.com/broadbandcensus
_______________________________________________________________________________________
The Intellectual Property Breakfast Club is Sponsored By:
When & Where

Clyde's of Gallery Place
707 7th Street NW
Washington, DC 20001


Tuesday, October 12, 2010 from 8:00 AM to 10:00 AM (EDT)
Add to my calendar
Organizer
Introducing
the
'Intellectual Property Breakfast Club'
BroadbandBreakfast.com's
Latest Offering!
Since October 2008 BroadbandBreakfast.com has been bringing together top experts and policy-markets to share perspectives and debate on broadband policy at its successful Broadband Breakfast Club.
Now BroadbandBreakfast.com is privileged to offer that same service to Washington's intellectual property community. Please join us to discuss what are surely some of the most challenging and exciting legal questions of our day.
The Intellectual Property Breakfast Club is sponsored by: