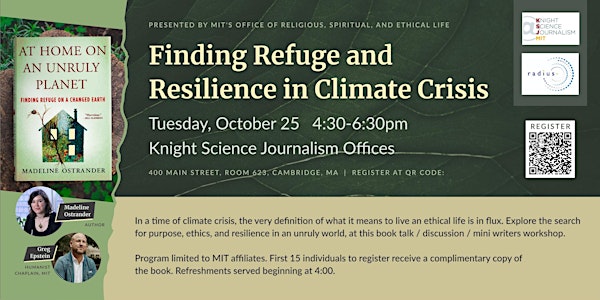 Finding Refuge and Resilience in Climate Crisis
Finding Refuge and Resilience in Climate Crisis: a book talk, discussion, and mini writer's workshop for MIT affiliates
When and where
Location
Knight Science Journalism Offices, MIT 400 Main Street, Room 623 Cambridge, MA 02142
About this event
In a time of climate crisis, the very definition of what it means to live an ethical life is in flux. Explore the search for purpose, ethics, and resilience in an unruly world, at this book talk / discussion / mini writers' workshop featuring journalist and author Madeline Ostrander, in conversation with MIT humanist chaplain and convener for ethical life, Greg M. Epstein.
Program limited to MIT affiliates. First 15 individuals to register receive a complimentary copy of the book (must attend the program to receive the book) . Refreshments served beginning at 4:00.
Sponsors: the MIT Office of Religious, Spiritual, and Ethical Life (ORSEL), the MIT Knight Science Journalism Fellowship, and MIT Radius.