Finding Mental Freedom - Live-Streamed Monday Evening Class Series
Learn about three powerful Buddhist practices and find your peace and bliss from within. Everyone is welcome!
About this event
Due to the uncontrolled desirous attachment in our mind, we have very little real mental freedom. When we don't get what we want, or experience something unpleasant, we easily become unhappy, discouraged and distracted. But this painful mental habit can be reversed.
In these classes, Gen Rinzin will teach from the book Introduction to Buddhism by Venerable Geshe Kelsang Gyatso Rinpoche. The teachings will investigate three of the six practices known as "perfections": the perfections of effort, concentration, and wisdom. These practices completely overcome our discouragement, distraction and confusion, replacing them with joyous effort, meditative power, and a method to see through problems with great wisdom. Practicing these new mental habits sincerely leads us toward pure happiness and, eventually, to the bliss of full enlightenment.
Class Schedule
May 10 - What Binds Us
May 17 - Freedom from Discouragement
May 24 - Freedom from Distraction
May 31 - Freedom from Confusion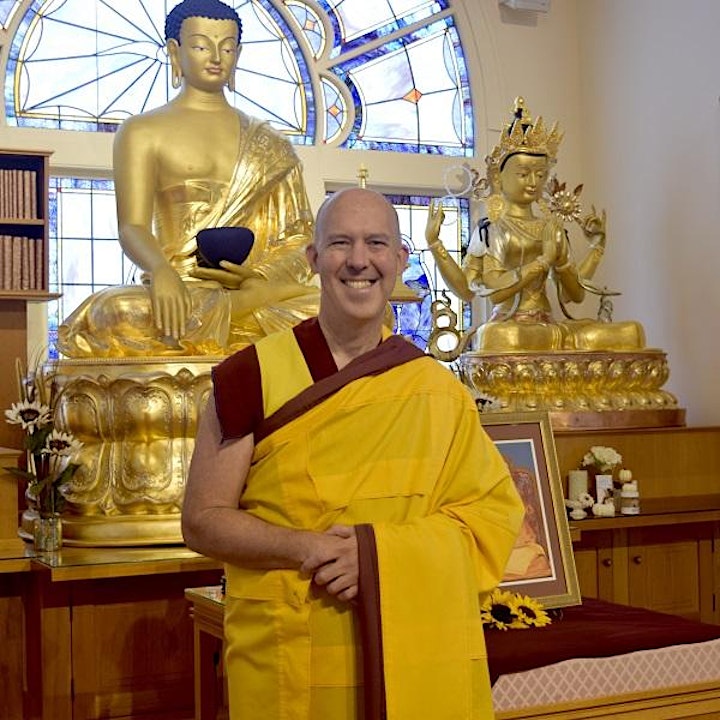 About the Teacher
The Monday Evening Meditation class is taught by Gen Kelsang Rinzin. Gen Rinzin was ordained as a Buddhist monk in 2004 and taught at Heruka Buddhist Center in Fort Collins for 15 years. He began teaching at Kadampa Meditation Center Washington in October 2020. Gen Rinzin communicates his love of Dharma with a down-to-earth approach and humor that helps the listener to appreciate and understand the teachings and put them into practice. His teachings are clear and practical, making them easy to apply to modern life.
Registration
This clsss is being offered as a weekly four-class series via live-stream starting on May 10 and running through May 31. Those residing in the Pacific Northwest region of the US (WA, ID, MT & AK; outside this area? Find a Kadampa Center near you) may register, and upon registration will receive a link to enable them to watch and listen by phone, tablet or computer. 
Email info@meditateinseattle.org with any questions.
$42 for the series; $21 for students/seniors 62+. Free for supporters of Kadampa Meditation Center WA.