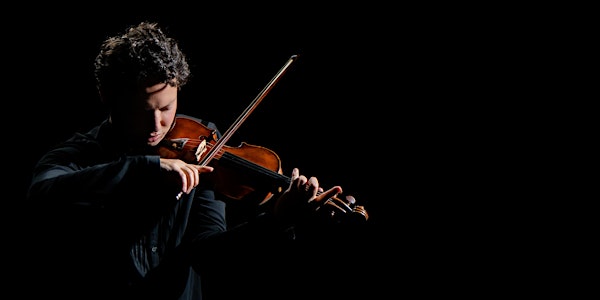 Finding Home: Music from the Suitcase in Concert - Episode 5, Coda
A docu-recital series filmed at the Shalin Liu Performance Center, based on the 2014 album Music from the Suitcase (Marquis Classics)
About this event
Episode 5 - Coda
Reflecting on his family's journey, one small journey among millions; a musical tribute of thanks to Kutik's community. Featuring Rachmaninov's Vocalise and Franck's Sonata.
How to Watch
Each episode will premiere live on Facebook and YouTube on Thursdays at 7pm, and registrants will be emailed the links to watch by 5pm on Wednesdays. Yevgeny Kutik will be available for questions in the chat during the broadcast. Each episode will be available for on-demand viewing until 12pm ET on the following Sunday. Register to watch all episodes here.
About Finding Home: Music from the Suitcase in Concert
"My family arrived in America from the former Soviet Union in 1990. We were just six of an estimated 1.5 million Russian Jews that left their homes between the late 1980s and 2000 in search of a better life. The journey was not easy. For many, including my family, leaving the Soviet Union meant leaving behind money, citizenship, most physical possessions.
We arrived in western Massachusetts with just two suitcases and several duffel bags for our pillows and blankets. At my mother's insistence, one of the suitcases was filled with sheet music from our collection back home. At the time it made little sense to the rest of the family as to why we would drag generations-old sheet music halfway across the globe, leaving less room for the clothes and possessions that were more essential for starting a new life in a new country.
Growing up, I was always aware of these scores sitting on the shelf, collecting dust, but it was not until I was a young man that I became curious enough to explore the contents of the pages. These scores formed the basis for my 2014 album, Music from the Suitcase (Marquis Classics).
In 2020, as the pandemic cancelled concerts and upended plans for the foreseeable future, I was in search of inspiration. As I began sifting through these musical pages that my family brought over, it dawned on me that as difficult as this pandemic and resultant loss of opportunity was, with strength and determination, there would always be a way to begin again, to rebuild from nothing, as so tangibly represented by these scores.
I spent the quiet months of quarantine collecting memories and stories from my family, looking through family photographs, and at the same time, for my own enjoyment, playing through some of my favorite scores from school and concerts over the past years. I began to realize that much like the collection of music my family brought over, I now had my own sheet music, representing my journey thus far: a semblance of a musical "home," and of teachers, memories, and community.
And this is how the idea to film Finding Home: Music from the Suitcase in Concert came about. Over each of the five episodes I give live performances of many of the same works from my original album along with several works which have taken on important meaning for me in recent years. Punctuating the music are familial and autobiographical stories, retold through recollections and photographs. Each episode revolves around a theme of "finding home" as I explore anti-semitism in the Soviet Union, our months as "stateless" refugees, the amazement and challenges of starting a new home, my teachers and mentors, and lessons for the future." - Yevgeny Kutik