Event Information
Refund policy
Refunds up to 7 days before event
Eventbrite's fee is nonrefundable.
The long-awaited sequel to the Finding Freedom workshop. Where perfectionism goes to die, and we all get free!
About this event
The Finding Freedom YES Lab
Picking up where we left off in Finding Freedom, we as white women* will dream, organize, and take lots of action together. Let's get free together, y'all.
How do we come alive to take bigger risks for racial justice together?
How can we use anti-racist cultural organizing in our white communities?
Where do you need to grow in service of this work?
You must have completed Finding Freedom prior to the Feb. 1 start date for the YES Lab.
We're still gay. We're still in the South. And you don't need to be.
12:30-3:00 PM EST Tuesdays
Session 1: Feb 1
Session 2: Feb 8
Session 3: Feb 22
Session 4: Mar 1
Session 5: Mar 15
1:30-2:30 PM EST Tuesdays (optional, but highly recommended)
Office Hours Porch Sit: Feb 15
Office Hours Porch Sit: March 8
Is this workshop right for me?
All women and gender-nonconforming, nonbinary and trans people, and all white and mixed-race folks, who are interested in exploring the intersection of white womanhood and white supremacy are welcome to join us. The categories of "white" or "woman" might not be exactly how you define yourself. This workshop may still be useful to you if you were socialized as a white female and/or you are perceived as one today.
We warmly welcome people of all class backgrounds. And we do not turn people away due to cost. We offer a sliding scale and a limited number of cost-free tickets are available for people who need them.
This workshop focuses on United States history, context and current reality. Women from outside the US are welcome to join us, as long as you understand we will be using a US-based frame.
Ticket Prices
As you're deciding what ticket to purchase, please check out this thoughtful guidance put together from the organization Both/And: https://both-and.org/pricing-individual
Redistribution Rate Tickets $525: We invite middle- and upper-middle-class participants to purchase tickets at this level as an act of cross-class solidarity that enables more poor and working-class people to participate. Building together as white women across class is crucial to ending white supremacy.
Full Rate Tickets $325: These tickets are "at cost." They enable us to cover the expenses related to putting on this workshop.
Solidarity Rate Tickets $125: We invite working-class people and students to purchase a ticket at our subsidized rate.
Free Tickets $0: If $125 is a true barrier to your participation, we invite you to register using a free ticket.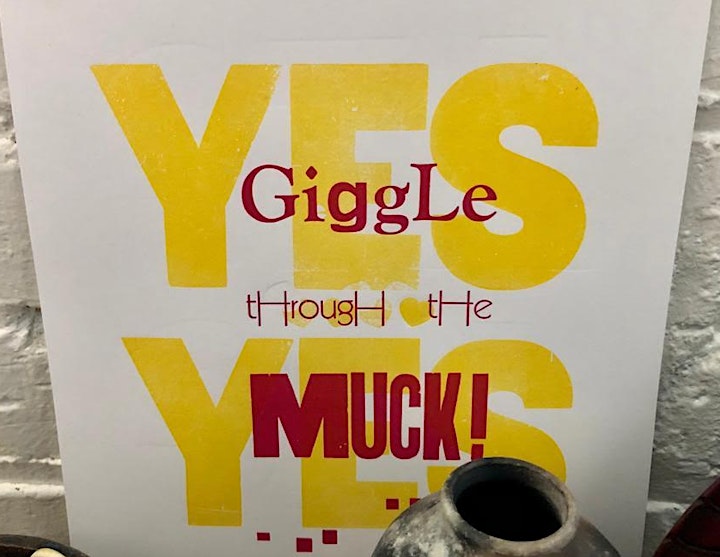 Art Credit "YES" - Peter Loose
Art Credit "Giggle through the Muck" - Temoa Okun
Date and time
Location
Refund policy
Refunds up to 7 days before event
Eventbrite's fee is nonrefundable.