Sales Have Ended
Ticket sales have ended
Thank you for your registration. Please reserve your hotel room at the Riviera Hotel using our Michael's House Finding Freedom room block. This helps us keep this conference affordable. Hotel Link: AttendeeFinding Freedom 2019 LGBTQ https://www.starwoodmeeting.com/events/start.action?id=1806198271&key=DB4B388 Warm Wishes, Renee Baribeau Renee.Baribeau@frnmail.com
Sales Have Ended
Ticket sales have ended
Thank you for your registration. Please reserve your hotel room at the Riviera Hotel using our Michael's House Finding Freedom room block. This helps us keep this conference affordable. Hotel Link: AttendeeFinding Freedom 2019 LGBTQ https://www.starwoodmeeting.com/events/start.action?id=1806198271&key=DB4B388 Warm Wishes, Renee Baribeau Renee.Baribeau@frnmail.com
Description

4th Annual Finding Freedom LGBTQ Symposium is Proud to Present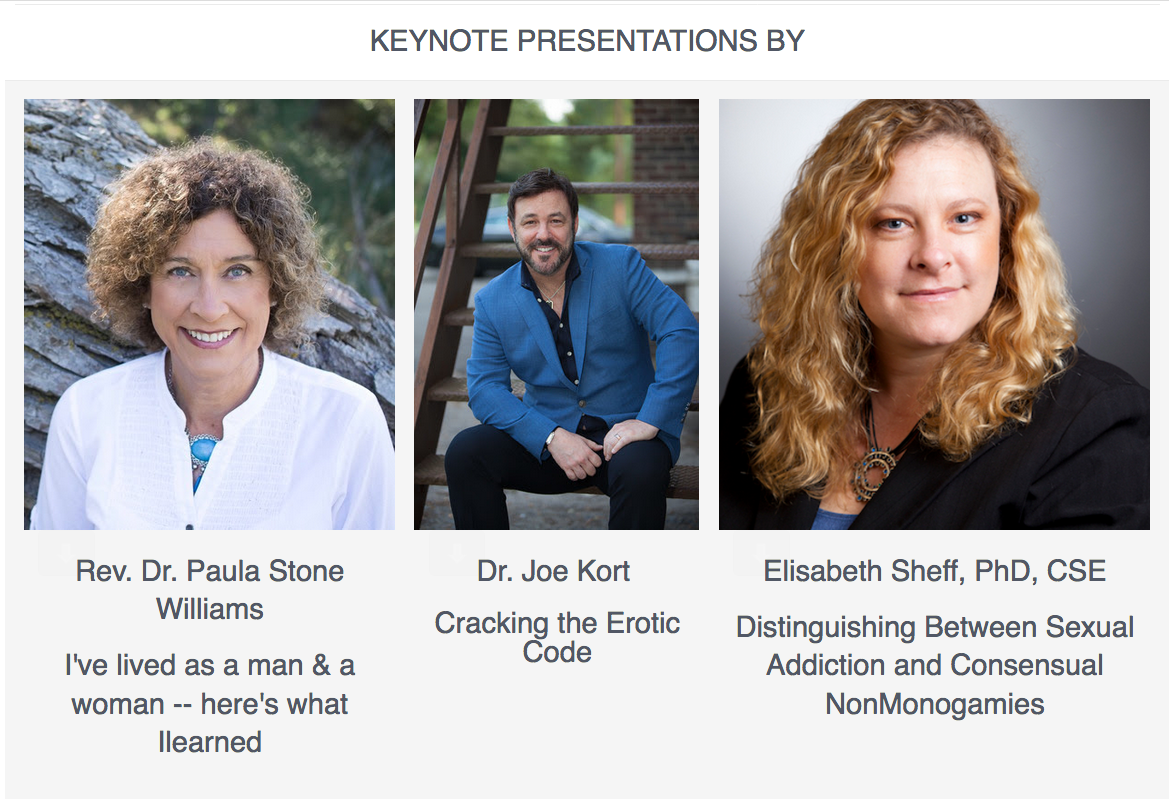 Sponsorship and Promotional Opportunities
We have several sponsorship packages and promotional opportunities for the LGBTQ Symposium. For more information on pricing and offerings, contact Jacy Bruck at jacy.bruck@frnmail.com.
Conference Organizer

Renee Baribeau
Michael's House
Community Outreach and Marketing Coordinator
Renee.Baribeau@frnmail.com


About the Conference
The Finding Freedom Symposium is about bringing forward relevant information for best practices in supporting the LGBTQ community with co-occurring disorders. Our intention is to offer a container for discovery and focused discussion to find effective solutions for professionals and their LGBTQ patients.
Our goal is to cultivate a conversation that will lead to clinical, research-based information.The conference is open to the community, treatment professionals, doctors, therapists and anyone who is interested in the unique issues facing sexual identity and co-occurring disorders treatment. We invite you to join for education, conversation and connection.
Continuing Education Information
FINDING FREEDOM LGBTQ SYMPOSIUM CE LANGUAGE – 1.5.18 Satisfactory completion Participants must complete an evaluation form to receive a certificate of completion. Your chosen sessions must be attended in their entirety. Partial credit of individual sessions is not available. NOTE: If you are seeking continuing education credit for a specialty not listed below, it is your responsibility to contact your licensing/certification board to determine course eligibility for your licensing/certification requirement. Psychologists This course is co-sponsored by Amedco and Foundations Recovery Network – Michael's House. Amedco is approved by the American Psychological Association to sponsor continuing education for psychologists. Amedco maintains responsibility for this program and its content. 18 hours. Licensed Alcohol and Drug Counselors This course has been approved by Foundation's Recovery Network, as a NAADAC Approved Educational Provider, for 18 CE. NAADAC Provider #153378, Foundations Recovery Network is responsible for all aspects of their programming. CA Consortium of Addictions Programs and Professionals (CCAPP) Provider approved by CCAPP-EI, Provider Number OS-05-6115-0218 for 18 CEH'S. CA Nurses Amedco is approved by the CA Board of Registered Nursing, Provider #CEP13683, for 18 contact hours. INFORMATION FOR COUNSELORS, MARRIAGE AND FAMILY THERAPIST & SOCIAL WORKERS: The following boards accepts courses from APA providers for Counselors: AK, AR, AZ, CA, CO, CT, DC, DE, FL, GA, IA, ID, IL, IN, KY, KS, ME, MO, NC, ND, NH, NE, NJ, NM, NV, OK, OR, PA, RI, SC, SD, TN, TX, UT, VA, WI, WY The following boards accepts courses from NAADAC providers for Counselors: AR, AZ, CO, DE, GA, IN, KS, MA, MD, ME, NE, NC, NM, ND, NJ, NV, SC, TN, TX, UT, VA, WI, WY The following boards accepts courses from APA providers for MFTs: AK, AR, AZ, CA, CO, CT, DE, FL, IA, ID, IN, KS, ME, MO, NE, NC, NH, NM, NJ, NV, OK, OR, PA, SC, SD, TN, TX, UT, VA, WI, WY The following boards accepts courses from NAADAC providers for MFTs: AR, AZ, DE, IN, KS, LA, MD, NC, NE, NJ, NM, NV, SC, TN, TX, UT, VA, WI, WY The following boards accepts courses from APA providers for Social Workers: AK, AR, AZ, CA, CO, DE, FL, GA, ID, IN, KY, ME, MN, MO, NE, NH, NM, OR, PA, VT, WI, WY The following boards accepts courses from NAADAC providers for Social Workers: AR, AZ, CO, DE, GA, ID, IN, KY, ME, MN, ND, NE, NM, OR, VT, WI, WY