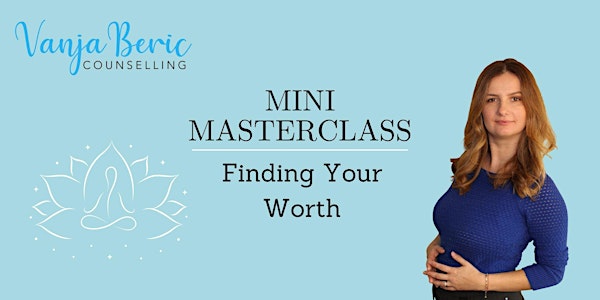 Find your worth mini masterclass
Join counsellor Vanja Beric for a mini masterclass on Finding your worth
About this event
Have you lost a sense of who you are?
Have you ever felt invsible like your words, your needs didn't matter, like you didn't matter?When you compared yourself to others you felt less than because you felt behind?
When you overthink a situation and each thought takes you deeper into struggle?
When the voice inside your head convinces you matter less?
Your voice is part of who you are, it is a powerful tool and it's time you start using it. If you are done with staying quiet, playing small, living life to other people's expectations this masterclass is for you.
It's not just about findining your voice it's about finding your power and being comfortable with it.
The most important step in finding your voice is deciding you want it.
The mini masterclass will held on Zoom, once confirmed a link will be sent via email.
About the speaker
Vanja is a highly sought after counsellor and international speaker. She has worked with women all over the world to heal their past and find their self belief. She has appeared on numerous podcasts, radio shows and other speaking engagements.
Coming from a war torn country as a refugee to Australia at 11 years old, she has experienced hardship, abuse and had very limiting beliefs. She is now a counsellor who helps others find their own self belief. She is an entrepreneur who wants to empower women that no matter what your past is, you get to choose your future. Her philosophy is understating yourself and healing your wounds will give you a deep freedom, love and abundance you never knew possible.
You can connect with Vanja
Here is what others say about working with Vanja:
I found very difficult to put down in words what Vanja done for me and my family. She made me see the circle that I am stuck in since a little girl and why I felt the way I was feeling, my experience was magical.
Vanja is amazing, she listened to my story from childhood with empathy, helped me see the link between my anxiety and something unresolved for many years.
Vanja made me feel empowered to maintain healthy boundaries with my family - Build my capacity to face fears in a controlled manner in the same situations that triggered my anxiety.