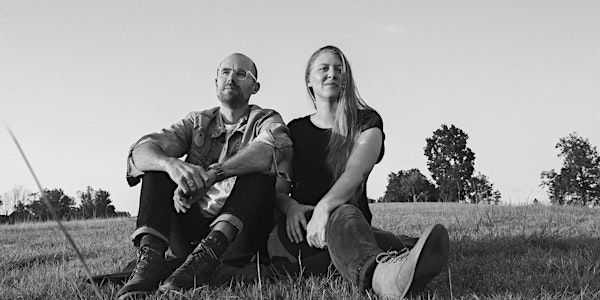 Find Your Muse Open MIC featuring Ash & Eric
Location
The Evening Muse
3227 N. Davidson Street
Charlotte, NC 28205
Find Your Muse Open MIC featuring Ash & Eric
About this event
Doors 7pm; Signups 7:15pm; Showtime 7:30pm.
2 songs or 10 minutes maximum (all originals preferred).
5 Comedians per night. To schedule, contact Charlotte Laughs Tonight on Facebook.
About our Feature
Hailing from the gritty heart of the Industrial Revolution -- Worcester, Massachusetts -- the two find consolation in discovering beauty from the challenges of being artists living in one of the most stubbornly independent cities in the north east. Their musings reflect the hope and pain we all experience in life. Sung in voices as vulnerable and honest as their lyrics, their songs feel like a sincere welcome, a shoulder to lean on, and a hand to hold at the end of a long day. In addition to top tier writing that No Depression says will have you "...coming away from many of these [songs] cleansed," their warm harmonies, swirling acoustic guitars, and easy stage presence have earned them a dedicated following in the North East folk/singer-songwriter scene. Their highly-anticipated third LP was recorded, mixed and produced entirely by Eric at a boarding school in Western Massachusetts; and will be released in early 2022 alongside an accompanying short film.
Ash & Eric met in a church sometime around 2010. Their paths didn't cross in a pew, but on the stage. They both describe a feeling that they knew each other before they knew each other. There was a palpable chemistry when they joined on stage, and a shared intuition that quickly bled out from the stage into their personal lives. Ash was in her senior year at Clark University, where she was completing her Bachelor of Arts in Music with a concentration in Vocal performance. Eric was working full-time for the state of Massachusetts as a Transportation Planner, dreaming of how he could make a move to pursue his unquenchable desire to pursue music as a career. Perhaps it was a youthful naivete yet to be squashed by the demands and expectations of the American work culture, but Ash encouraged Eric to leave the safety of his office job for the inevitably challenging but rewarding artists' path.