About this Event
Are you struggling with becoming a leader? Trying to reach success in your career, school, or life? Is self-doubt and a bad mindset sabotaging you? Having a difficult time with the weight of what you're called to do? At the Find Your Courage Leadership Workshop you and your team will be inspired to act courageously and create cultures where others are motivated to keep going in the face of their fears.
The Find Your Courage Tour is the perfect place to connect with other leaders on their courage journey and to create a renewed sense of what it means live, learn, and lead with confidence.
FIND YOUR COURAGE ORLANDO SPEAKERS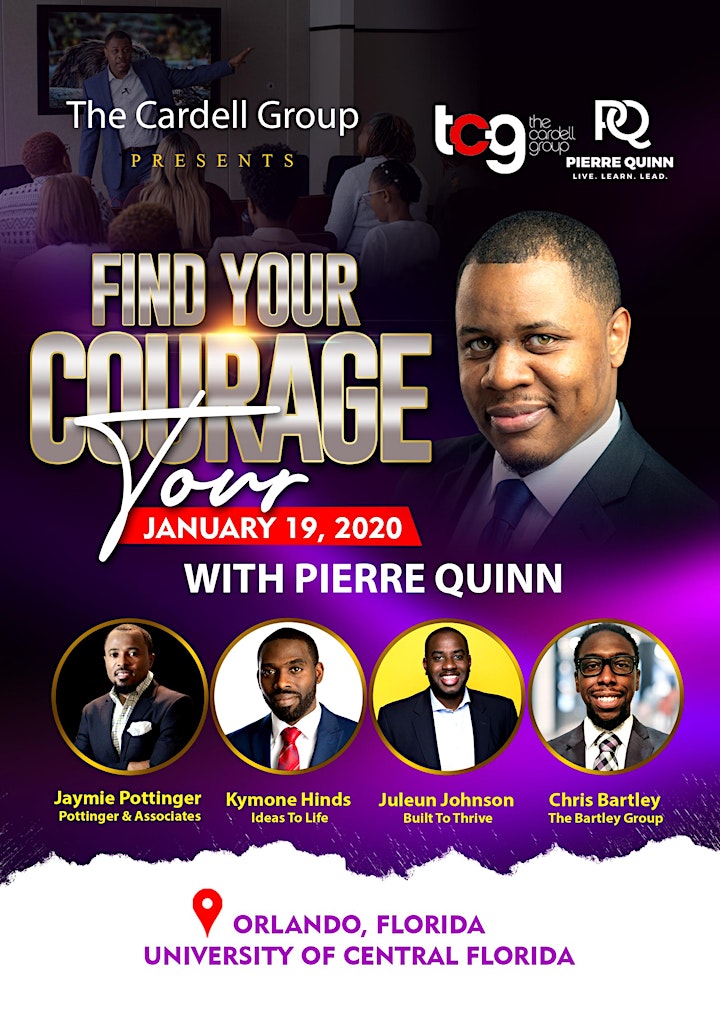 Pierre Quinn - Leadership speaker and coach. Author of the book "Leading While Scared: How To Find The Courage To Keep Going".
Jaymie Pottinger - Leadership Trainer. CEO and Founder of Pottinger and Associates Consulting. Vice Principal at Forest Lake Academy.
Kymone Hinds - Author and Speaker. Creativity consultant who helps individuals and organizations to bring their Ideas to Life.
Juleun Johnson - Author and Speaker. Director of Mission and Ministry, AdventHealth.
Chris Bartley - Strategic consultant focused on helping organizations clarify their mission and create dynamic client experiences.